Work Experience
23 & 24/02/16  - Visting Commercial Artist, Richard Baldwin.
Across Tuesday and Wednesday I spent two days with a local and very successful commercial artist, Richard Baldwin. His studio was in Tewkesbury and immediately from the off was very interesting to look at! Down a backstreet in a town I've visited many times I was amazed I had no idea it was there. However walking inside you could instanty appreciate the artistic creative look.  Wood floor boards, distressed white paint on bare brick with big industrial lights and big art prints and band posters around the walls it was instantly visible to see Richard's interests and how they'd influenced him.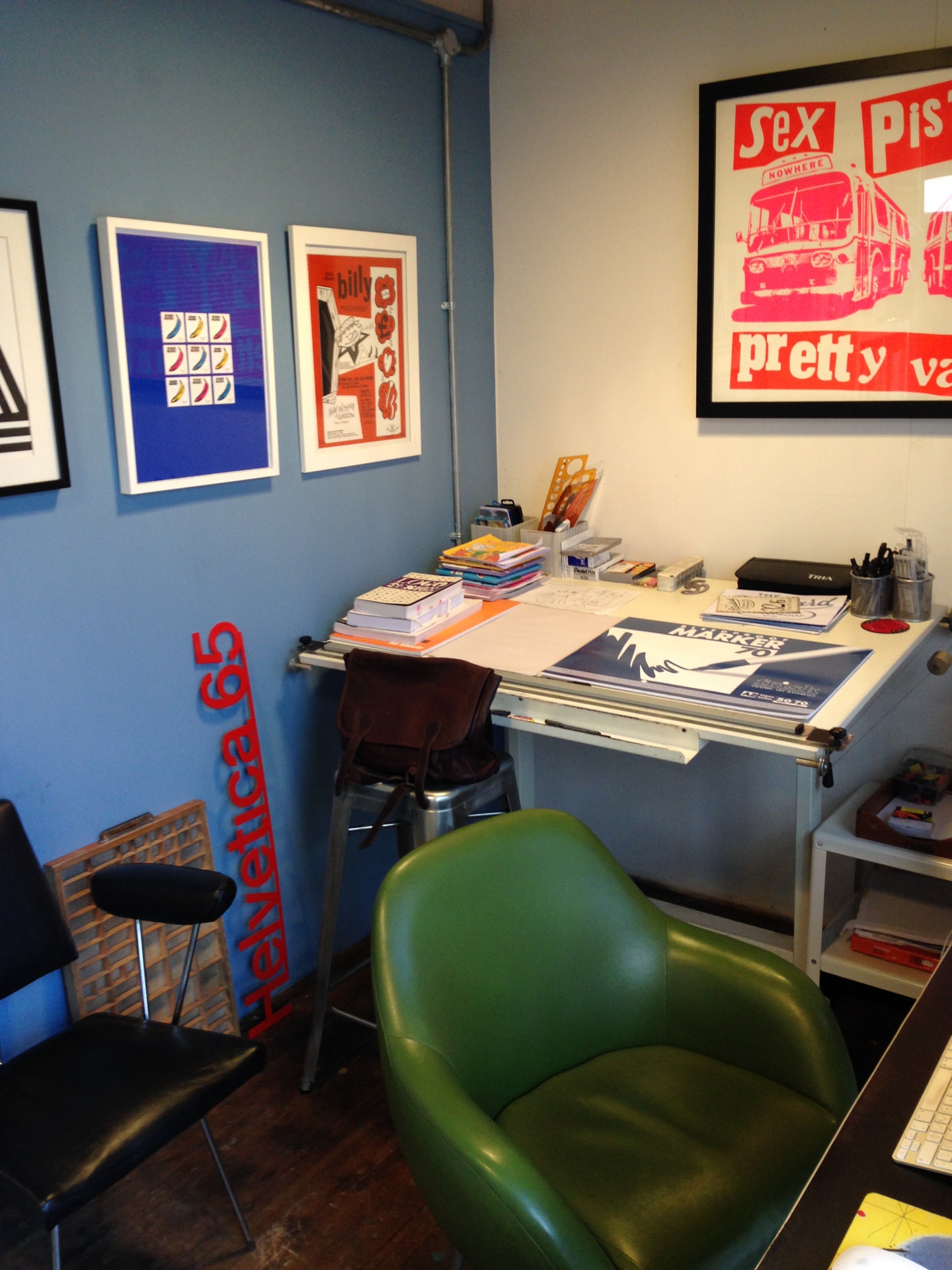 As well as unique furnishings Richard had a mass of equipment such as a rotating screen print and a 'drier' that was very like a pizza-oven! which helped to dry and create 'crack' effects on ink! The space was astounding visually, and was completely to my taste personally so really inspired me. Typography and sign writing was one of Richard's main job titles in the past, with one job in partiuclar I had no idea Richard was a apart of and was a complete global success... 

Throughout his youth Richard's main interests were music, he played in a band and grew interested in the rock and punk scenes which brought about many of the great iconic prints he had around his studio, many of which, he'd recreated. He showed me many of his past projects like a big 'Velvet Underground-style' banana he painted on the side of a truck as well as an 'Utterly-Butterly' advertisement he painted on a plane!
He learnt how to sign-write during his HND studies. As well as freelance art work he also lectured occasionally and has done so in Cheltenham where I'm currently studying.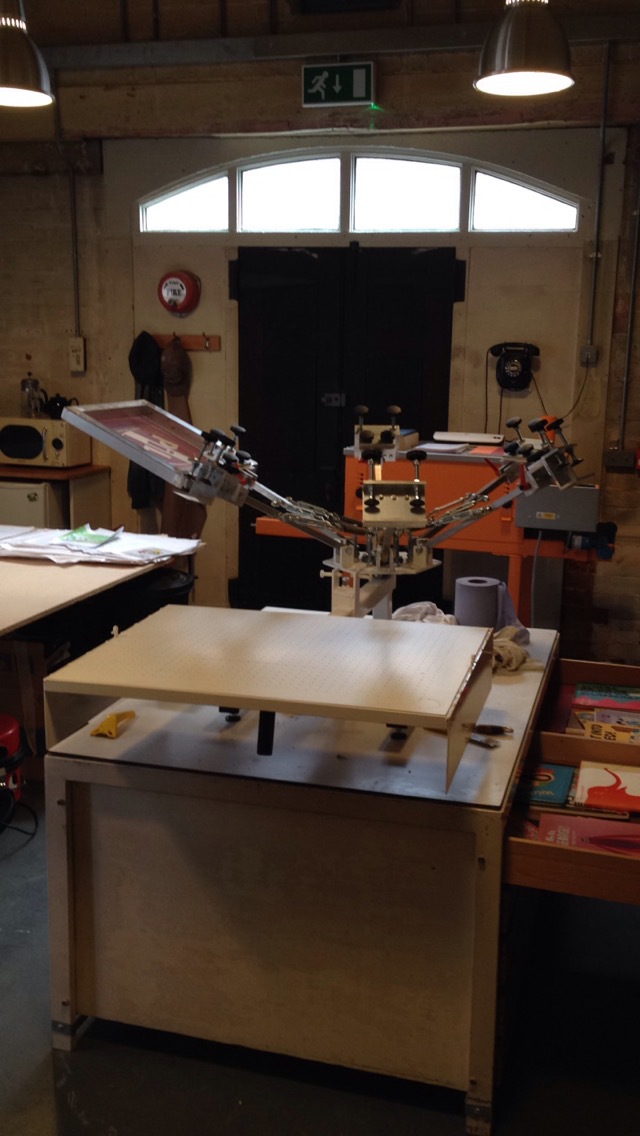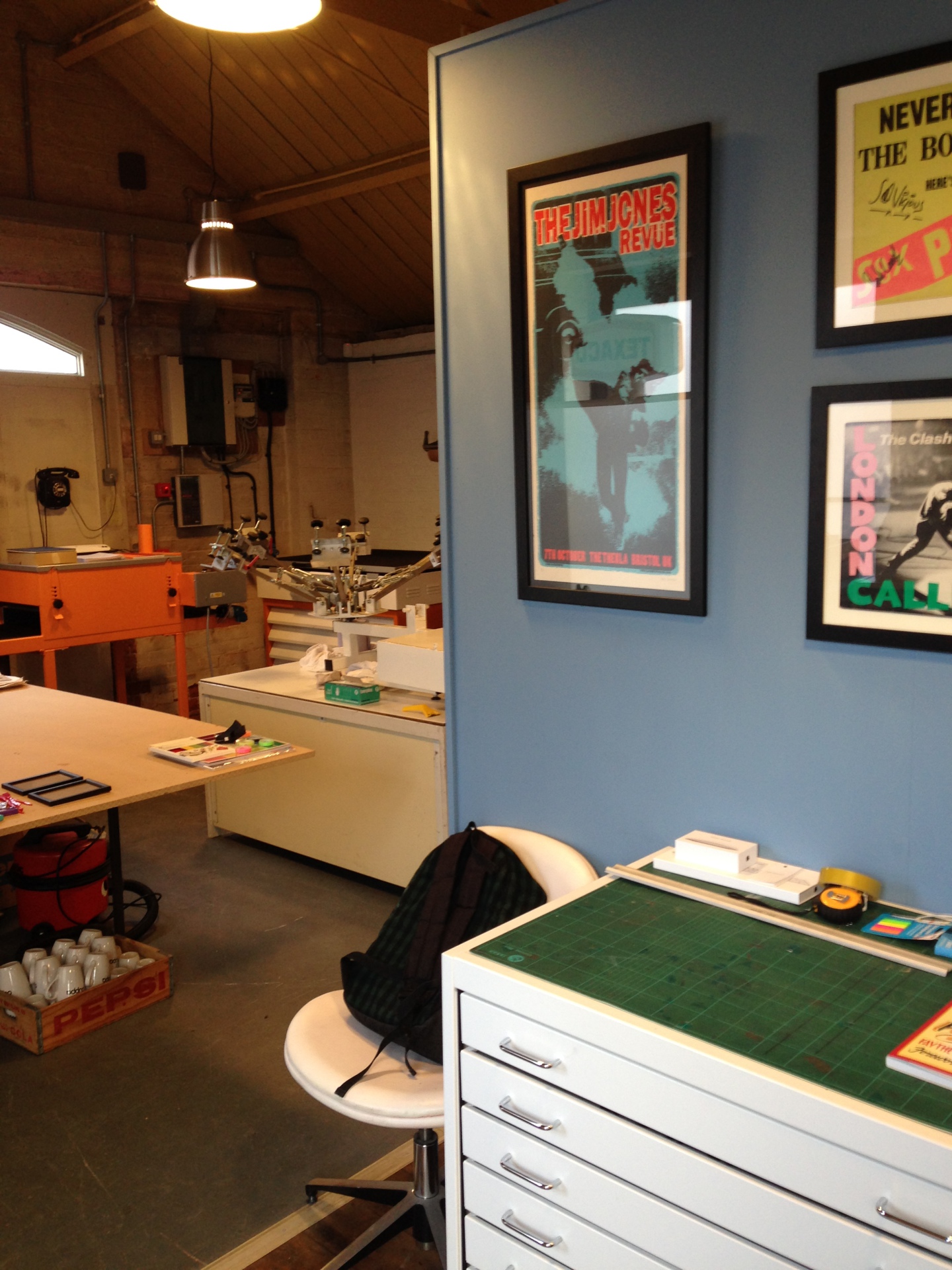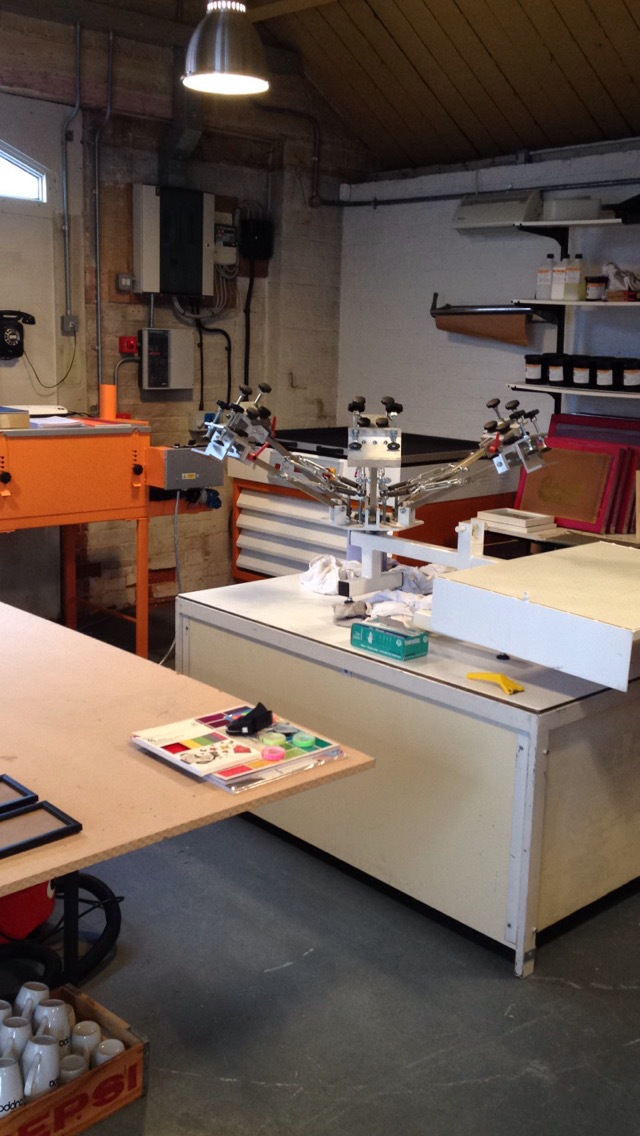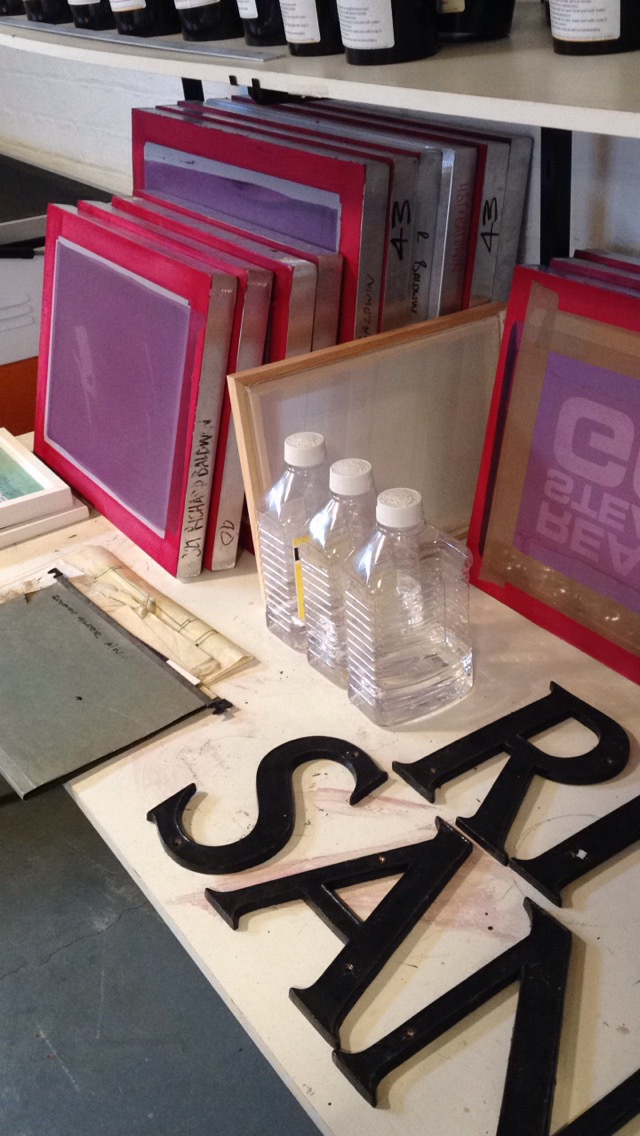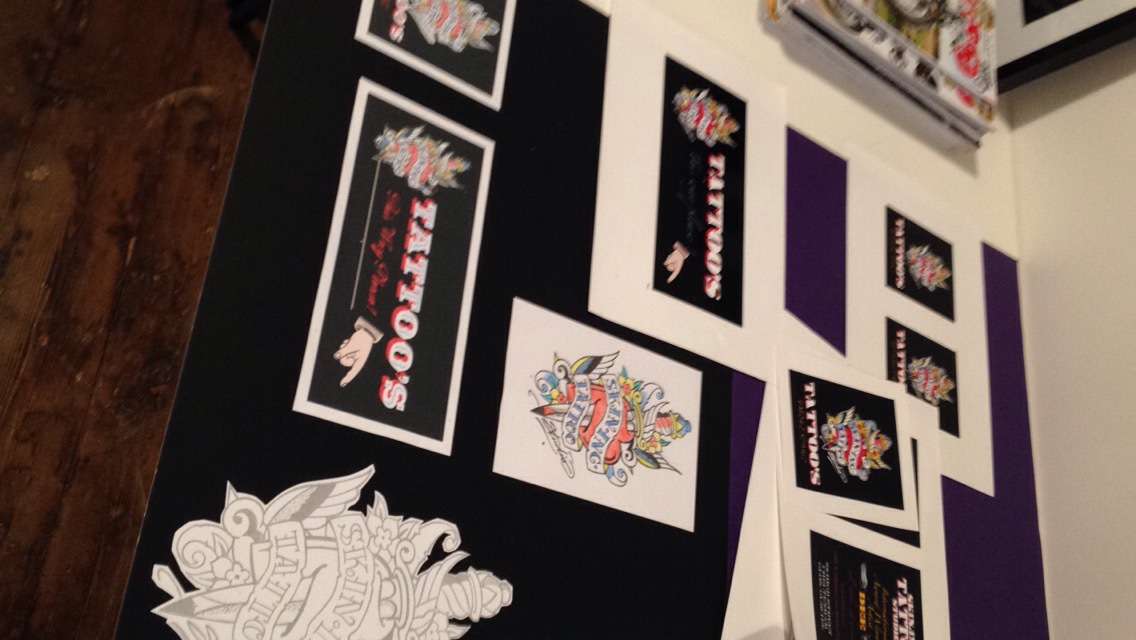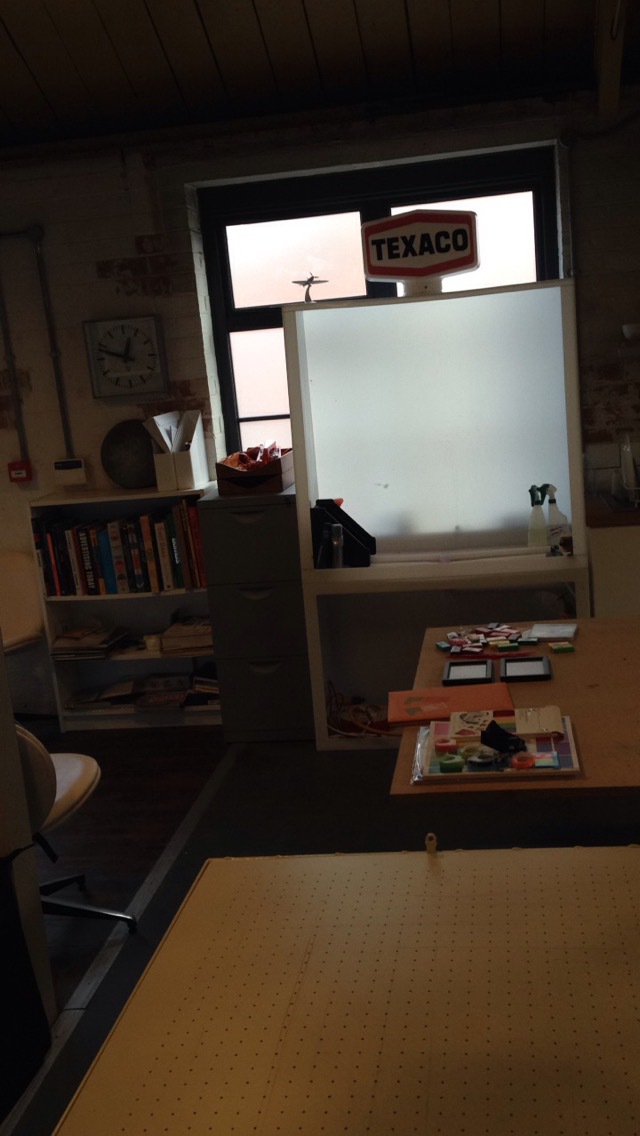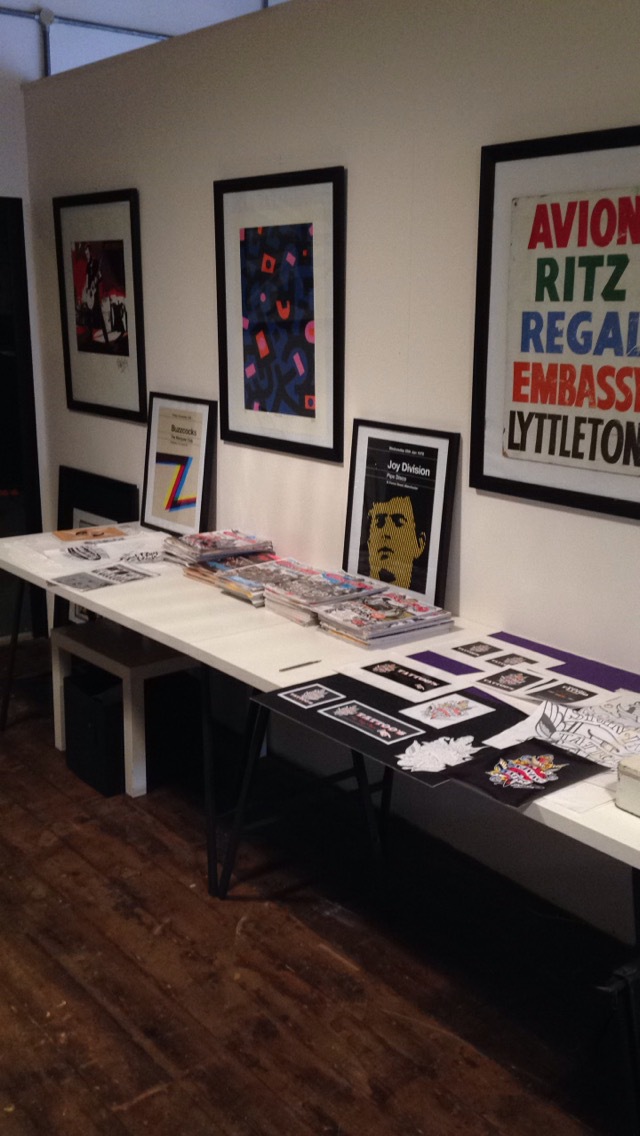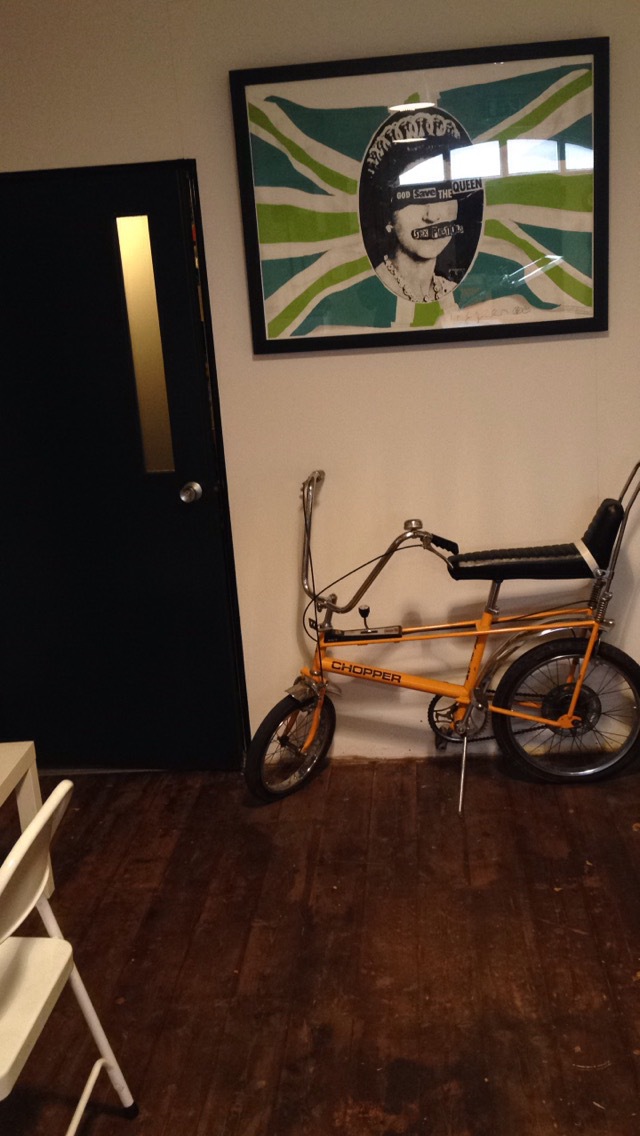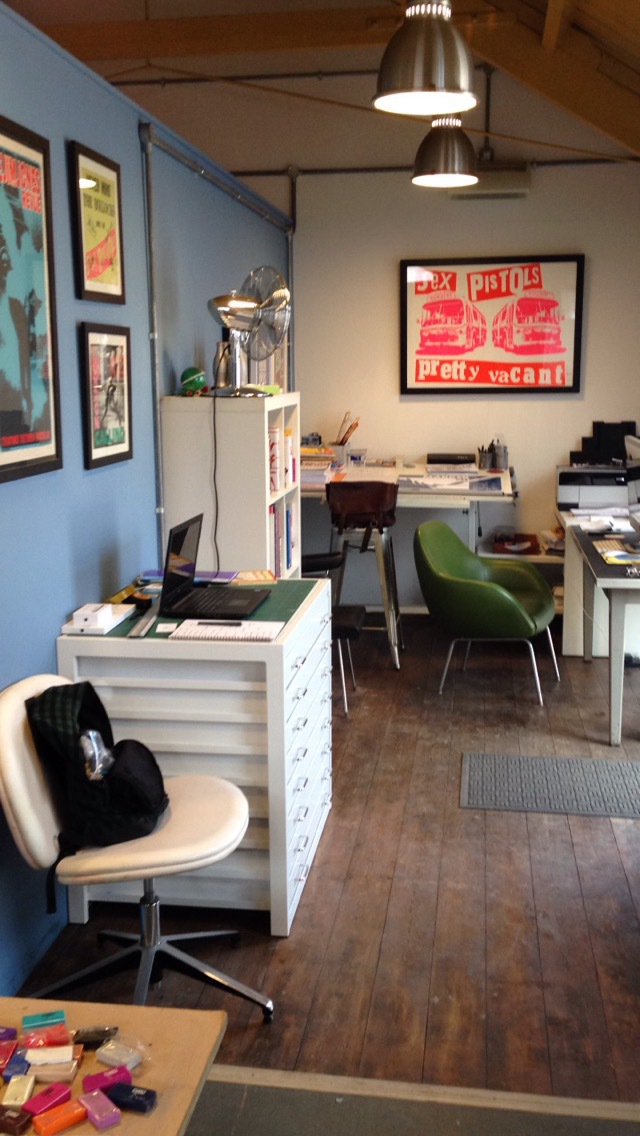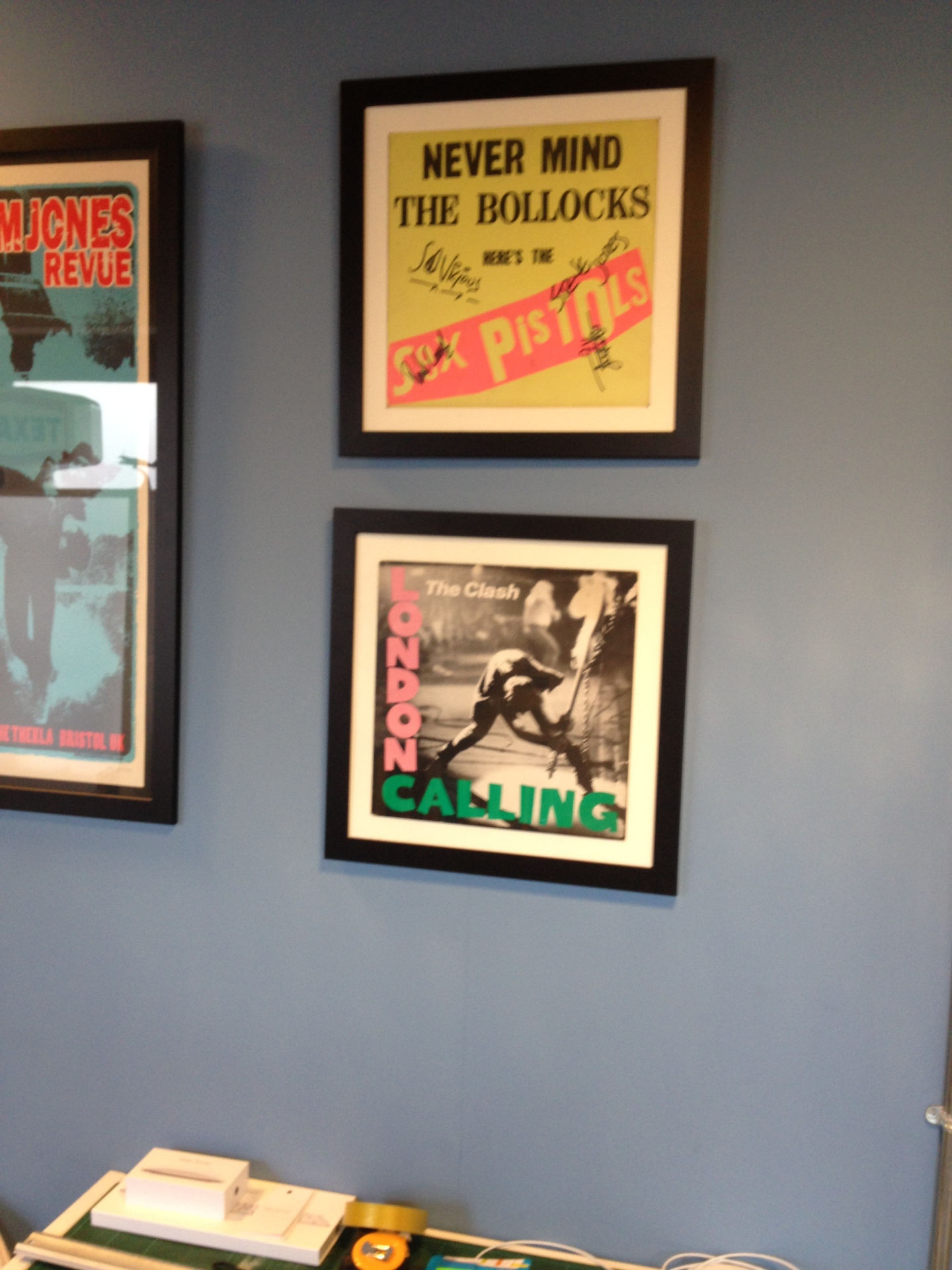 Amongst all his interest in music however, one of Richards main interests visually was Americana - historic, cultural graphics and objects from older-times America like advertisements, particularly ones following motor lifestyles. It was this interest which drove his enthusiam for typography, an enthusiam which brought about his most successful project, graphics for the world renowned fashion brand, Superdry. 

I had no idea about Richard's involvement in the franchise when i asked him if i could visit but it was definitely a fascinating discovery - heading in to my final year I have planned to  focus on creating clothing graphics for my major projects so this was perfect for inspiration and ideas.
Richard showed me folder upon folder of t-shirt logos that were both mock-ups and actual releases within collections. Each year brought about two to three collections, spring, summer, winter each containing around 50 graphics for different items! The workload seemed intense but Richard said how enjoyable the company was to work for as he worked with friends and he was doing what he loved doing, which was very refreshing and inspiring to hear.  Richard left superdry in 2012 but his graphics are still being used today particularly their most inconic designs which i saw first hand. Without delving in to realms too personal from the way Richard described watching his given shares in the business on the stock markey and how the fluctuated throghout the weeks before he sold it it was clear he's been very financially successful which also of course was very motivating!

In terms of the art side of the logo design process Richard said he used a combination of computer processes along with hand drawn techniques. Using hand drawn techniques brings about a unique roughness that you cant really emulate on computers he said and that's what seperated Superdry products from the lower quality knock-offs which i totally agreed with. In terms of print process as well they used an ink-cracking technique to add distress as well as a printing method known as kiss-printing where the ink would just lightly 'kiss' the material and leave some areas uninked so they looked distressed.

Currently, Richards working on children's book projects one that has been released under the title Dave Dog about a dog thats left home alone with all the shoes in the house which come alive and cause mischief then the dog gets the blame. 

And also one in progress based around his own cat - where many stylistic elements come from some of his artistic influences...
There were man artists and time periods Richard told me influenced him greatly for different reasons.

Saul Bass
Andy Warhol
Jackson Pollock
The 77 world cup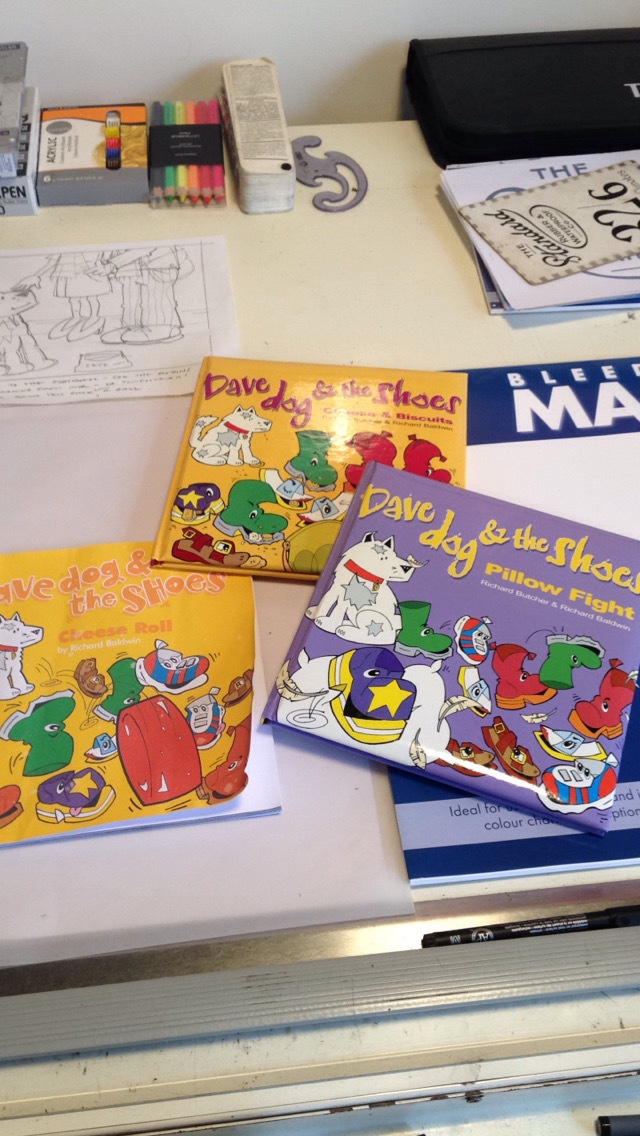 The two days were a very valuable experience to me, as they showed me the average day of an illustrator as well as some inspiring work by richard and some new forms of inspiration through his work and the things that inspired him as an illustrator. The best part of the experience however, had to be discovering the fact he was the leading designer at Superdry as I was completely unaware of this when contacting him initially and it is something I can definitely take influence from in to my own work and future insprations. 

T-Shirt Creating and Branding
For some time, I've always been very interested in print and graphic artwork and it's flexible uses, most commonly, in tees. I've got an aspiration to create work like those of illustrators i admire and create some t shirt prints. 

To do so, I used a brand name I've concepted with my friend before on a previous business aspiration, 'Strange Culture' aiming to be a brand geared towards the more urban, skate, young adult market - which tends to be my main interest at the moment. To create the art work I drew up a load of designs then refined them all before taking them to print.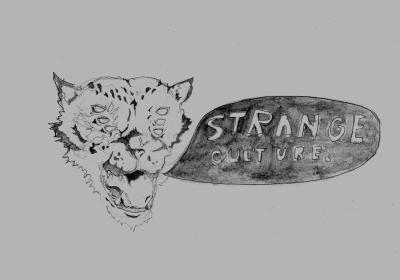 First up I did the 6-eyed mutant cat design. which started up with a sketch i drew that i thought could be added to and used to make a graphic with some text.

Originally, i thought a more raw hand-done type style woud be cool so went with a Speech-bubble design - wasn't keen on this one, as i felt it was a bit wide and short and generally the quality wasn't strong enough and it needed to be more like a symbol.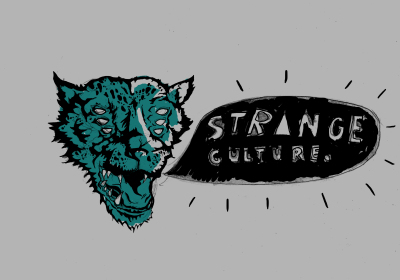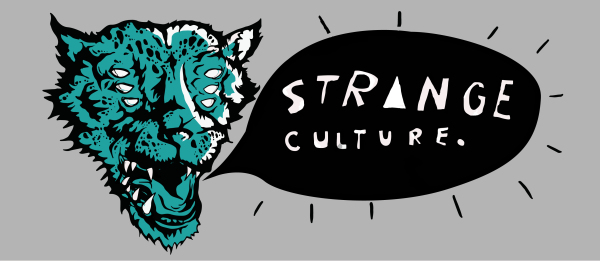 As the pictures hopefully capture, I initially drew the image in pencil before uploading in to photoshop to refine and then in to illustrator to make it a vector graphic so it can be resized without loss of quality as well as an overall better and more smooth finish. I also experimented with background colour, which would obviously depend upon the print surface. Throughout the design refinement process I tried to remember how the image would print i.e. the layers and complexity in mind for turning in to a silk screen.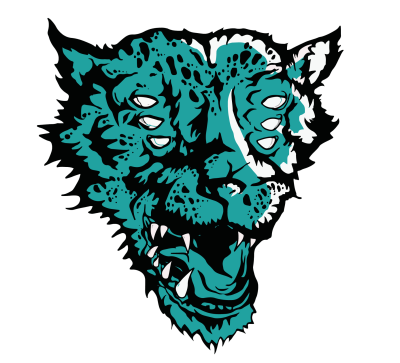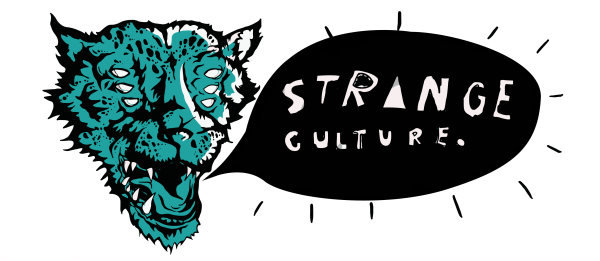 Throughout the whole process this cat design I was perfectly happy with so had it saved as a PNG vector file so i could happily place and resize it freely with no issues.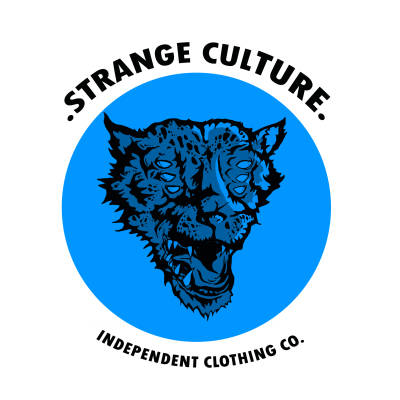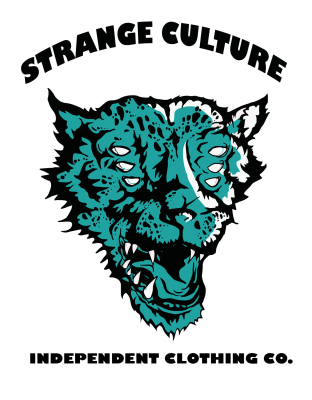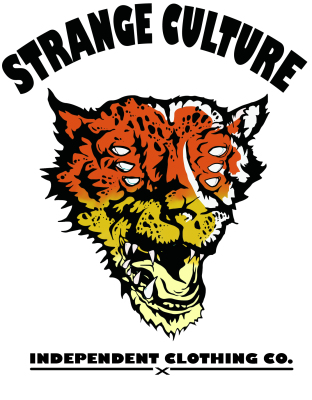 I thought the design needed to be more circular to be more symbol-like. So i worked on curving text and a more portrait design. I used an 'american-college' type font to get a vintage type feel. I felt as well as a title it also needed a tag line so to balance the design. Although I think havng 'independent clothing co.' is a bit lame considering it is not a real clothing company, i think it looks ok, and i like the addition of the x as it centers the design. I also experimented with colour and the idea of a multi-colour gradient swipe.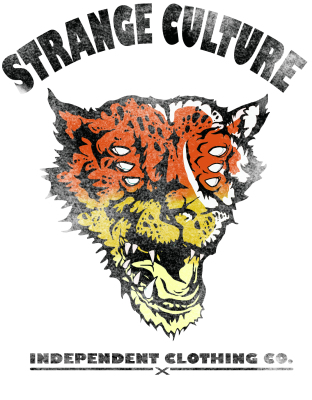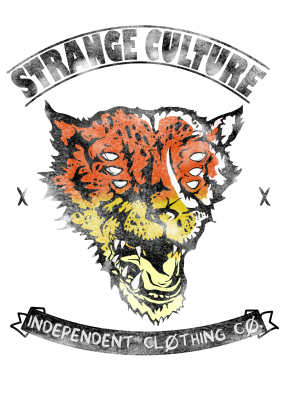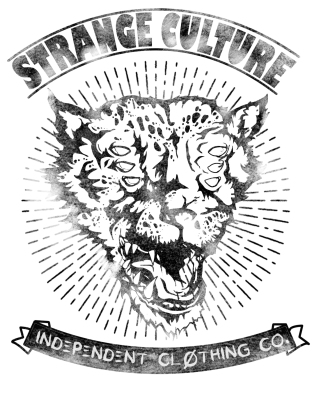 After a bit of research on the interenet I learnt about distressing and grunging to give the graphic a weathered look. i thought with using a more vintage-feeling font this would suit it well. I did it through creating a varying opacity layer of a white brush which I think worked pretty well, but so far I'm yet to see whether this will actually translate to a print, particualarly on material. 

I also further refined the surrounding graphics changing the font curviture adding extra lines and details such as a banner which i believe helps the design look more fluid in how it also curves. The final image also includes a sun-ray type vector graphic which i think works really well especially as it's a circle.  The last design is definitley the one i feel is the most complete as a graphic image, so will be the one i take to print first. I can add colour to it as I have the 'colour layer saved as a seperate image, which I can later decide or experiment with which colour to go for should i decide it needs a colour.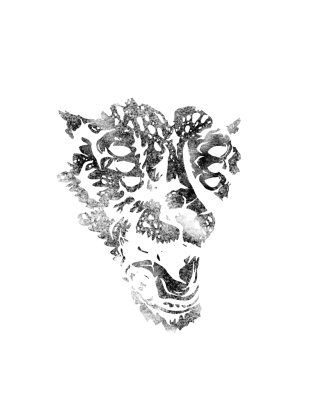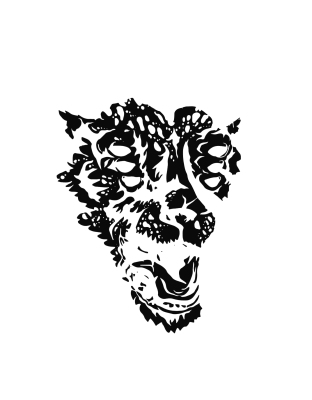 These images represent the colour fill for the cat's face, they are simply where the ink will fall when screen printed so they aren't strictly black, one has a distress print which is perfectly lined up with the other layer so it wont look out of place and teh design will flow, fingers crossed.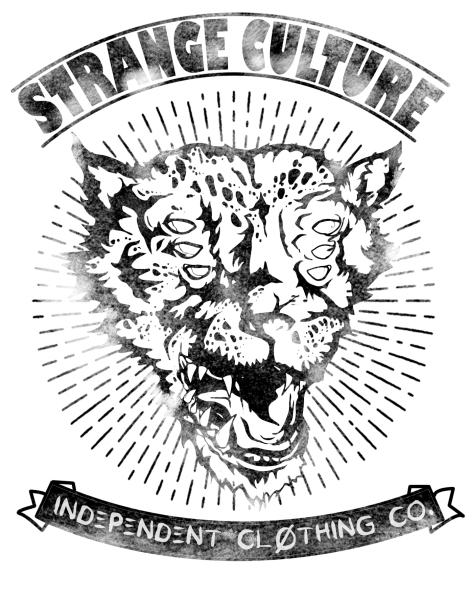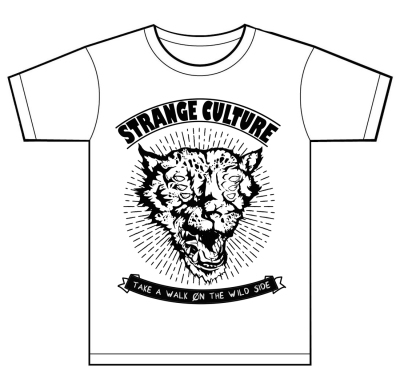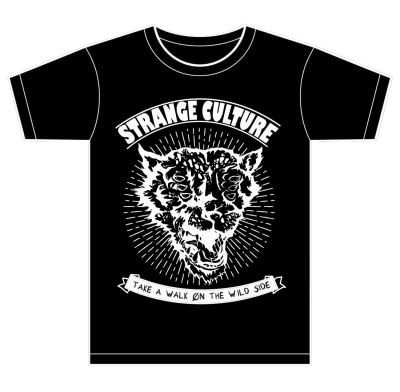 I then used a computer template to decide on positioning and size in comparison to an actual t-shirt. I then used the invert tool to see how the image would look on a black t shirt with white print.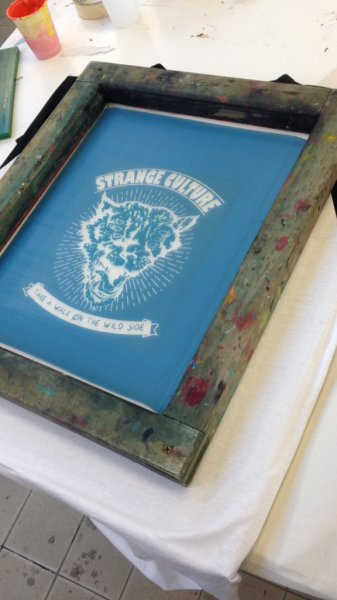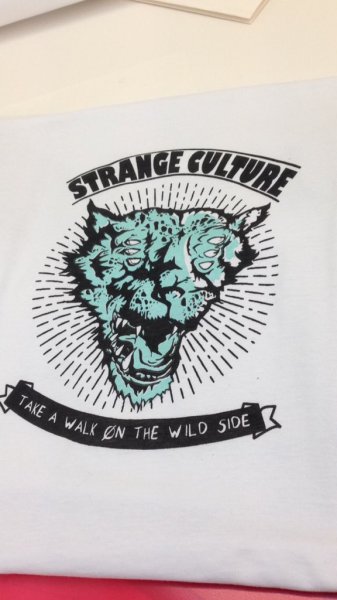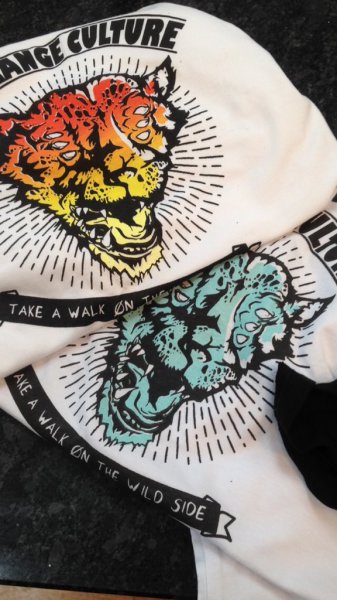 Next I bought some cheap T-shirts to trial my image as a print however this is where I uncovered some problems. The main one being I forgot to resize the image before transferring it to a screen so it looked very small on the T-shirt which I didn't like. The actual print I believe came out well so it was a shame. I experimented with colour, trying to recreate some of the computer designs, I created one block cyan colour as well as one orange gradient print. I also tried to mimic a faded weathered effect by using a sponge to transfer the ink through the screen, however it didn't come out well at all.
Unfortunatley, due to lack of time keeping by myself I didn't manage to get the T-shirt designs to a final saleable stage in time of the work experience deadline, which is a shame although I felt I learnt alot about the processes during this experience and it was good to do something off-curricular. I will complete something similar in the future.
Front Cover Competitons
externally to university coursework, we were given a work experience oppurtunities through the form of creating book front cover designs from a brief given to us by a local school. The three book titles were:

My Voice Is A Shy Tiger
I Can't Imagine 
Journeys
Each book came with a rough tagline of what you might decide to draw within the headline such as 'Journeys' was based on 'the journeys writing can take you on'.
I created all three of my designs in a similar fashion to the way i do most of my work, pencil and pen then scanned, then photoshop/ illustrator. 
We presented our Covers to visiting school children.
My Voice Is  A Shy Tiger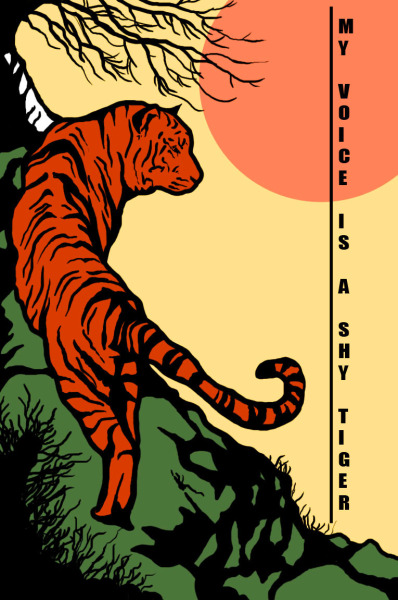 This design i based on a few strong influences I had, the first  being an oriental theme. I think the tiger can often be a symbol of oriental culture and as such I tried to create the whole piece in an oriental style with elements like the downward writing and leaning tree silhouette over the pinkorange sun. The colour choices in general i tried to keep relatively placid without to much contrast to keep a calming feel whilst still having enough contrast and bright tones to atract interest particualrly to the tiger. The thick lines i think though helped alot with this.

I decided against adding any extra shadows or highlights bar the outlinework as i wanted it to look more 2D and a bit more aged and oriental symboly...
However, I also tried to mimic some fo the techniques used in the older Winnie the Pooh books illustratred by Ernest Howard Sheperd OBE.
I Can't Imagine
For this cover, I really struggled to work with the title. I had absolutely no idea on what to draw. So, I used my despair to create a visual reinactment of my emotions at the time, through a cartoon mimicing the class "NO!" scream on his knees in the rain, a light jibe at a very typical film scene. I felt the very cartoon based style I did it in aided the humorous appeal. I gained a lot of influence from some Cartoon Network programmes I watched as a child as well as some structual elements from McBess characters, such as no indication of elbows. The colour scheme I kept very dull, using greys and blues to suggest sadness and drama as well as the rain cloud, something which is somewhat symbolic of having a 'bad day'. I also used a very faint line in the background to describe the pavement and dropped book and pencil, so not to distract the viewer from the center of the piece, the character. The humour of the piece seemed to go down well with the children when I presented it to them.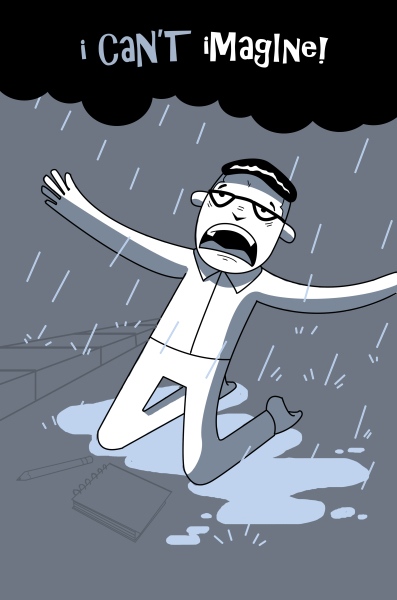 Journeys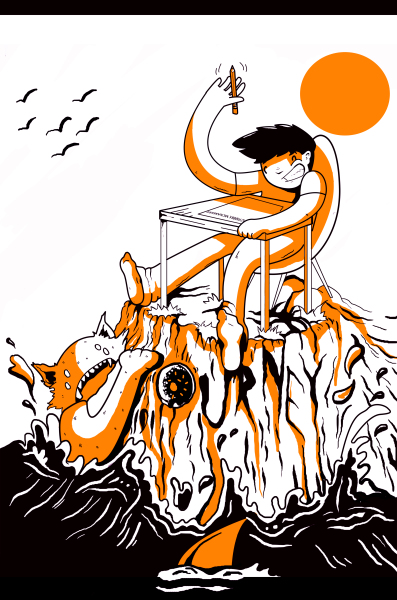 This is the cover I created for 'Journeys'. I based it on the idea of the journeys writing can take you on, as we were assigned. To show this, I created a character writing at a desk, with a sudden and shocked expression that his imagination has transported him to a stange place where he is surrounded by crashing waves, sharks and a 4 eyed cat monster. I tried to make it random as possible, as I felt it would fit the imagination theme. I used the arm of the cat monster, to form a 'J' and a random falling donut to represent the 'O' with the 'U R N E Y' being carvings in the side of the cliff, as well as splashes forming the 'S'. At the time I thought this was a good idea, but was sceptical that it wasn't easy to spot as a word. My specticism was realised when I got the feedback from the children who liked the design but thought it was hard to spot the title. I also used a three colour scheme which I tihnk worked well.

This design actually was placed in the final 3 in consideration for winning the competition, which was great. They gave me some feedback to edit on the design to resubmit it with the chosen changes before they decided on a winner. As suspected, they suggested making the title clearer and easier to read, as well as adding more random elements and creatures.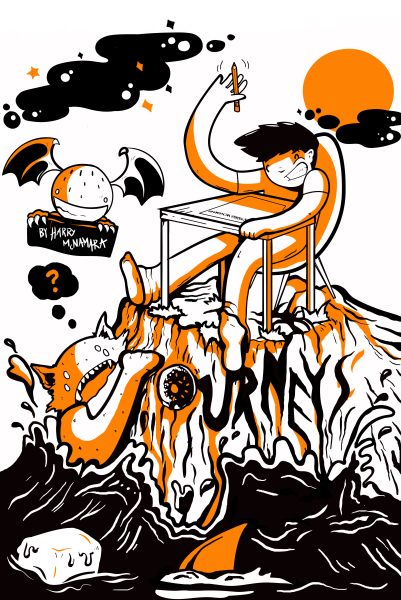 Taking these recommendations in to account, this was my resubmission. I adjusted the thickness of the lines on the title, which I think made a world of difference in how easy it is to spot and read. I also added a few extra elements like a melting ice cube in the water, replaced the faint bird silhouettes with glittering cloud blob shapes in teh sky, and a flying creature holding a sign with reads 'By Harry McNamara' as I realised I had forgotten to put my name on the design, so I tried to think of a creative way I could put it on. 

The  subtle changes prevailed anyway and I actually managed to win the competition!
Wedding Gift Commision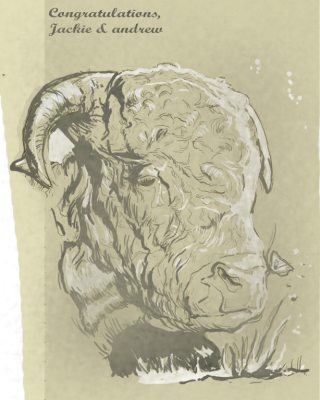 A friend of my Mum's, commisioned me to create her a study of one fo the Hereford Bulls she has on her farm. She sent over some photos, so from there I began to note some ideas on how i could create the study. She was basing the idea of of one of my rough drawings I'd done in my brown sketch book using charcoal and white conte pencils. So i decided that using that colour scheme would be essential. With that, I had an idea of creating a print on to a brown material that could then be framed. For the study I drew it using pencil before scanning in to Illustrator where i created a vector graphic which I can seperate in to three easily printable layers.
Early stages of the drawing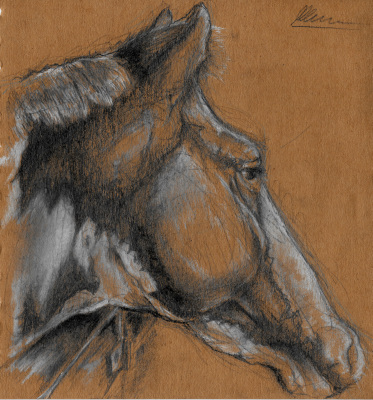 I created a quick sketch-style study for a girl friend who lives locally. I based the style of the study on a previous selection of sketches I'd created that my friend had seen via my social media accounts and blog (in advanced drawing module). 

I left in the construction lines as I felt it gave the drawing a better feeling of construction and it looked like a more natural quick sketch, where in reality it probably took me around an hour and a half, so I feel the pricetag we agreed on of £15 was fair. I used the knowledge I'd gained from a proffesional practice lecture when deciding upon pricing, taking in to account the size of the picture and time and effort spent on it.