AD6000 - Major Research Project
Through consideration into the task ahead I have decided to dedicate my Major Research Project into an element of Illustration which captures my imagniation and interest the most which will help me to immerse myself within the concept of the project more and create and develop a more detailed and concise study, as such I have decided to look in to the conceptual arts of the 'skate' and 'surf' culture.

The concept of this subject, is intially very blurry and hard to target certain areas, so this is where I am hoping my tutors will help me to evaluate my decision and where I can focus my study. 
The elements of Skate and Surf culture illustrations which capture my imagination most are their raw and graphic style. The style is an understated trademark of the community and it is with this reason I would like to explore it. The style at first glance is similar to Graffiti etc. so studying into what seperates the two art forms as well as what brings them together i.e. cultural heritage, techniques, application, will be a very interesting topic of study I believe. 
Although, not a frequent skater or surfer myself, I have often found myself very interested in how a complete culture and social group can be created through such means as sport, music etc. and its conceptual links to art. The tie between art and elements of society are a very interesting topic to myself, and I would believe any artist, as their styles are always  product of their own surroundings and interests. Exploring the links in the art form to the origins of the skate and surf movements will be essential in helping me to understand the reasonings behind the nature of the artworks of today and a study I am very excited to begin.
first group meeting we came back from the summer break and evaluated the suitability of our research project ideas. I approached the discussion with a very vague and rough idea of a style of art that really interested me however, when evaluating the credentials of this interest in terms of an in-depth research project, I realised I hadn't given myself the easiest task. It was in this group discussion we also began to work out how we should structure our writing to ensure we made the most of this project. We were given a handout sheet which summed up better what we had spoke about. it included 3 red, white and blue hatted men who were a personification of the three steps of structuring the project. Red - representated intentions/question, what it was you wanted to discover and explore. White - represented the visual language you are going to use how you would present your ideas. Blue - represented your outcomes and conlusions.  We were also told to adress the following points:

Research - examples/starting points
Experiments and investigations
Your outcomes and conclusions
constantly refer to red/white/blue structure
research each experiment and evaluate linking to question
Overall, I left this meeting with more questions than answers as I felt the brief we had been given eluded the basic module guide and jumped straight in to writing structure, which caused confusion for me personally as I felt the task should have been explained in basic firstly, as at this time to my knowledge there was no module guide available.  

As a result of this first meeting I decided my initial idea was far more of an interest than a realistic choice for my major research project. Having lost complete enthusiam with the idea I decided now was the time to focus on a different idea and begin my project from here. From this point onward I decided to research some elements of animation I had found interesting when researching and experimenting within my other project, my final major project. Although it was good I had this raw enthusiam fro the subject I lacked with my original choice, I wasn't clear on my intentions or what  exactly it was I wanted to learn or answer - this was what I must think about in the coming weeks.

Week 2 - Question discussion
After the first week back at university, jam-packed with module specifacations, guides and deadlines for other projects, I returned Tuesday with a degree of nervousness towards what might have been ahead in this research module as well as little towards an idea of what it was I wanted to base my project and it's questions and intentions on. As smaller groups again we held a discussion where we discuessed our questions and intentions with other students. I was slightly alarmed by my lack of an idea at this stage as many of the other students had a clearer idea or at least a basic idea of what their project would be based and how they would study it and plan experiments. 
Go to library and get book - 
kieren identified the 
Week 5 - Individual discussions
Previous weeks hadnt dedicated enough time to research project with other commitments in particular, pitch and plan deadline

Rough idea in form of line expression
explained points i had discovered through FMP with line in particular being key
flat lines can look dead
caligraphic lines show motion better
Geoff Coates artist, fast emotive lines create expressive drawings
Grickle, animator/ illustrator  incredible use of basic lines to show emotion
referencing module guide and what is expected
6 experiments should be done before xmas break
suggested excercises, short narrative to explore character expressions through basic lines - see grickle
contrast my own work and their work
communication values of line
focus on what te question is and constantly refer and follow writing and experiement structure
Application of Line - Experiement 1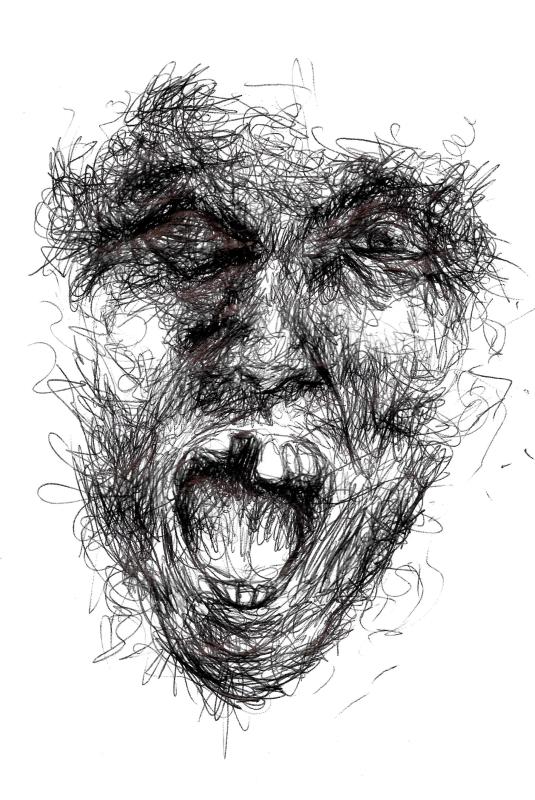 Chaotic line to convey madness
Artists: alberto giacometti, Claude Heath and Daniel Mathers