Portfolio & Promotion
The portfolio and promotion project started today. We opened it with an introductory lecture from Georgie and Delores where they outlined the main purposes of the project and how it would benefit us as budding illustrators. Some of the main points to take form the lecture were:

The main importance lies with your portfolio. The portfolio is a showcase of your skills so all of the work included must be to a high standard and also be visually appealing through a theme or house style, it's good to show a range of skills but also good to ahere to a certain client. A themed portfolio works like a good marketing/ braning campaign in that a house style can leave a lasting impact. 
The module is designed to set us up as proffesional illustrators beyond university. By giving us some valuable life skills and tips to help us gain confidence and bring in commisions and work which is always a daunting idea for many creative students. This I feel will benefit me greatly as self doubt and lack of confidence towards finding work after university is something that plagues my mind and stops my efficiency.
After Uni focus will also lead to possible interships and placements.
Work cannot be re-used but can be reworked into a different context i.e printed as a product such as a phone case. This is great as it means we don't have to create masses of new work and it gives us teh chance to reinvent work weve already created and like. Having some rough experience creating products of my work I am aware how rewarding a final product can be.
The previous university year enjoyed the project alot and having studied some of their work ourselves we are all looking forward to this project in particular which with the right time management and balance can only be beneficial.
We will take part in skills workshops and tasks to help us gain experience and skills along the way as well as possible portfolio pieces
Indvidual tutorials to speak about personal development
A final exhibition of our work to showcase our efforts in a proffesional environment.
Minimal work expected for end of the module:

Physical portfolio completed to a high standard (it is selling your work!)
Outward facing proffesional website, containing elements like a gallery and digital portfolios.
At least 3 promotional items
A promotional publication created in groups
Research of points of interest, with development and bibliography/ resources.

Potential work experience/ client work blogged

Lists of potetntial clients or work experience oppurtunities. 
Use of resources to further your proffesional practice recorded such as social media.
​How we'll be judged:

Individual skills and productivity
Practical skill excecution
Amount of quality work
portfolio consistency, flow, style
We were given a timetable of how the module (which is a double module!) would fall. The module consists of a mass of different individual and group tasks and workshops, tutorials and seminars which mainly fall on Thursday afternoons and mornings as well as a scattering of wednesdays. Olio work (seperate module) will also gain some lecture time in place of this module in parts. 

In order to try to put myself in good stead heading in to the module, I have made sure to record all of the dates on the handout, particularly important ones such as hand ins and trips. One trip in particular we spoke most about was the London Book Fair, being a great environment with proffesional illustrators and publishers to gain some work experience, inspiration and maybe even work. It was stressed to us to be brave during these events and and speak to publishers etc. as this was a great oppurtunity for us and we shouldnt let it go amiss. As such the london book fair I have noted alot as being the 15th/16th of March and definitely plan on going. 
Developing and Understanding My Intentions Within My Proffesional Practice
i think it's very important before beginning this project to outline my intentions and plan-of-action. How I will use this project to project myself as a proffesional illustrator and begin to establish myself within communities and gain oppurtunities for business.

from the very beginning of this project and third university year, I began to think about my work in the sense of continuity. I wanted it to be different and show wide ranges of skills but also work well as a collective. Earlier in the semester we worked on an unmarked project entitled "a month of.." where we had to create a months worth of illustratrations (one per day) to try and help us develop our style before our most important university year. 

This work stood me in great stead for the year, as it provided me with some work to go towards my portfolio but also valuable practice in developing my style and a chance to notice my flaws, mainly in my lack of consistency in style.
A few pieces from my month of project: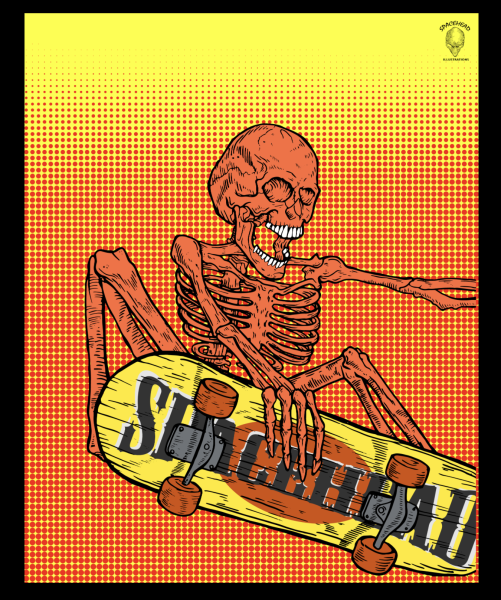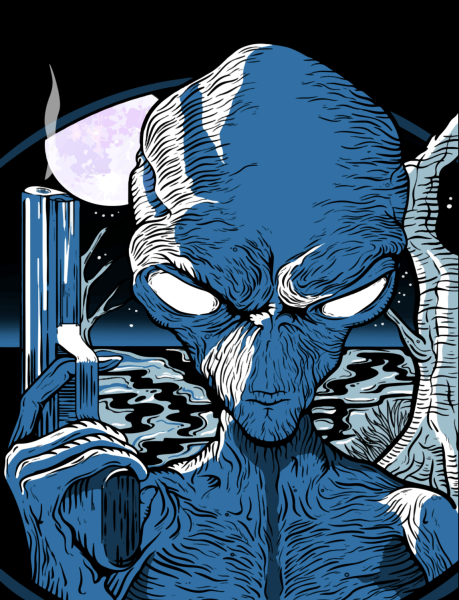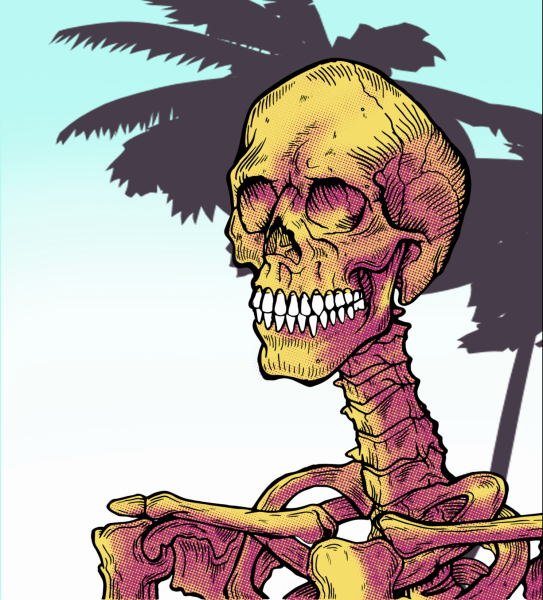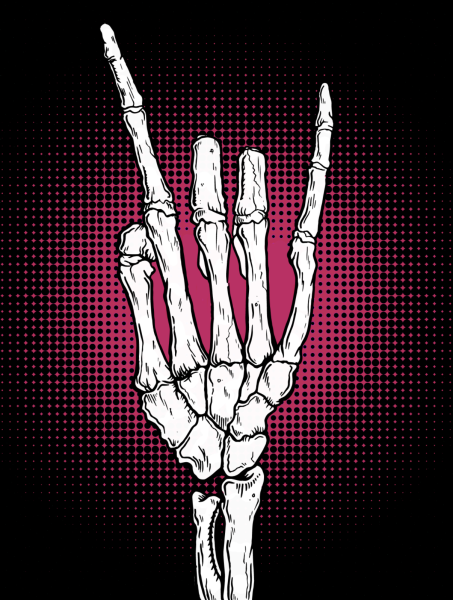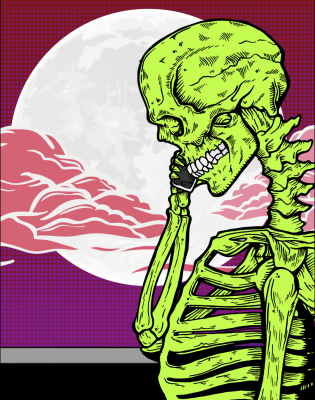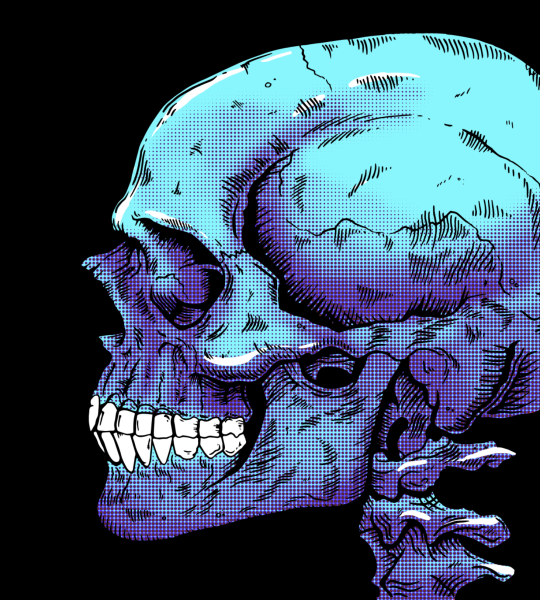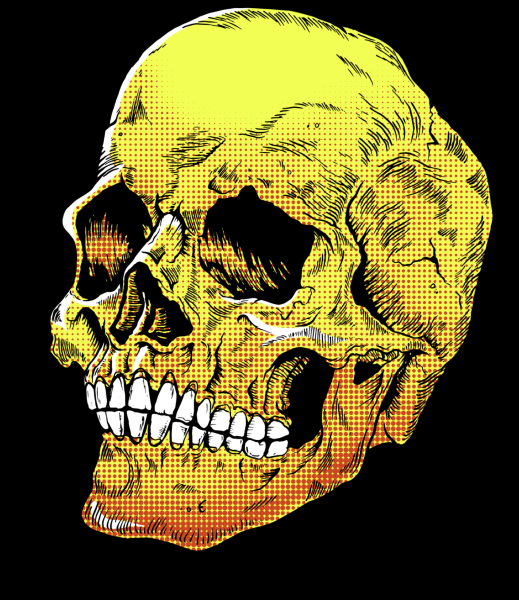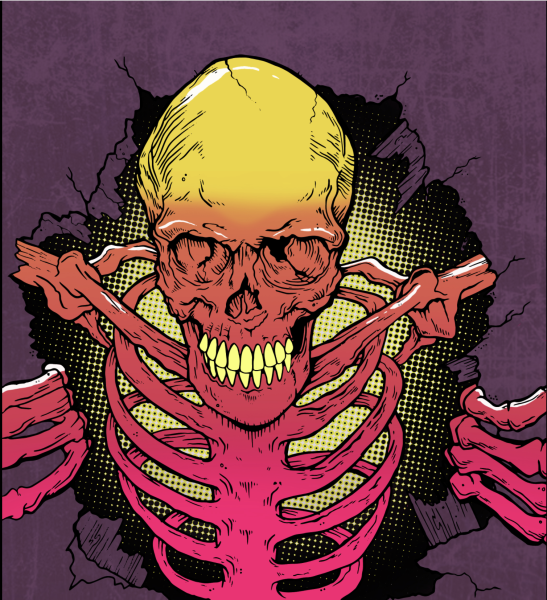 Although alot of the work I produced at this stage was wildly inconsistent and experimental, the great thing about the way I worked was that the linework I produced, I actually liked alot in the most part, and due to the way i create my work in layers I was able to re-develop this into a new uses later on - uses that showed much more consistency and higher quality demonstrations of techniques. Of course having all of this work available so early, provided me with plenty of time to alter it according to any influences and inspirations I discovered as the year drew on.
My interests aimed towards a more graphic style, mainly that of skate art or art assosciated with skating and surfing culture - which was often very graphic in nature and subject with big emphasis on dark, bold, linework - something which i felt my work style had but could be much greater emphasised.

Alot of these artists and influences I found I discovered through social media, mostly instagram, which I have found to be a very effective tool for artists, as all social media can be, but instagram I found to be the most effective in discovering and following artists.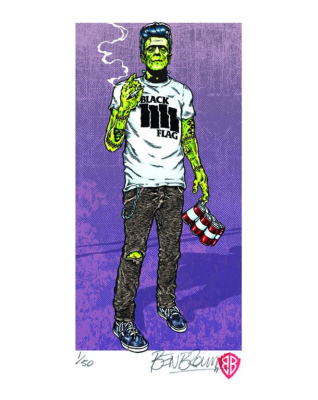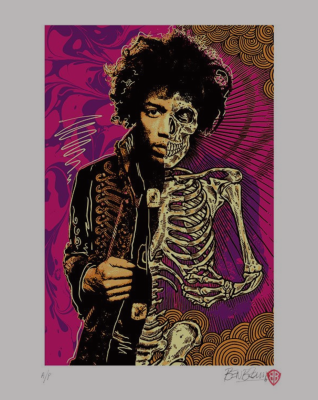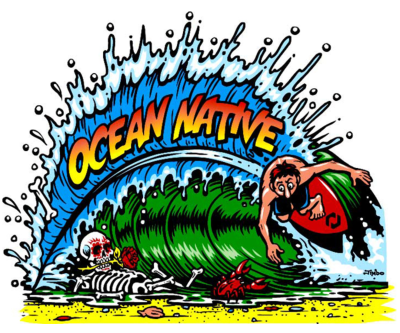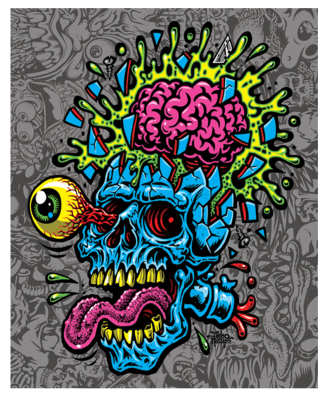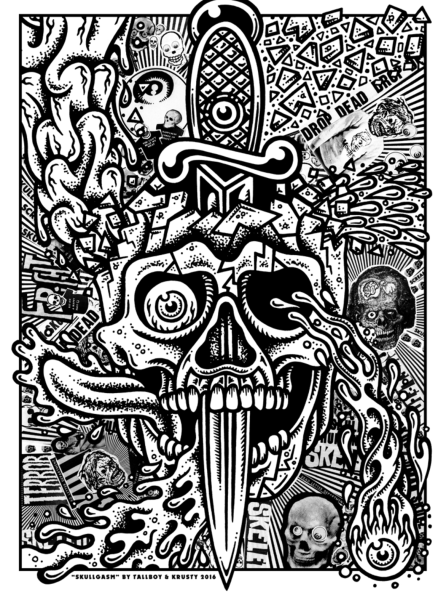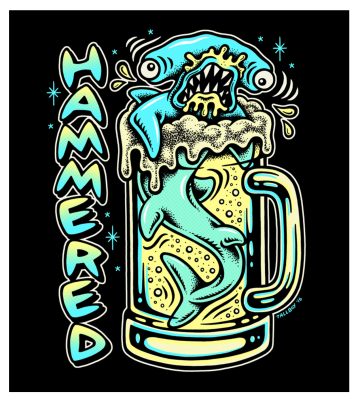 I studied how some of these of my favourite illustrators marketed themselves and used social media to advertise their work.  It was through these studies i began to understand the importance of gaining a following and the sheer amount of hits a post on instagram could achieve and what this could mean for an artist from a business perspective. Popular posts would include finished artwork, in progress artwork, visited events and also some elements of personal life - this provides the social media following with a behind-the-scenes style look at the artistic processes that go into the artists work as well as showing personality and relatability behind the pure proffesionalism. Business would not often happen over instagram but it provided a platform to show direction to people to a home website or email adress where a deal or commission could take place.
Instagram also offers a unique feature for business pages over personal pages which includes a contact box which allows for business enquiries over an attacthed e-mail adress.
Ben Brown                                                                           Tallboy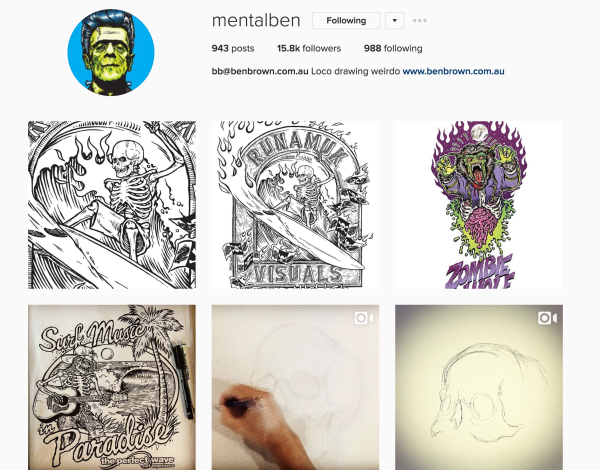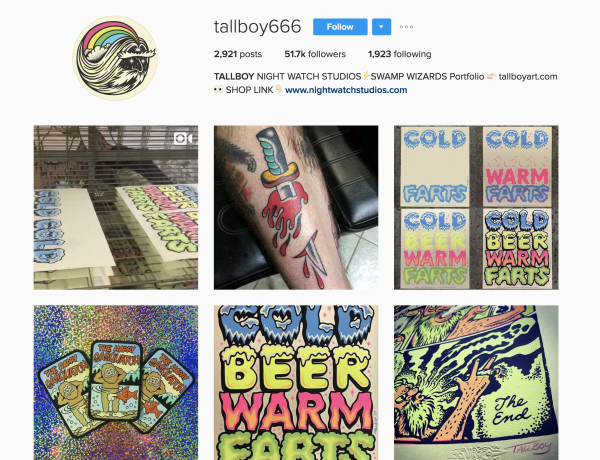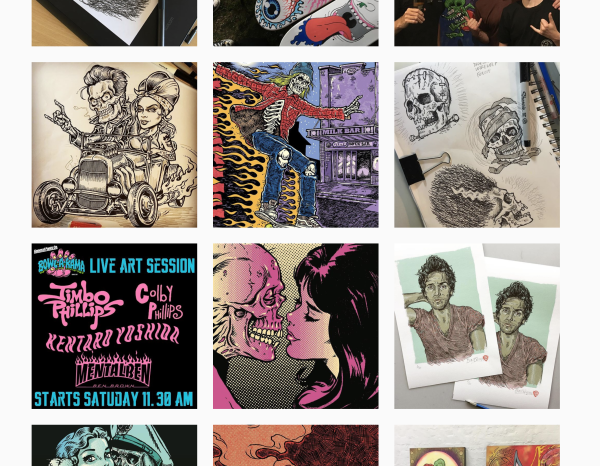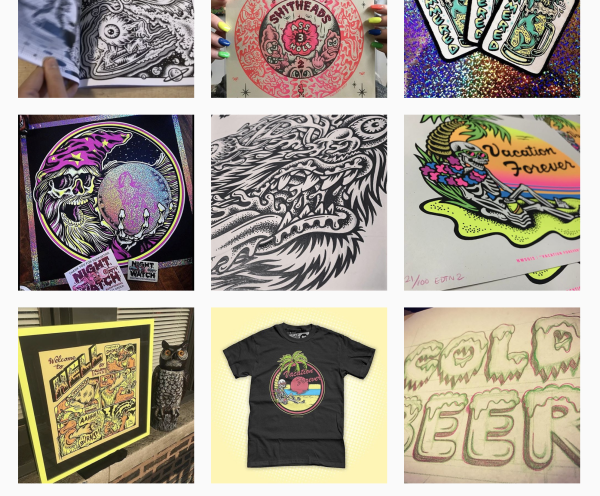 Jimbo Phillips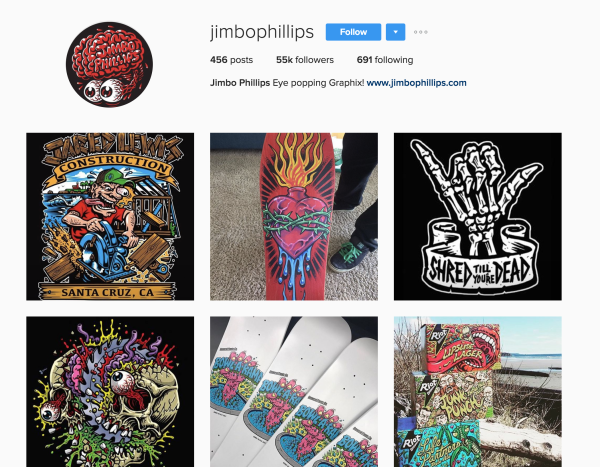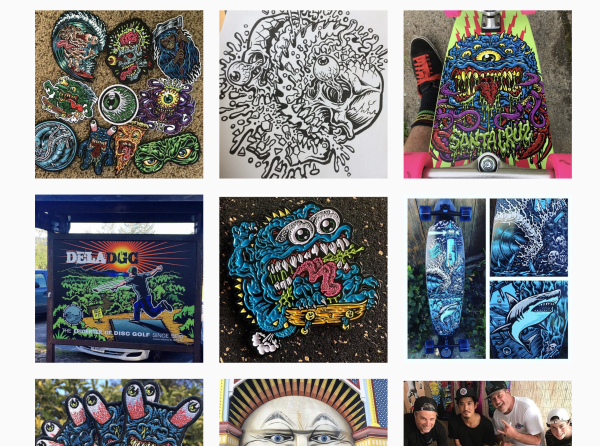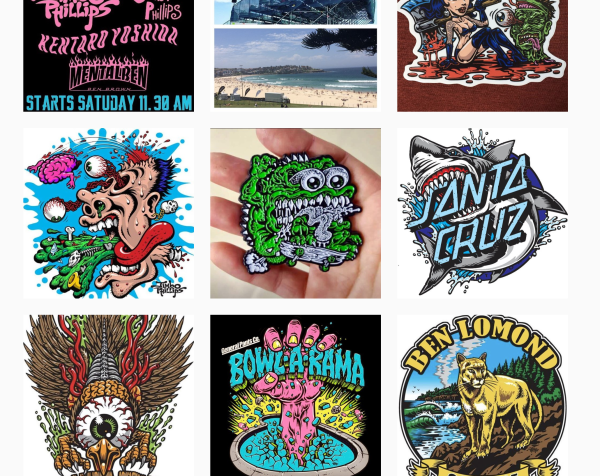 All three of these artists maintain a house style throughout their instagram feeds, it's not as strict as a colour scheme but the work is all similar in style, this is why their instagram feeds are so pleasing to look at as they have little to no anamolies that distract the eye, this flowing of images is key to displaying work and can be applied to other things like portfolios and exhibitions.

For myself, I struggled to find confidence in my own work in sharing it over social media initially, however I realised this was something I must overcome in all aspects of my practice. Therefore, i started to develop my social media standing, this is the point where I decided to use an alias name. 

Many of my favorite illustrators use an alias or nickname as it fits much better with their style of work - many of whoms real name I don't even know! This is a technique alot of people in art and media use to adhere to an audience better. My favourite examples of this within illustration are: Sketchy Tank, Tallboy, Scarecrow oven, Lunar Crypt co. and Wizard Skull. I decided to brand myself as 'Spacehead' i chose this as it played on my tendencies to be called gormless as well as partnering well with my style and one of my favourite subject matters of aliens. I also thought it would translate well with typography in mind.
It was at this point i began to think about myself as a brand and could start to develeop this identity over social platforms.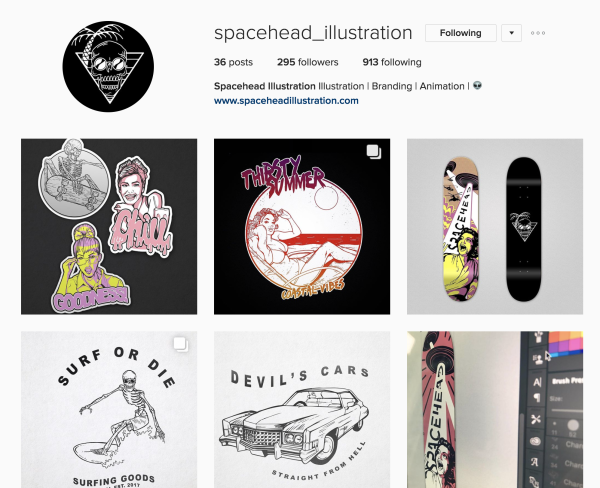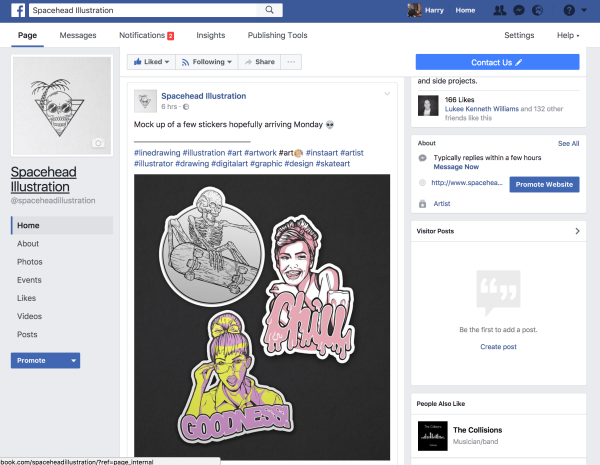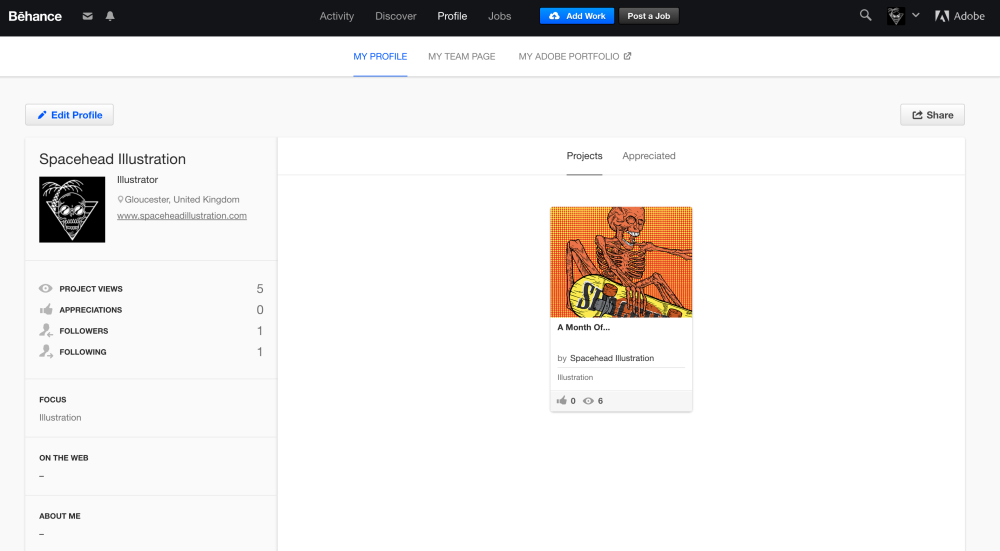 For our first afternoon task we got in to groups to compete as teams in a game of naming the logo. We were all given a sheet with 50 different logos on, where we were shown a segment of each logo and had to write the name of each underneath. The task aimed to how us how brand recognition works and how succesful some brands are with a house style which is something that relates to a consitent style going through our Portfolio.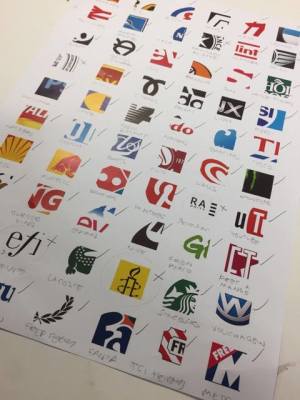 After this game we had a small break before returning for another excercise surrounding branding, this time, in the same groups, we were given two products that were the same in purpose but with completely different branding and asked to evaluate the difference and effectivness of each against each other. As a group we were given two broccoli and stilton soups, One a tesco own brand and the second an Ainsley Harriott.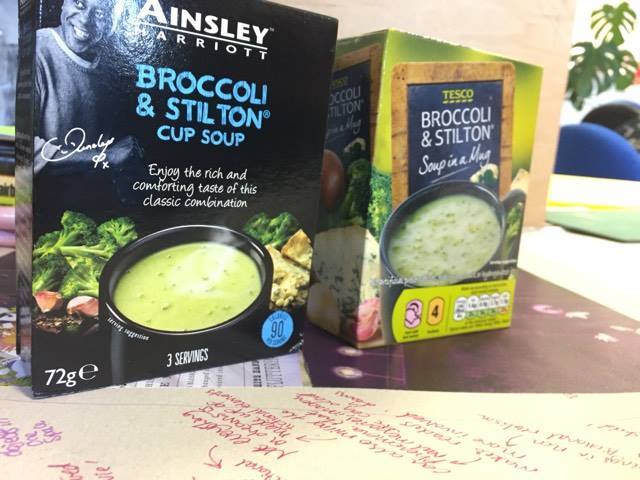 Comparing the two, it was first easy to notice their similarities and differences:

Composition: 

text located in the center top of box with soup at the bottom. Although the soup is much larger in the Tesco box the image is actually much more desaturated in colour and looks less appealing. 
Ingredients scattered around the mug of soups - Ainsley's appear to be off a chopping board, look more categorised ( a reference to his chefing prowess) where as the tesco vegatables are scattered around which are more noticable if it werent for the fact the side of the box is proabably not going to be visible on shop shelves.
​
​​
Text:
Ainsely's box using a total of 6 different fonts just on the front panel which is not an adviced stylistic move in the design industry. We didn't think it was  too bad mainly down to the consitent colour scheme but it couldve been better. Tesco use less and the text is also interestingly intertwined with the background which is a more interesting design feature.
The main title of each (more clearly visible in the tesco box) looks to be based off chalk texturing. The use of chalk on a chalkboard is very linked to gastro-pubs and so home-cooking which creates a feeling of warmth and ease when selecting these products.
Colours:
The use of colours was a noticable difference between the two. Ainsley's main background colour was black, which as we later uncovered when talking about other peoples products suggests indulgence and an upper-end product. This is also a consistent theme of Ainsley's brand. Tesco use a green theme, green suggests health as well as a relevance to the broccoli in the product. Both provide effective reasoning for their colour choices so we felt both worked well.
Overall design features:
Inkeeping with his brand Ainsley's box features a picture of himself as well as a story of how he sources his ingredients on the back. We joked about his own self-indulgence but in some sense this could be a good marketing aspect in that the people would think that the product would be chef-quality. Tesco on the other hand, focus alot more on displaying the product in large and adhering to the gastro pub theme. Which debatadly also works fairly well. To us the tesco design partly down to print qualities as well did look cheaper than the Ainsley soup but tesco products are based more around function than induldgence. Ainsley's attempts to convey indulgence and luxury though we felt could have been much better.
Following on from evaluating our own two products we listened to each individual other group about their two products which included: shower gels, crisps and chocolate. most of which were again compared through a more indulgent luxurious design against a basic purpose supermarket own brand. The difference in quality of design between the to was very obvious again but the supermarket branding of these cheap purpose products we felt resinated with us partiuclarly as students as an immediate indication of something being cheap and cheerful so both branding campaigns we felt worked in different ways. But a main point to take away was branding works best through consistency.
Branding my own work
Something I've always struggled with throughout my illustration practice is finding a style and sticking to it. The mix/match nature of all of my work, to me, always looks very unorganised and messy the worst part being I can't decide which bit I like better! I'm also always discovering new inspiration and developing my style so in many ways have found it hard to try and refine my practice and development.

Following on from the branding workshop, I started to think about 'branding' my own practice and starting to refine my style to create much more consistency through my work and make it seem much more proffesional and organised.
I started to look at creating a logo, I wasn't sure whether a logo was beginning to make the practice look too 'corporate' so I was undecided whether to go with a logo or a personalised font. 
I looked up a few of my favorite artists websites to see how they had branded themselves:

I noticed that each of the artists I chose to look at share their work on their title page. This allows them to create a visual identity immediately which is important. They also all allow their work to be the main point of interest against plain backgrounds. their 'logos' or custom typography also provides a bespoke element to their ability to brand, and in the case of 'Yeaaah! studio' in particular is used across many of the goods they sell with slight variations.
​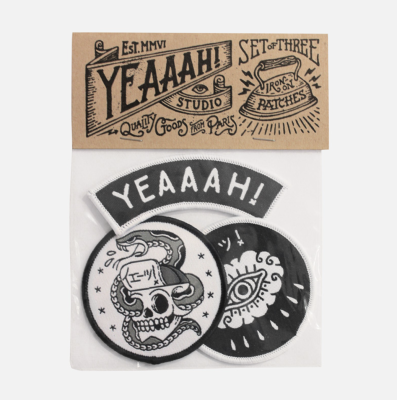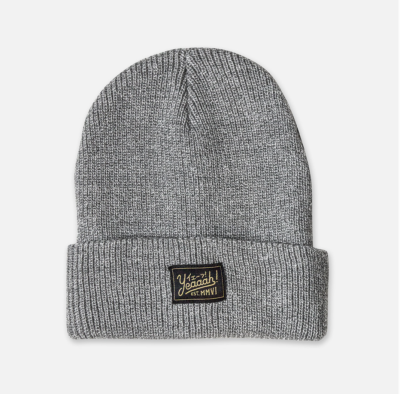 I decided to create a logo that would keep in with my style of art: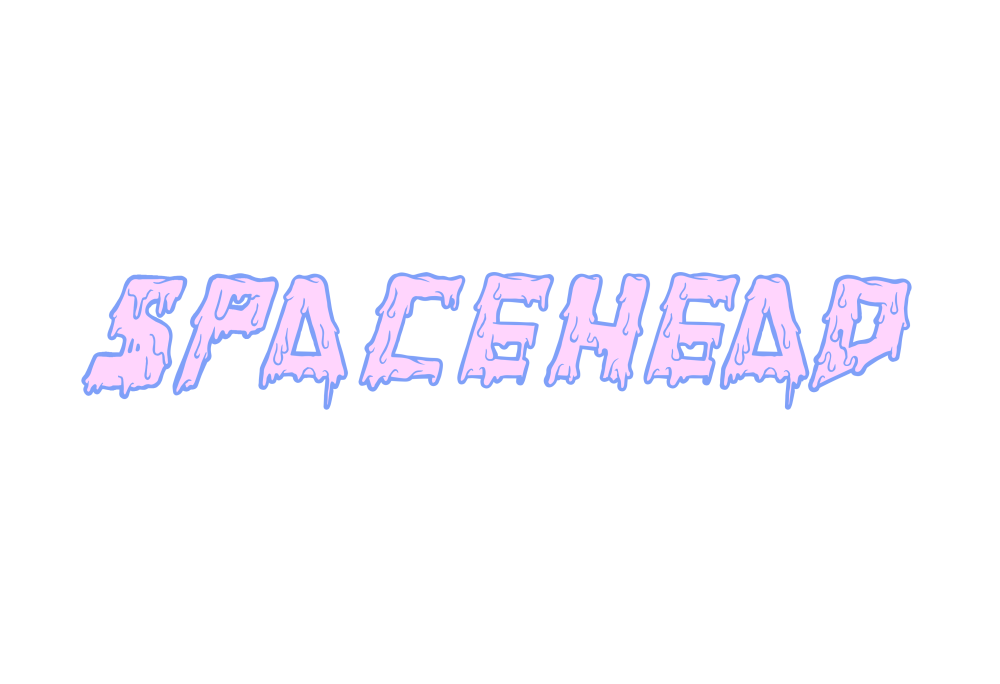 I created this second typogrpahy after some stages of development. I knew it was a worthwile process as it could now be used for a variety of different purposes.
Apprentice Workshop
As a fun day excercise we worked on an apprentice workshop. We were put into groups and asked to create a product from a £5 maximum budget and create something which had increased in value. I worked in a group with Toby, Tim, Jordan and Bryony. where we assigned each other different roles. Me and bryony worked on idea development while the rest of the team gatehred supplies. After toying with multiple ideas ranging from screen printing to creating wireframe models we decided to create origami lights. We saw origami as a relatively cost-effective art form that could draw great increase in value. our main inspiration being origami ceiling lights which we researched on behance and google images:
We decided using a small light either an LED or tealight placed inisde the light would be within our budget but could still yield a quality result. Me and Bryony researched some origami templates online to create some shapes we felt could harbour a light. whilst the rest of the team gathered supplies from town. They returned with origami paper (paper specifically designed for folding) as well as 4 tea lights. Me and Bryony conferred our findings with teh rest of the team and decided that animal themed products would be the best option as they would appeal to children and as such our products coudl be used as night lights for children.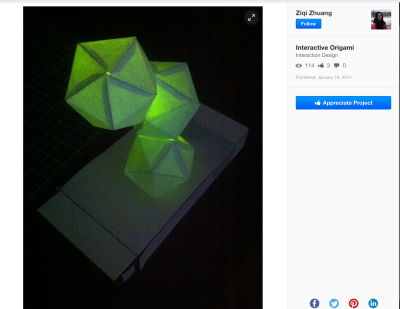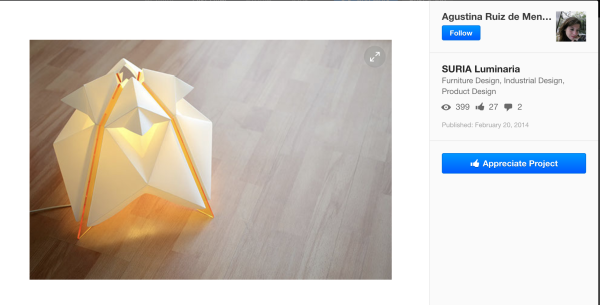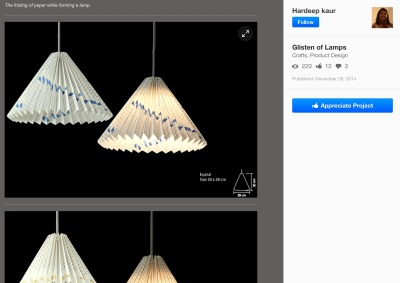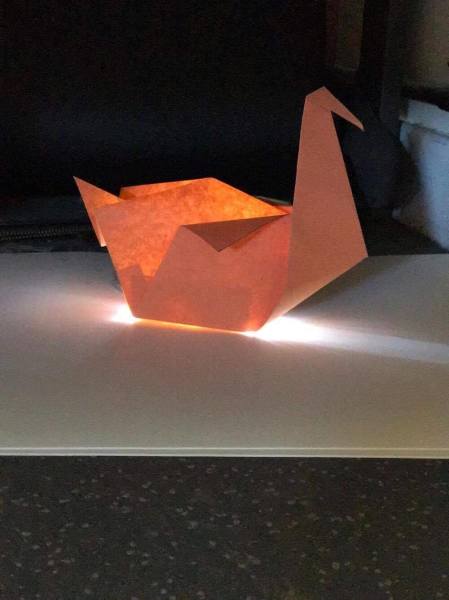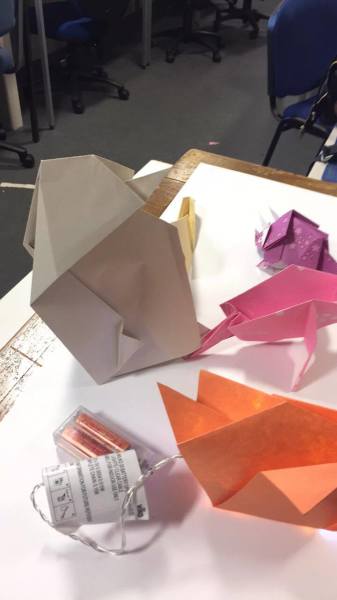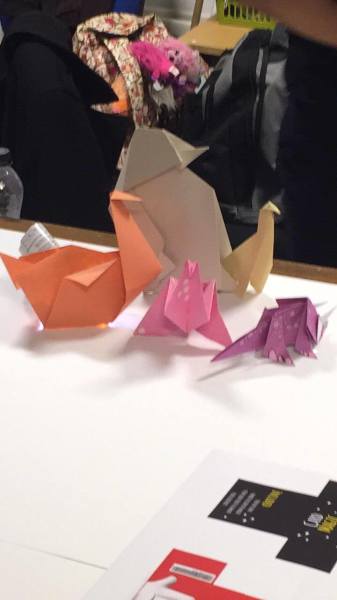 Our resulting product we found pleasantly suprising. Obviously with our budget we weren't going to have the ability to create something of real value but we felt we definitely added some considering we just used some cheap tea lights and paper. In hindsight, if we perhaps could've aquired some higher quality card as opposed to paper we maybe couldve created a stronger product, perhaps the addition of print would've added a more hand-made and child-friendly quality. 

Overall, this workshop was good to understand how we could produce products from a small budget, heading into our promotional project it was good experience and great for our confidence.
Developing My Style from influences

As my interest in social media grew, I began to uncover new interests and influences seperate to my initial love for skate art. My ambitions were always to follow the graphic, bright, styles of the likes of Tallboy, Brian Romero and Jimbo Phillips but the introduction of Yeaah! studios began to introduce me to the idea of using textures and typography more regularly in my work as well as thinking much more abouit developing my drawings into more overall finished graphics that could be used for promotional items like clothing etc.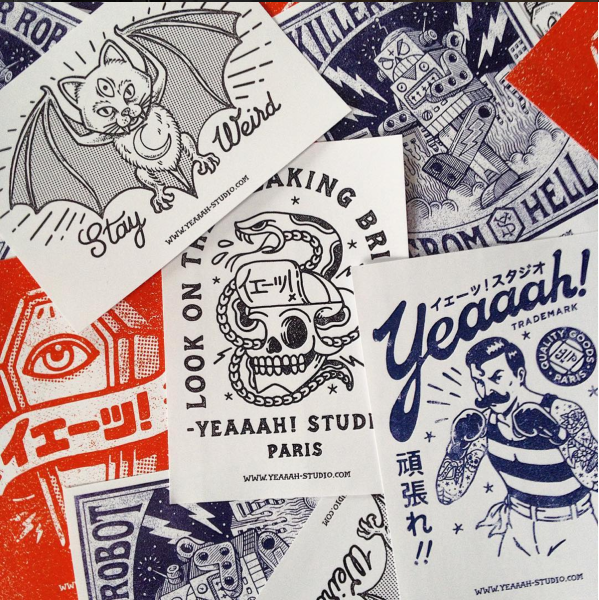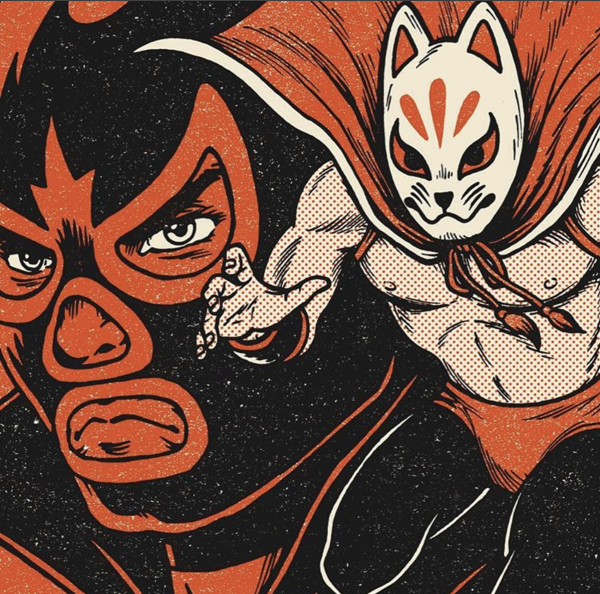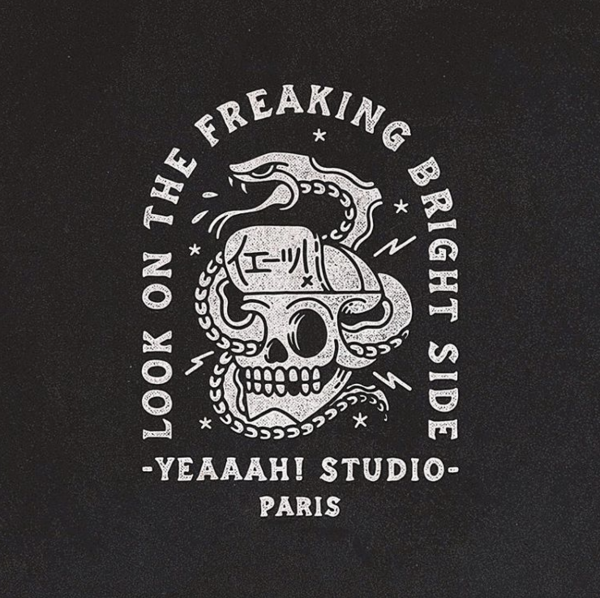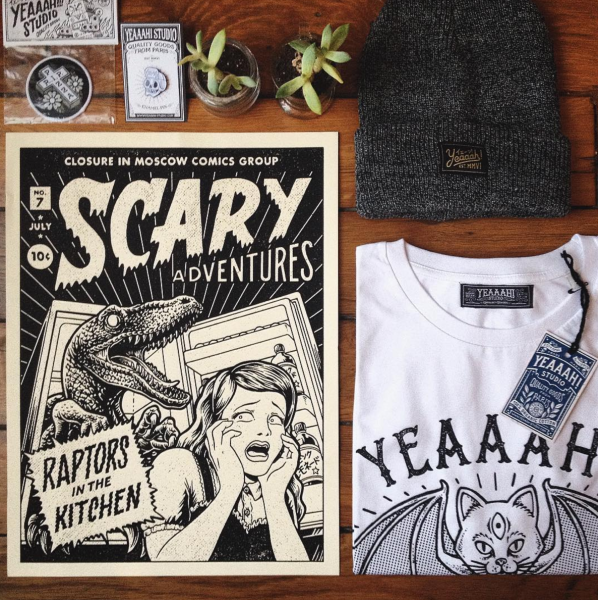 I began to experiment with some of my existing artwork where perhaps I felt I had 'wasted' my linework with poor choices of colour and application of tones etc. I started to much prefer a more graphic, hand printed look which i created through textures and typography.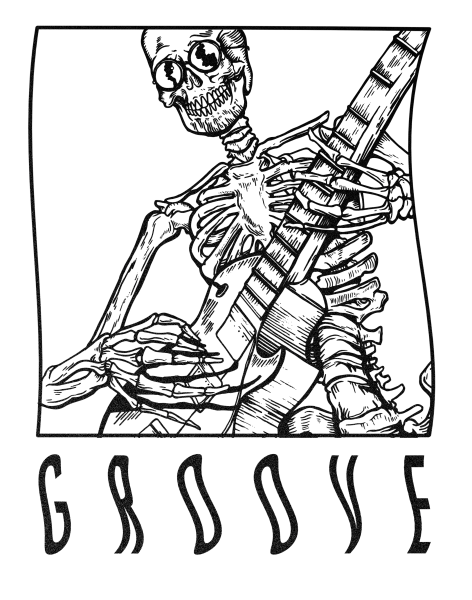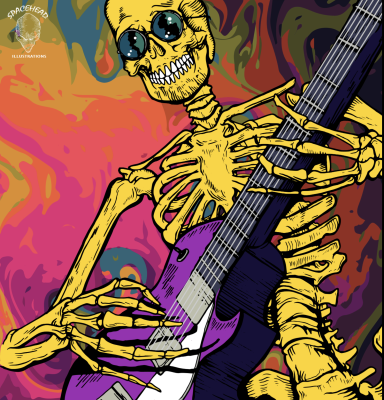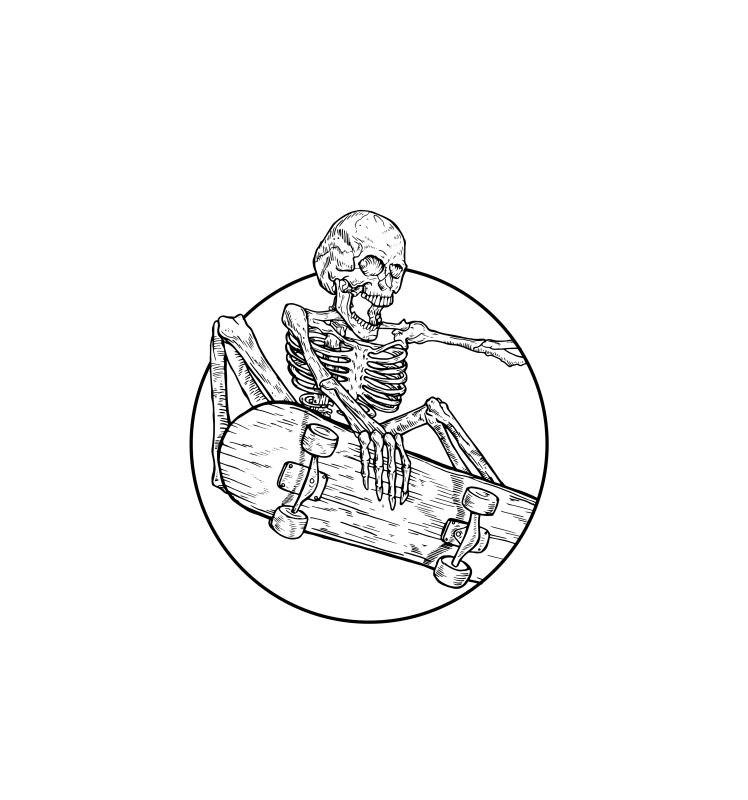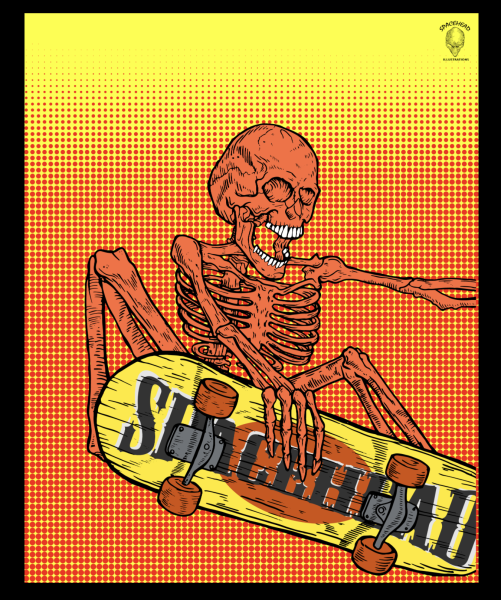 Developing Promotional Items
I began to start developing these more raw 'logo' style designs into finished graphics that I could use over some promotional items.  I used a variety of mock-up photoshop files to simulate what my images would look like on certain promotional items. This gave me an insight as to what the product would look like finished and identify how effective the design was and what I should change as well as providing me with some very proffesional looking imagery which could be used within my portfolio and social media accounts. We had to create a minimum of 3 promotional items, at this stage however I wasn't sure what products exactly I wanted to create. I firstly established that my work lent itself to a more graphic, skate style and as such would be aimed at a teenager-late 20's target audience. As such, I picked items i felt best fit that audience.


I created an initial batch of T-shirt designs using existing linework refashioned into basic graphics using minimal colours, I chose this as it would make the print process easier and cheaper especially if i was to print them myself.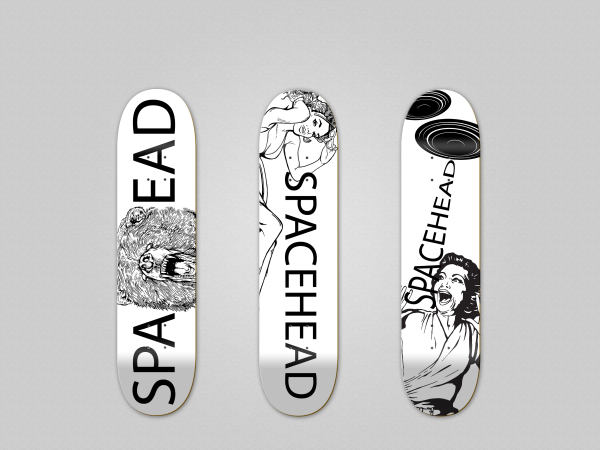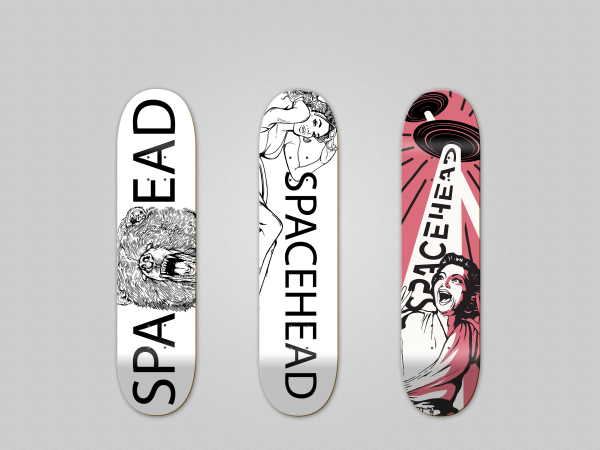 I used exisiting linework studies and placeholder font to gain some compositional ideas for some skatedeck designs. I worked with the templates to try and gain better perspective of how the composition would work in practice.



I took forward the red and white design and developed it, altering its colour scheme and adding detail

I created this mock-up, alongside another design I created, a much simpler, sleek design using one of the more basic logo designs I'd been working on, which I liked but probably wouldn't produce over the first design.

I spoke to a local large format digital printer who told me he could print a full scale vinyl sticker for the base of my board, with this in mind I decided this would be the greatest option for my image as it was relatively complicated if i was to produce it in any other way, such as hand painting it etc.
the second design however, I realised would probably be much easier to reproduce and I firmly had it as a back up plan, should there be any issues with the printer. I felt using a stencil could be a viable option for this design should i need to revert to a plan B.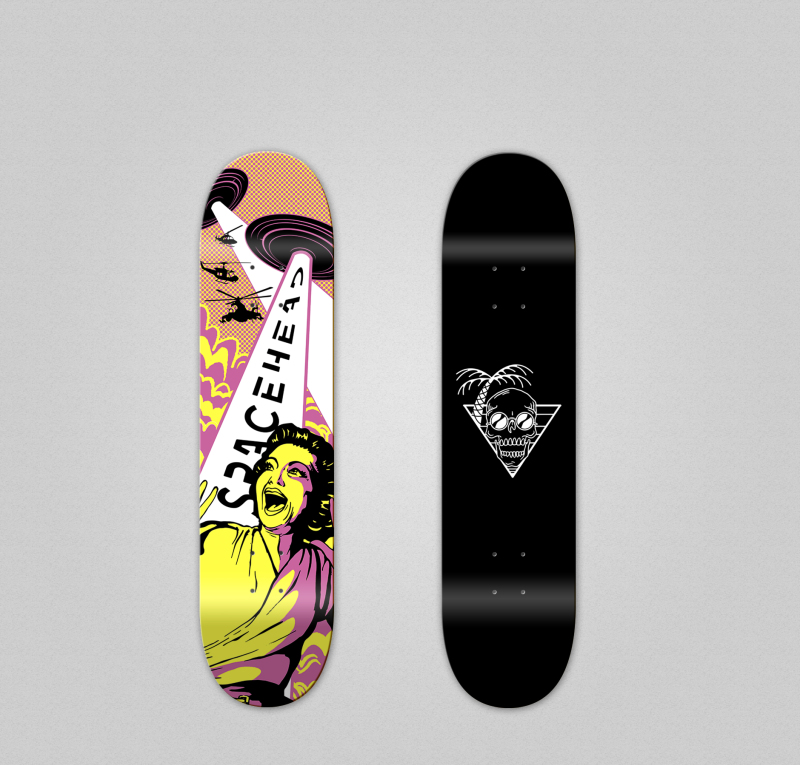 Another product idea I really wanted to produce was some stickers. I created several graphics from existing images altering them to fit the purpose much better: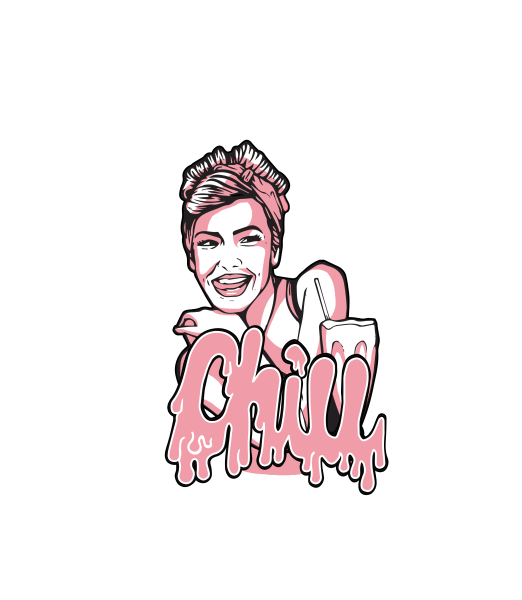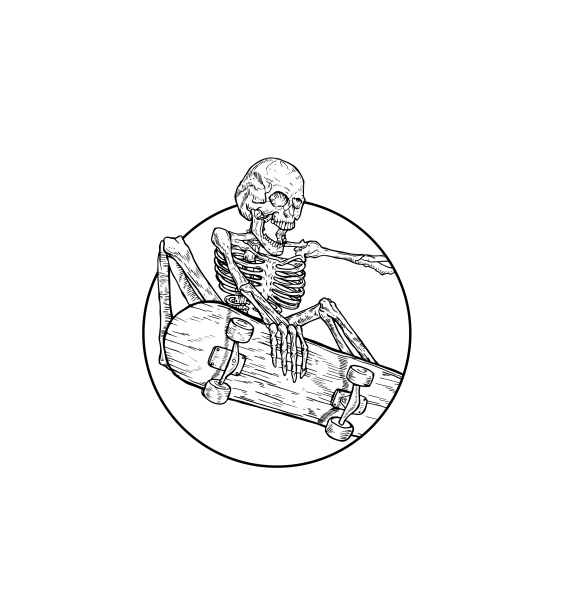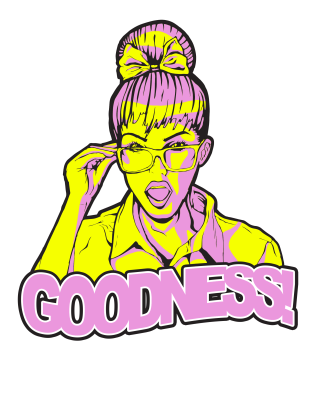 I created my own mock-up using light gradients and drop shadows and textures to show how the images would look as stickers:

Again, I planned on using a local printer to produce my stickers after searching the internet for sites that could perform the service. I learnt that having stickers that were cut to a customised shape cost much more as they used a function called 'die-cutting'. 
I realised quickly finding die-cutting services was difficult and very expensive and lent itself much more to large batches. Although I decided it would be worth it to produce them as my work suited them.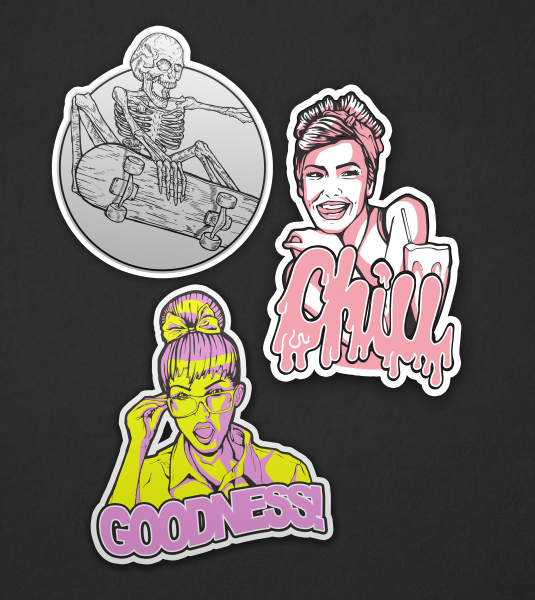 I used a few other mock up services to see how my work would look: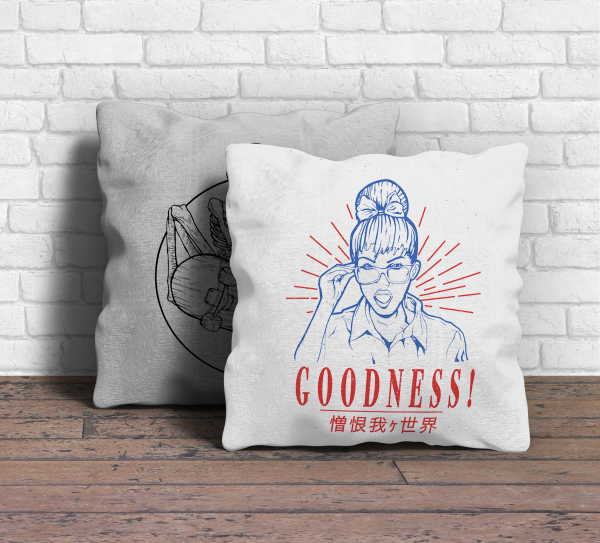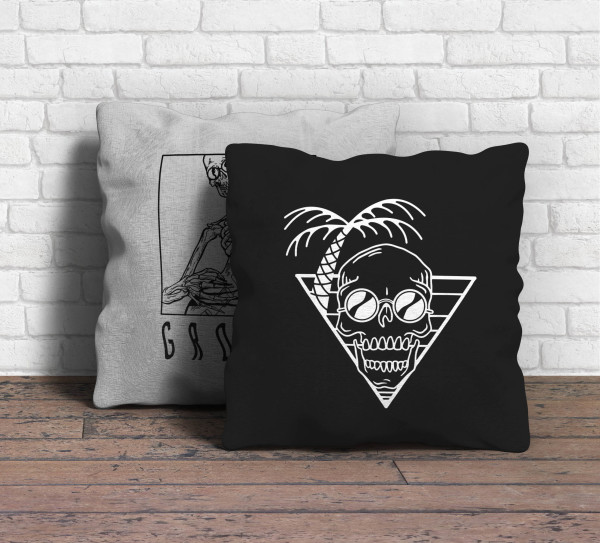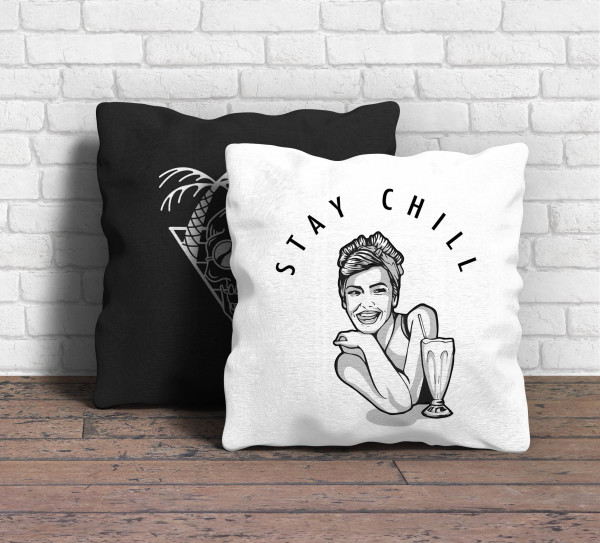 Cushions could be a very viable option of things i could create as they would use screen printing methods similarly to T-shirts. If the sizing o fthe graphic was the same as the T-shirts as well then it could be very efficient.
Print websites like vistaprint often provide mock-up services like this one here of mug:

on vistaprint, a customised mug costs a mere £3, so it could be a very good and cost effective option.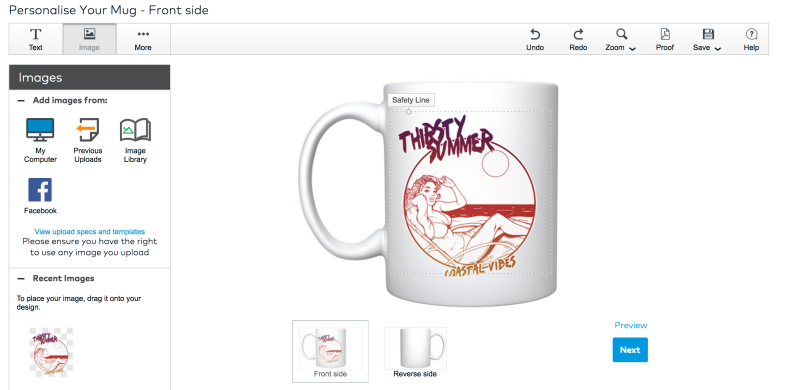 Badges also seems like a very good and cost effective option, I found the website Atelier.com who provide a badge creating service which includes a mock up section: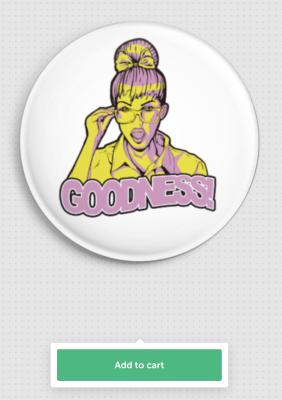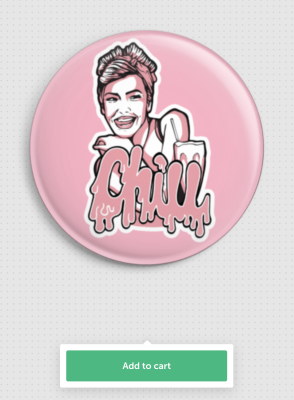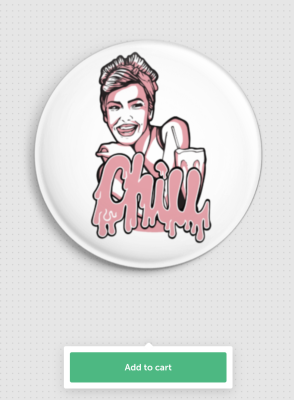 Building/ Altering My Own Website
Following on from my studies into styles, branding and social media I began to completely overhaul my website. I chose to alter my existing website as I had already bought a domain name so I felt having a the simple www.spaceheadillustration.com was too clean and proffesional to not keep and redevelop.
We spoke in great detail at university with Delores about the effectiveness of websites and how layouts and styles that compliment the artist best. We also discussed a variety of different free website builders such as: portfoliobox and wix for example. However, I had already developed through a provider I brought a domain with - this website is created through mysitebuilder.com!

Alot of the information as such went amiss but the main advice I took from this discussion was the idea of an outward facing website including immediate displays of the artwork on the homepage, with no distracting background or flashing images.
I looked into some of my favourite illustrators websites, in particularly their homepages and evaluated each according to appearance, how easy they were to operate, design, layout and consistency.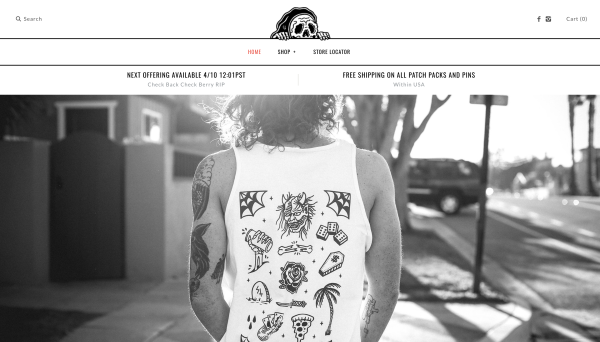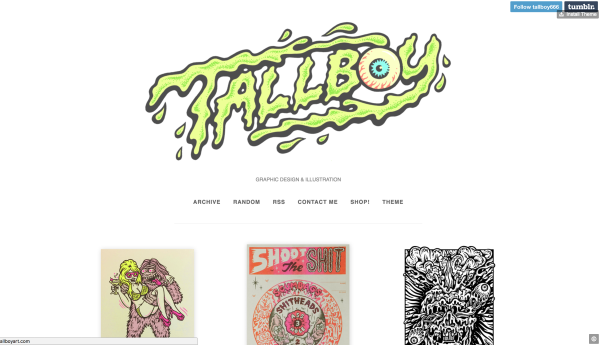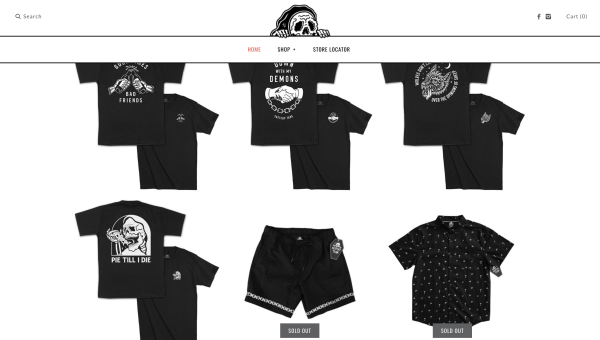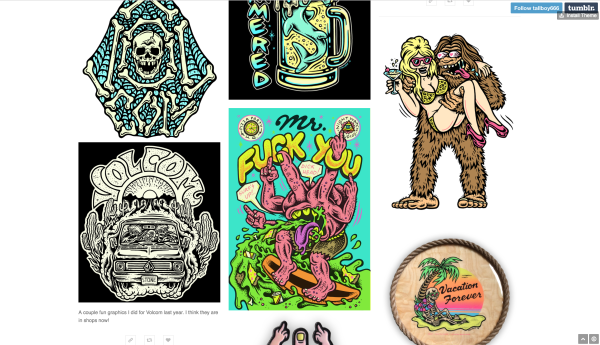 Tallboy's tumblr page (only sign of a website) uses an open portfolio style homepage ampilified by a blank white background, the home page uses his favourite and most recent work with less favoured and older works hidden in the 'archive' page, there are also clear options for shop and contact as well as 'random' and 'theme'. The choice of tumblr isnt particularly proffesional but it does appear to do the job, sufficiently. His typography also suits his style.
Sketchy Tank's website focuses heavily on his clothing as opposed to prints and other merchandise, this is a good marketing tool as they are his most in demand product but also means that other products are hidden behind the 'shop' tag.  The whole home page uses a black and white colour scheme this is very visually appealing and iconic of Sketchy Tank's style. His work compliments one another in terms of style but also shows a fair range of products all within a small scroll on the home page. The grim reaper peeping logo features throughout alot of his work as well as being his website header.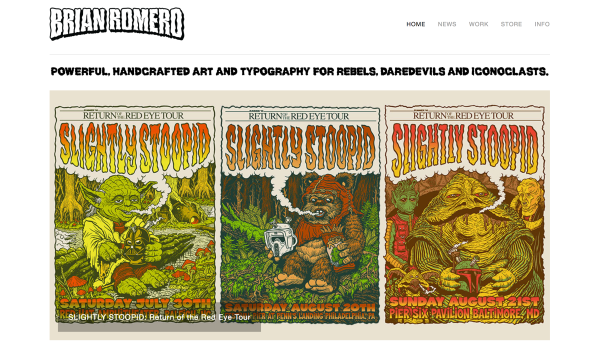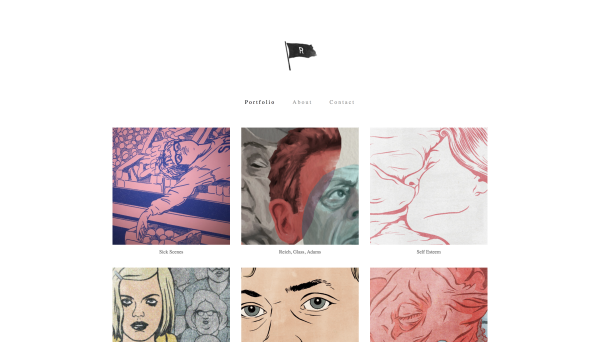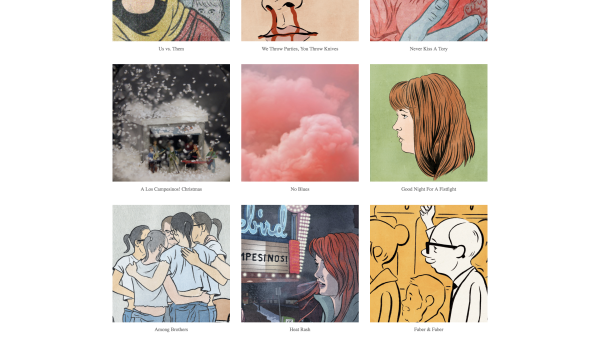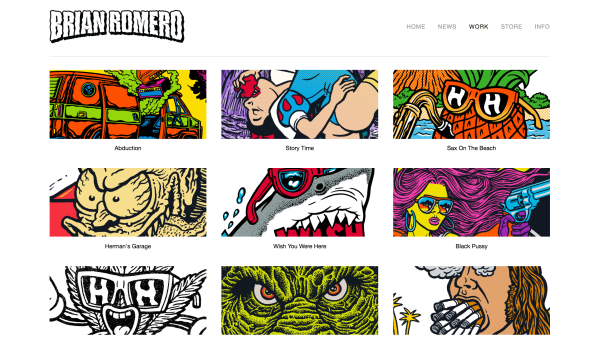 Brian Romero's vibrant colour choices and dark, bold linework is emphasised against, again, a bright white background. On his homepage he uses his most recent works in a large moving portfolio, which really compliment the images, but within the 'work' section art is split into seperate projects which works very for viewers looking to locate certain work. His signature logo/typography also compliments his style.
R N taylor's site uses splitting of projects via a thumbnail image similarly to Brian Romero. Again using a white background to accentuate the artwork. He also uses a basic logo.

Following on from my research I noticed a consistent theme of mainly a white background with an easily scrollable portfolio/ display of activities all on the home page of the website. no unnecessary work has gone into anything other than displaying the images, therefore all attention is drawn that way, the website is streamlined and simple - I took forward these ideas into my website as I began to develop it.

Another thing of note was the personality within the title header which I had developed a logo and font for.
The only problem i uncovered with this design idea, displaying all my work on the home page was, again, inconsistency in theme of artwork could look disruptive as well as alot of the images varying in size and shape and being fairly difficult to align into a table structure, However I decided to work with what I had and I'm relatively pleased with the simplistic result - I think it does the job.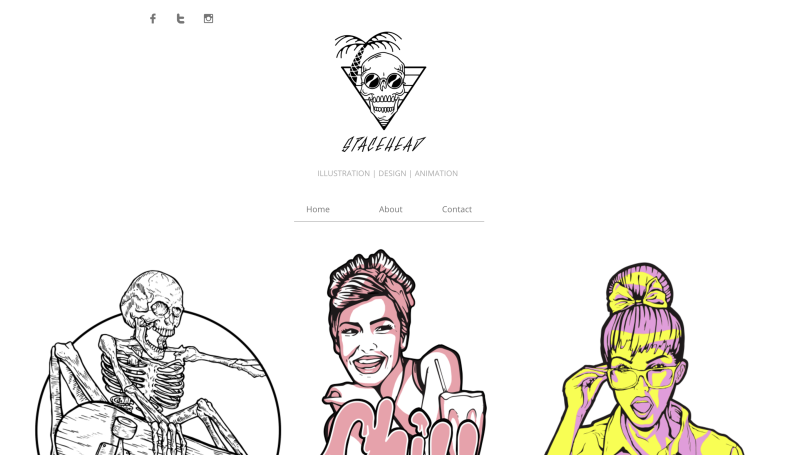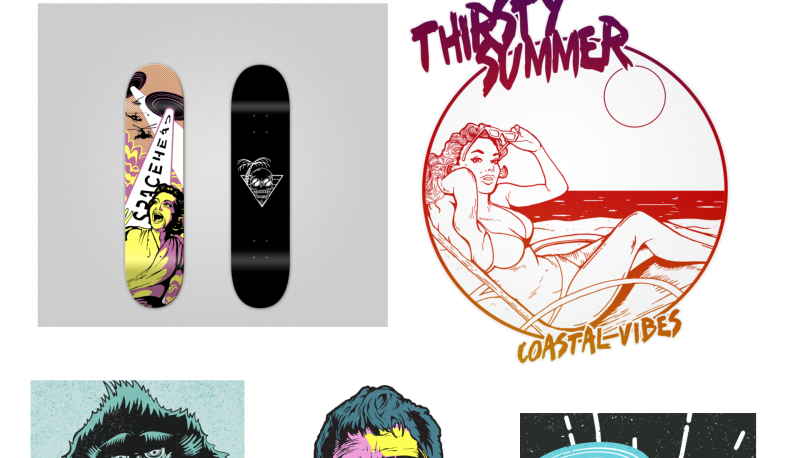 images of my website homepage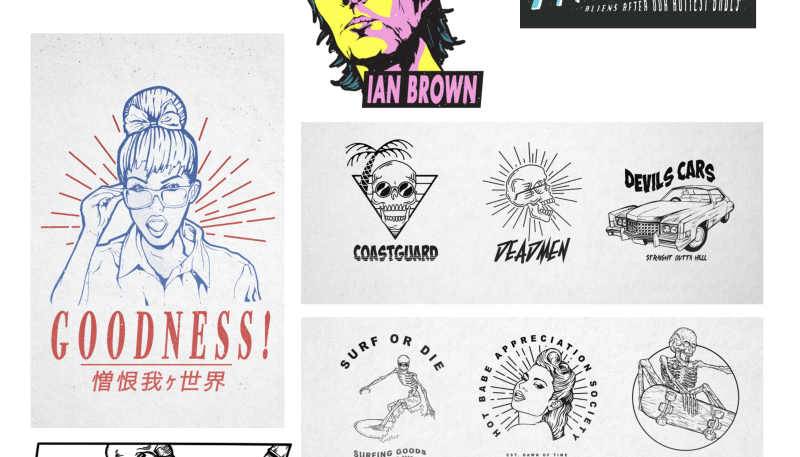 I designed my home page in a similar manner to the illustrator's website's I'd looked at. I used a white, plain background to draw more attention to the artwork and made the page scrollable and show plenty of work. I chose the work I felt complimented each other and showed some conistency in style, although I feel it is still to inconsistent. Other problems I uncovered was that each piece of work was very different in size, this meant that gridding the work was very difficult and overall I wasn't able to create an even grid. I tried to streamline the design and include minimal clutter, as such I gave the option of just, 'home', 'contact' and 'about' as I felt nothing else was particularly necessary for an outward facing website. Perhaps I should have included greater level of detail, but I felt a more streamlined approach was best.
Planning Proffesional Oppurtunities
I began to start seeking some oppurtunities to promote my work. The first of which was a competition promoted by BBC Radio 6 to create a T-shirt design for the band, Pixies who would wear the t-shirt on one of their gigs.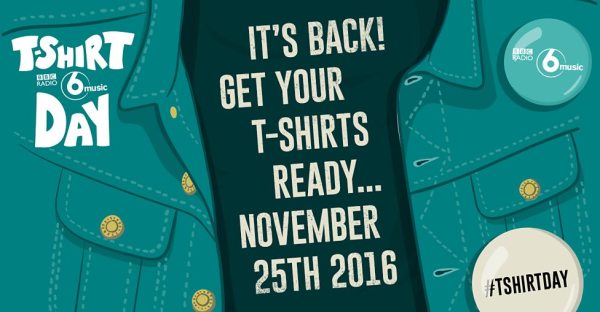 Pixies are actually my all-time favorite band so I tried very hard to win this competition, sadly, I didn't but I'm glad I took the oppurtunity to try. This competition fell just as I began my interest in texturing images and I think as such my knowledge of it and my application where very poor and that is why the design didnt turn out so well. I liked my typography and linedrawing seperately but together i felt the composition was pretty weak and I let myself down in that respect, perhaps as a result of pressure.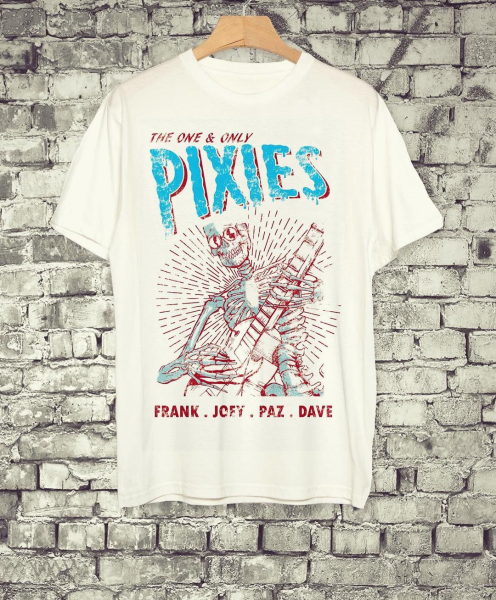 My design.
I was asked by via Tewkesbury Park Golf Club Comitee to design a logo to be embroidered on a polo shirt that would be worn by players for a charity rememberance match for former member, Mickey Berry. The golf club were searching for a local designer and my dad, a member of the club, recommended me to present me with this oppurtunity. 

I was given an image of Mickey Berry and left to my own devices to create a logo. Having seen similar tour polo designs before I had a rough idea of what would be appropriate in terms of font and layout. I drew the photo in a line drawing using navy blue and using shapes to describe tone and depth. I kept it very simplistic knowing that it couldnt be too complex if it was to be embroidered.
Following on from some personal work I completed (before my spacehead rebrand)  I was contacted by a friend's girlfriend to complete a drawing of her family's dog for her parents anniversary present. We agreed a fee which we I decided upon based on time it would take to complete the drawing, which I completed for her a week before the date we had agreed it to be completed for. Although this drawing style is completely different to my spacehead rebrand and as such can't be included within it, it provided me with invaluable experience in how to strike a deal and complete work in a proffesional and organised manner.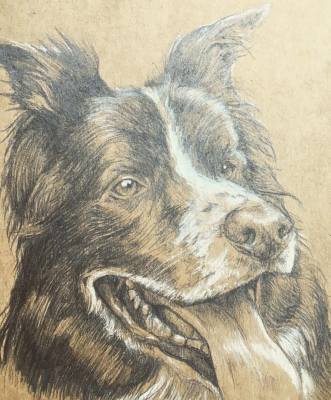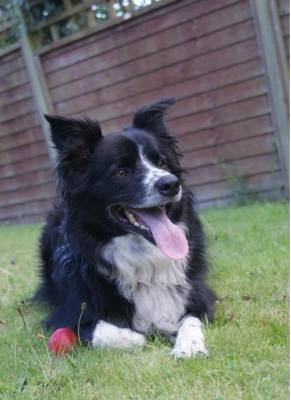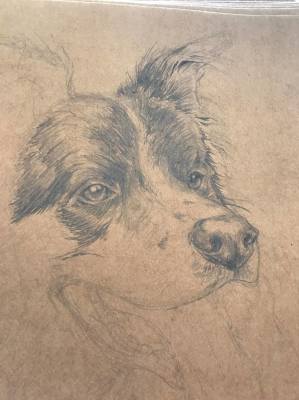 It was around this point I began to start seeing how my life may pan out once I'd left university and the importance of doing as well as possible within this module. I felt this was where my proffesionalism really started to grow. I invested in a work timetable and began to pay much more attention to seperating my time and planning ahead with regards to creating work to deadlines.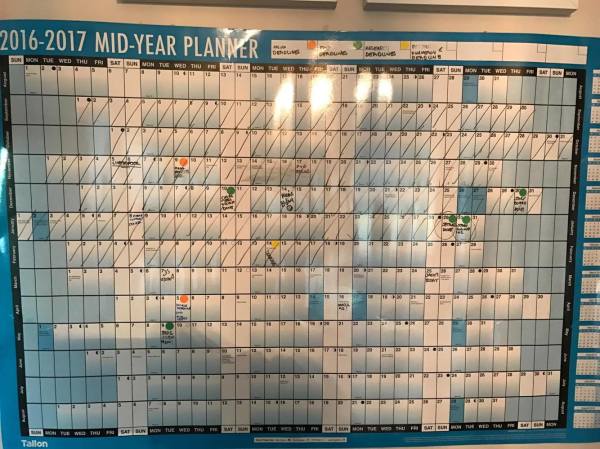 Juggling time between four university projects as well as anything external and of course leading a life is incredibly hard so dedicating and planning time to each was key to becoming much more proffesional.

With university, we had a planned trip to visit the London Book Fair, which took place on the 15th March, this event we believed to be a chance to meet publishers and discuss with them the possiblilities of any proffesional illustration oppurtunities or simply gain some knowledge or advice. For this we would be required to take a portfolio and also a business card or a promotional item we could leave with people. As such, focus all turned to once again developing work to fit a portfolio and editing existing work to create a more visually appealing level of consistency as well as also creating a business card.
Business Card
We met as a group at university to discuss business cards. We spoke collectively about all the different elements that make each card individual.

card depth?
square or rectangular?
card finish?
sharp or rounded corners?
number of colours?
design?
cost?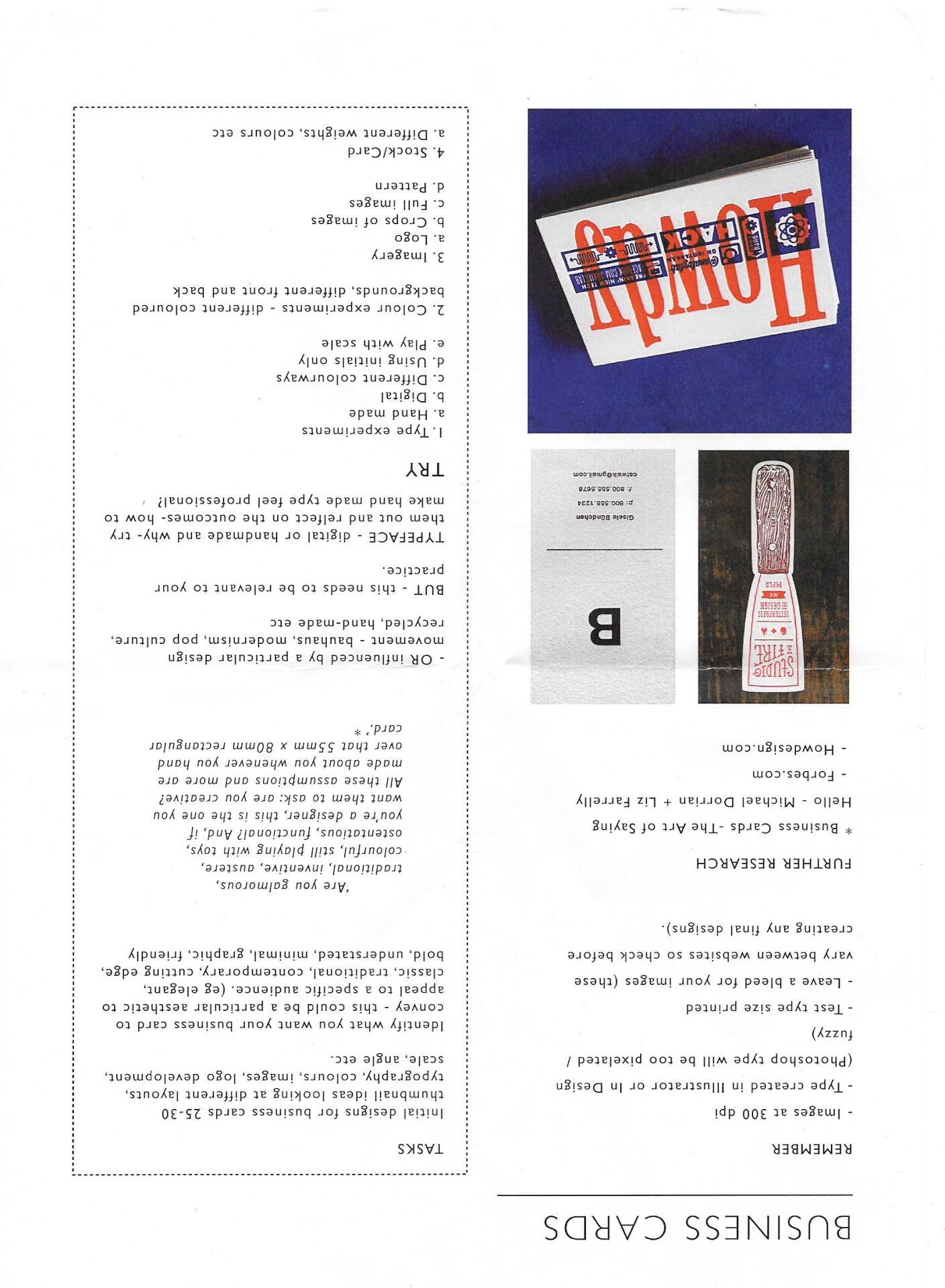 I researched a selection of business cards online using a selection of social media sites: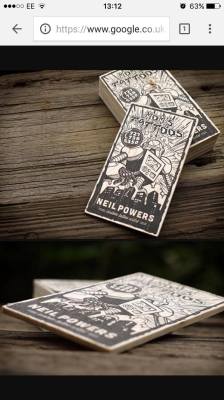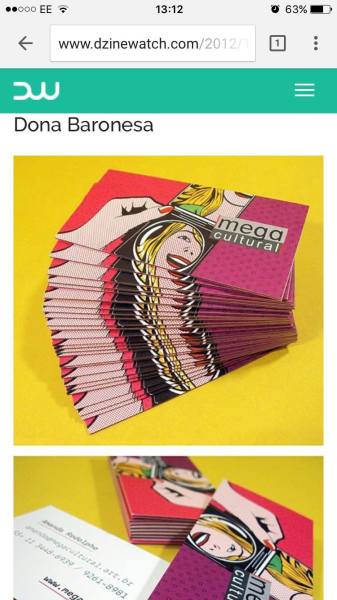 This business card is actually laser cut onto wood, this is a very unique idea, I'm not sure on the practicality or how the expensive it would be to manifacture but the concept is very interesting, the linework is also very nice.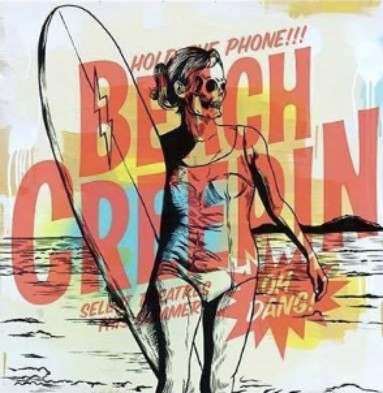 This card (above) uses a pop art style which would translate well to print, the image appears flat at the card has no special effects but the linework appears to have lent itself well to print which is interesting to note as it is similar to my own work.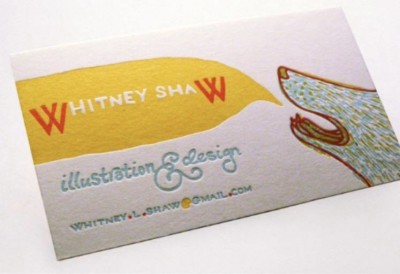 As well as simply business cards I looked at some artwork to gain ideas and inspiration, in this illustration, I liked the overlapping effect. It has a veryhomemade and handprinted quality, which I thought was interesting. It was also easy to assosciate it with my own work in terms of linework and subject matter so I think this is why i favoured it.

I had a look at a few examples of special effects on cards like debossing.
At this stage of time, my favorite piece of work i had created was this invaders piece: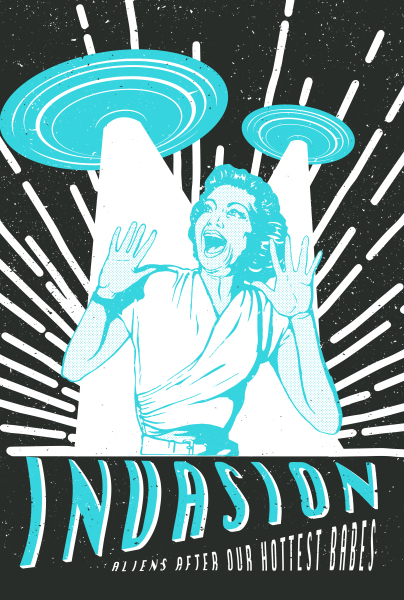 pictures of business cards on table
i decided from this, I wanted to base my business card design around it . I created a few intial designs exploring different basic compositions.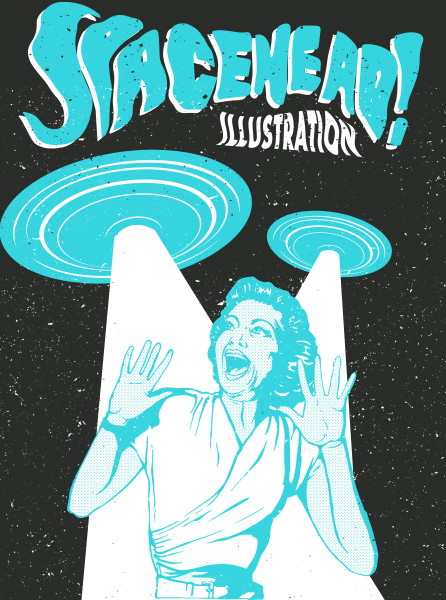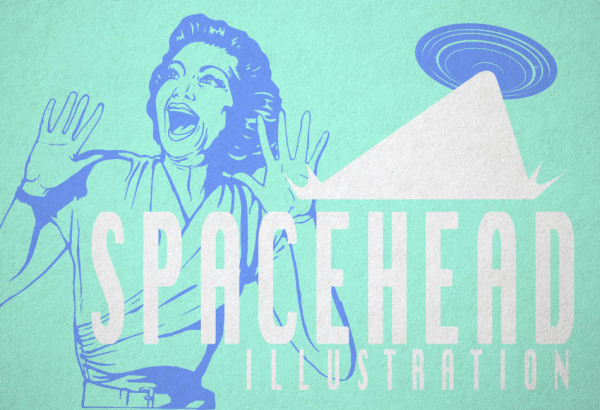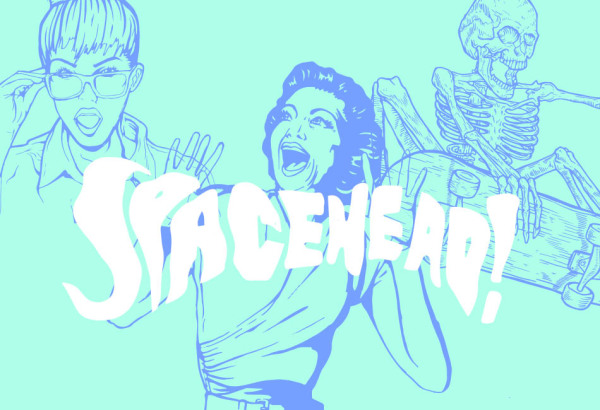 I created these very quick mock ups using different shapes and colours. I added textures to some too to simulate what they may look like if printed in a certain type of card.

I decided these roughs werent too the standard i wanted and that i needed to include more art on them as they appeared too basic and boring. I liked the concept of the bottom right design and i decided to develop this further. I decided including lots of linework from different drawings would be a cool idea and would showcase my work well.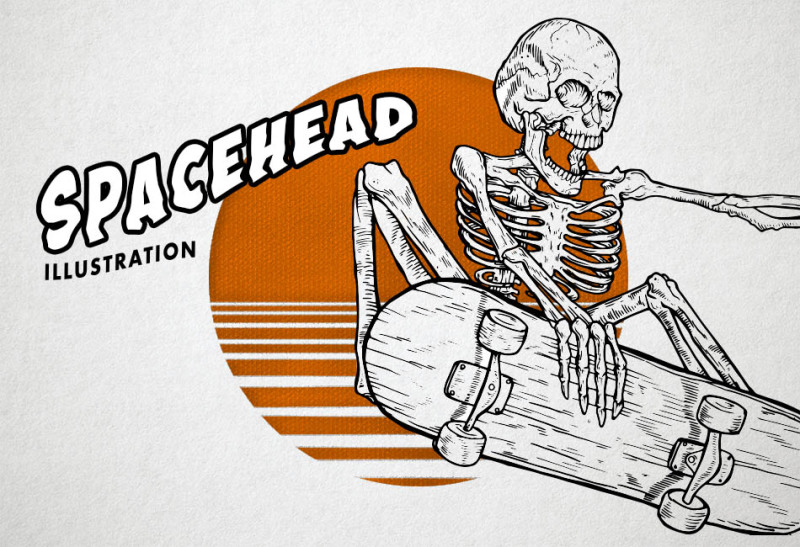 i also toyed with the idea of using a design similar to this, with the orange area being debossed. I liked the idea of using a rougher texture and using special effects to the cards but this was of course prior to seeing some of the astronomical prices, I also felt the design that followed worked much better to display my work.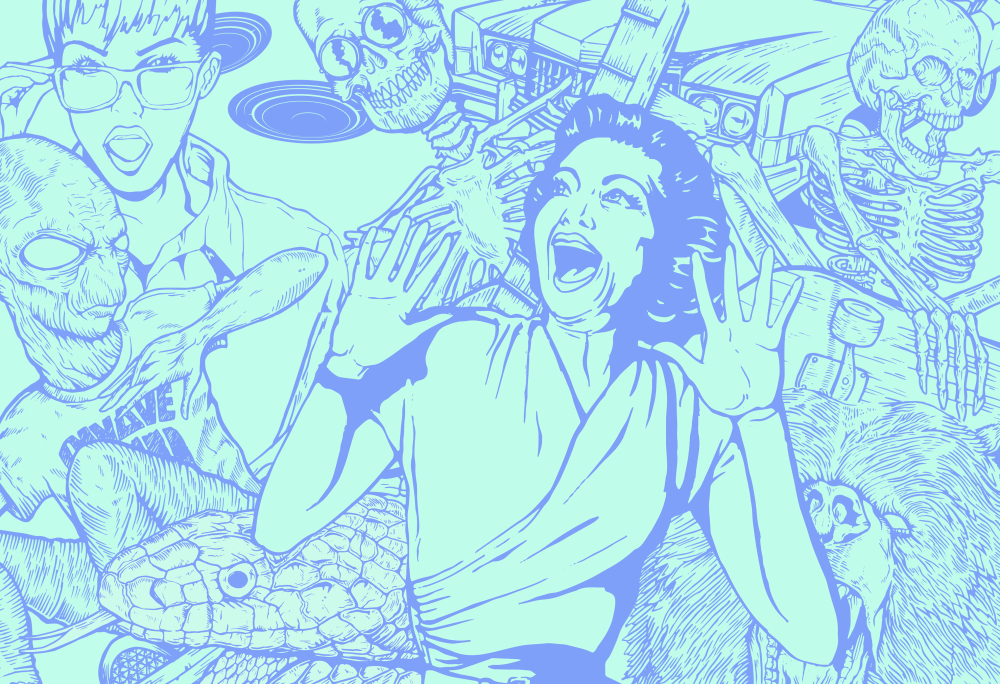 I developed this image by compiling all of my favourite linework I had created and collaged them all together to create a manic spread of different characters I felt like this showed my diversity as an artist.

I decided that I needed to include some indication of a name on the front of the card so I opted between two typfaces i created myself: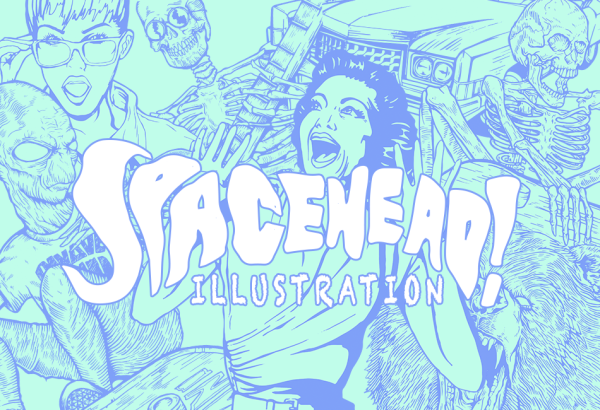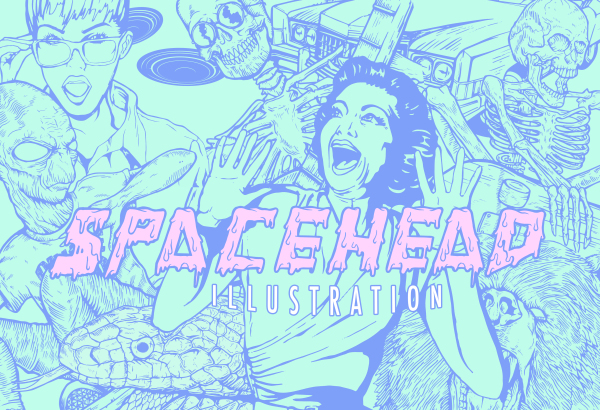 i spent much less time on the reverse side, knowing that most of it would be donimated by information. I decided to include:

Job titles
email adress
instagram
facebook
website
i used the same colour scheme as the front and added an additional linework character: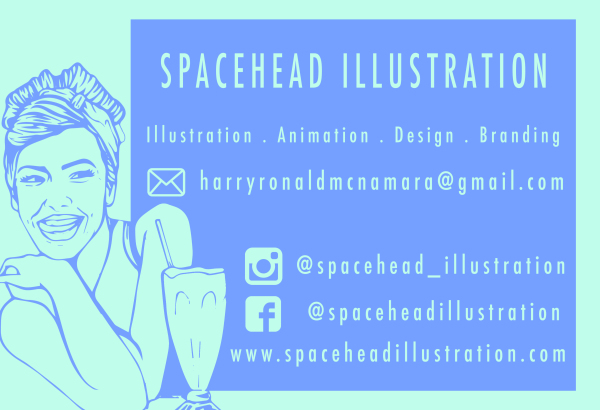 happy with my design, I sent it to a local print company in Tewkesbury. I think it is important for me to create these links with local businesses as they could help me in the future and it's always nice to help local businesses. The pricing was also very reasonable and I did not have to wait for delivery.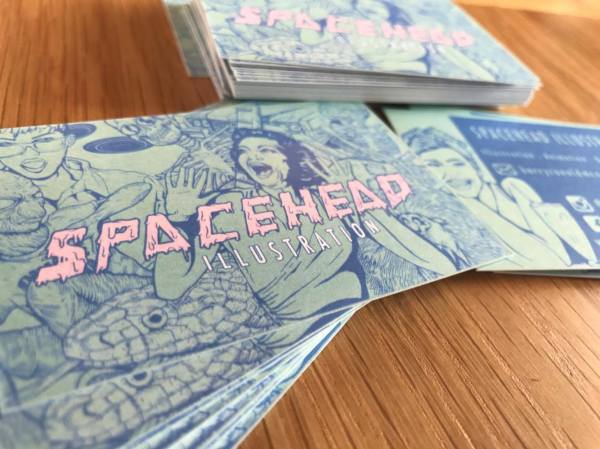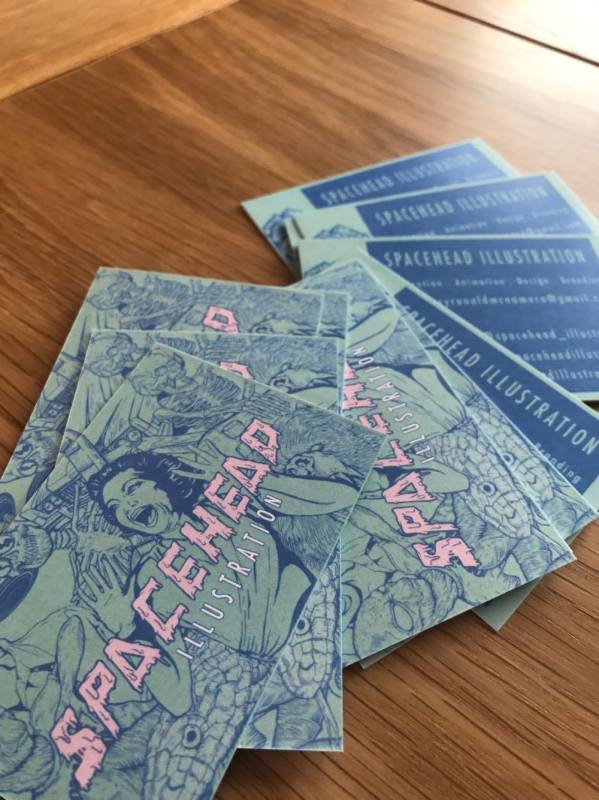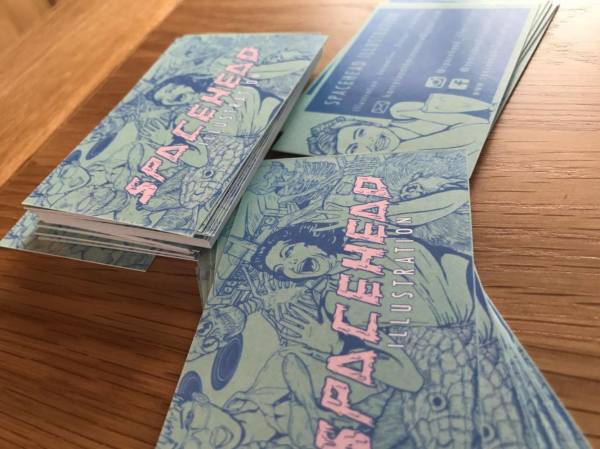 I was very happy with how the cards turned out, I feel they indicate my style well and are easy to read. I think they are visually appealing and eyecatching whilst retaining a level of subtlety. they have a smoother finish and are 300gsm.

On a negative note I would have liked to have added a special effect, particularly, a spot varnish effect on my typography.
Making my promotional items
the first promotional product I was certain I wanted to create was a selection of T-shirts, having had a rough idea of how they would turn out via mock-ups. I initially contacted a local printmaker with the hope he would be able to create my designs in a proffesional quality. However, sadly the local company i agreed the process with let me down last minute. This forced me to use my initiative and do some screen printing of my own within the university studio. With the help of the resident printmaker Mark, I managed to create 6 T-shirts of 2 different designs across black and white t-shirts i managed to get fairly cheaply from the retailer, 'next'. Sadly, the t-shirts have 'next' screen printed on their insides meaning I can't sell them, which is a bit of a blow, but I think the end product as such has a hand-made charm.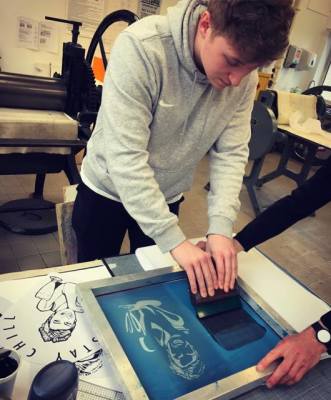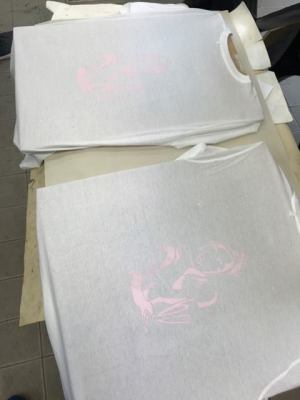 The first layer of the 'stay chill' tee graphic
Me (and Mark)using a free screen, lined up by hand!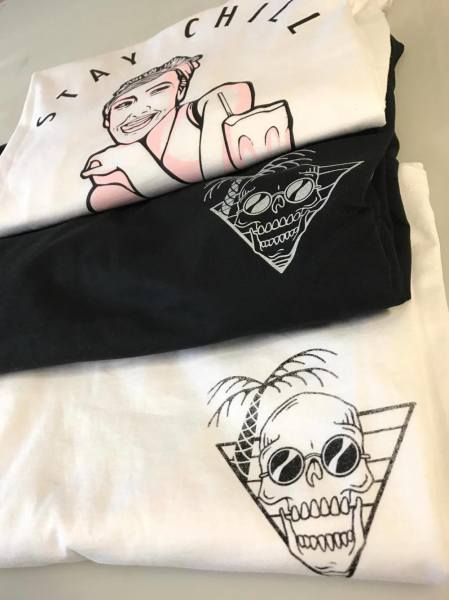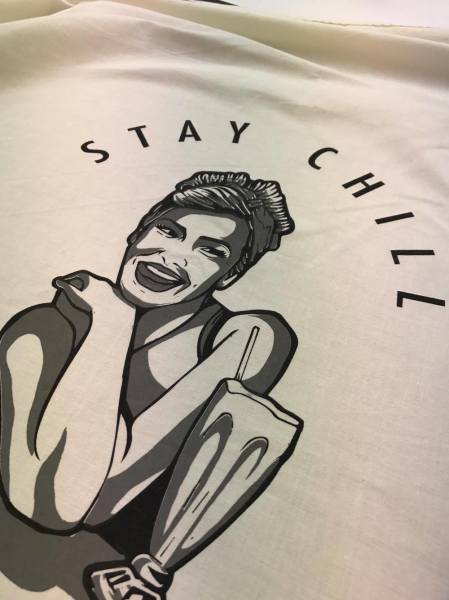 Pile of the finished T-shirt designs
Whilst I had screens prepared I had a last minute idea of what else I could create using fabric, I took into uni some spare fabric I had at home with the idea of up-cycling it into something.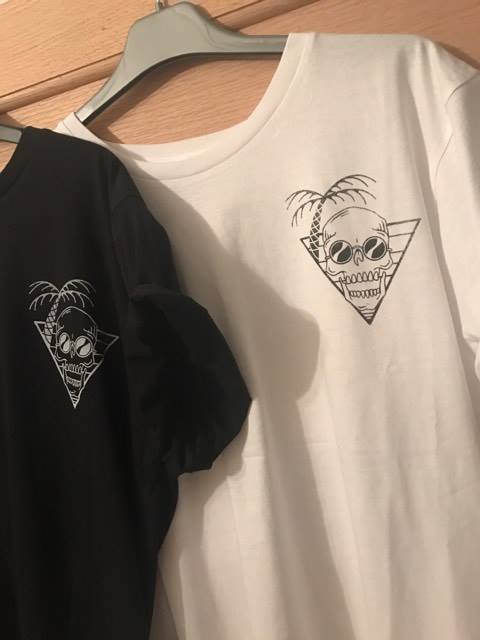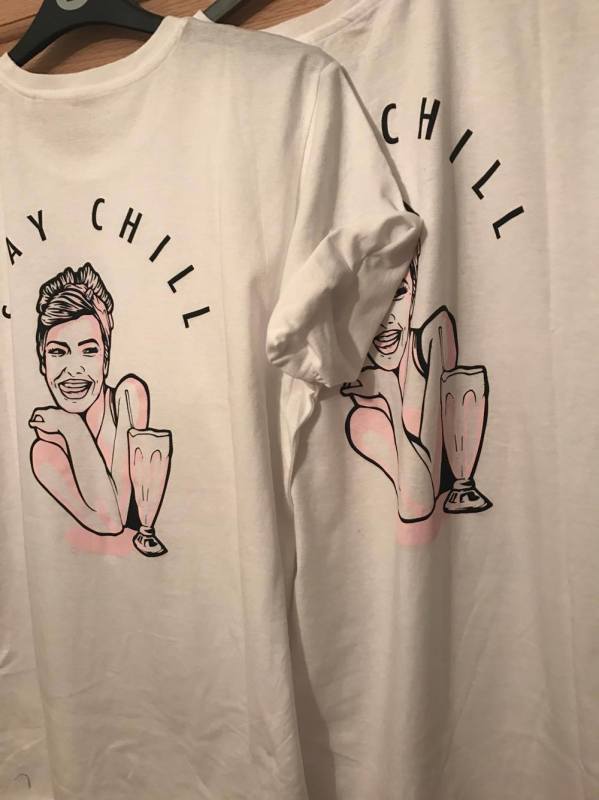 Overall, I think the T-shirts came out fairly well! however, once I tried them on I realised the small logo tees logo wasn't as well placed as I first thought...

EWith the help of my Mum, I created two cushions from the prints on material! This was a bit of an improvised decision as I wasn't sure it fit my target market particularly but I felt it was a nice idea, and amongst a certain interior would look cool.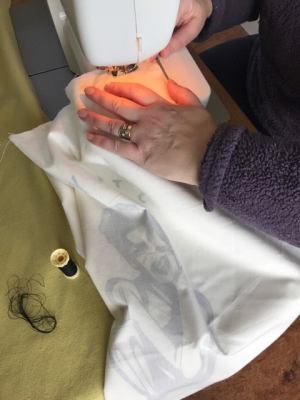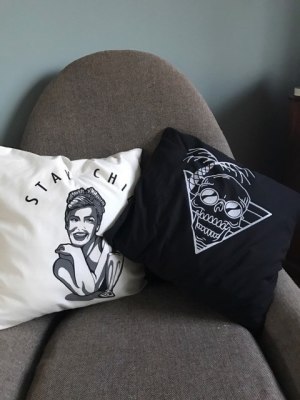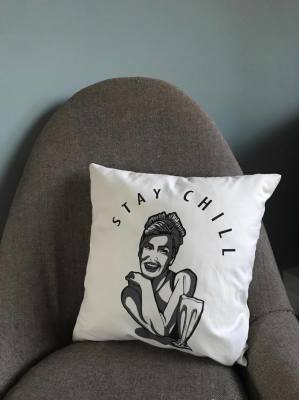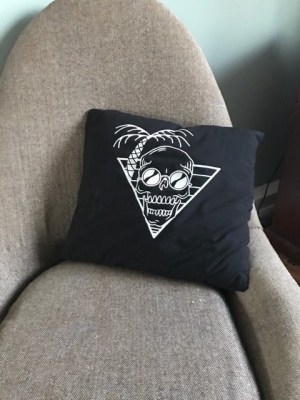 I think they came out great! Perhaps if greater detail went into thinking about what fabric we used, we could've made them better quality but I thought they turned out well.
I sent the sticker designs I made up earlier to a local printmaker. The price took me by suprise a bit, however, this was mainly my own fault, due to the fact i didn't give myself a long enough time period to find different options. The company I used usually worked with much higher volumes of work. Therefore the 10 copies of 3 designs I ordered were distorted in value slightly, however, I didn't want to buy a huge amount as although the value was in higher amounts, I couldnt afford much more!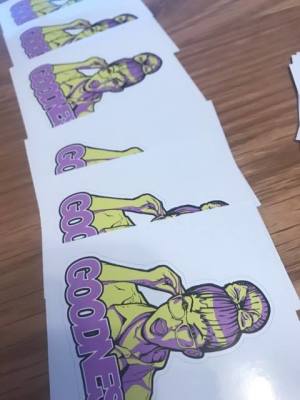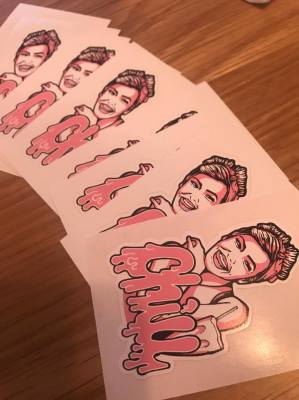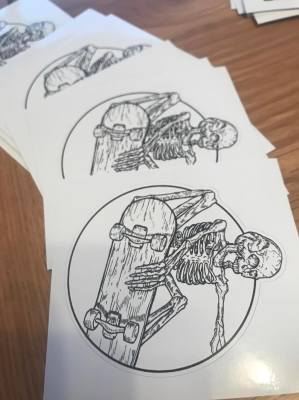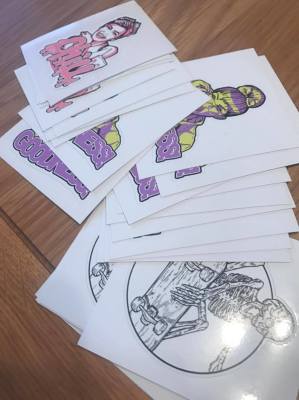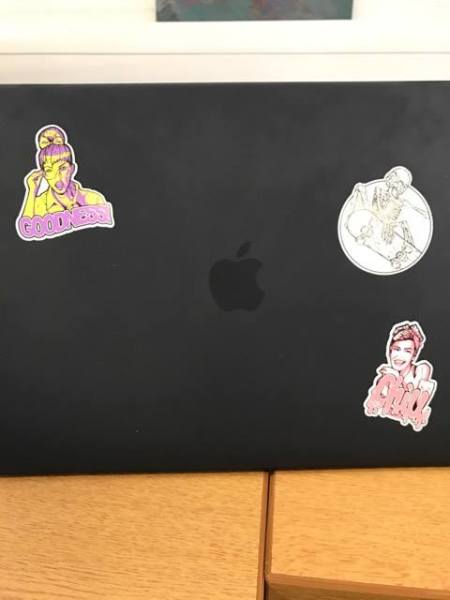 I was happy with how the stickers came out. The overall quality of the print, was good and the colours were bright! On a negative, they were slightly smaller than I invisaged them being. 
Using another local printmaker, I managed to obtain another die-cut sticker, this time that of my deck design. I used a template I found online when designing the deck, deliberatley with the idea of it becoming a die cut sticker later, in mind. This sticker suprisingly in comparison to the previous was only £12 despite being nearly 100x the size!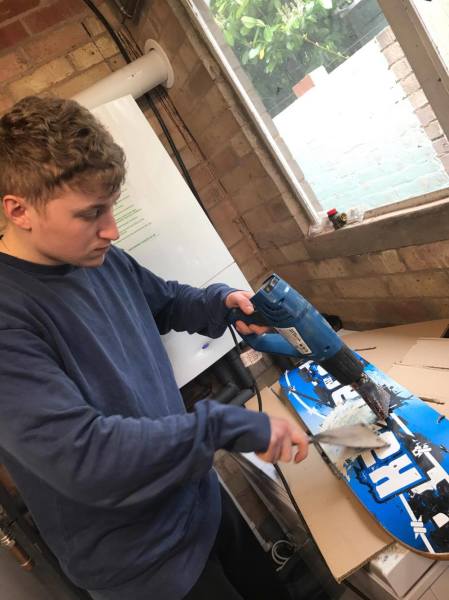 I took apart an existing skateboard I owned, unscrewing the trucks before using a heat gun with a scraper to remove the vinyl artwork. I then used an electric sander to smooth the surface ready for my sticker.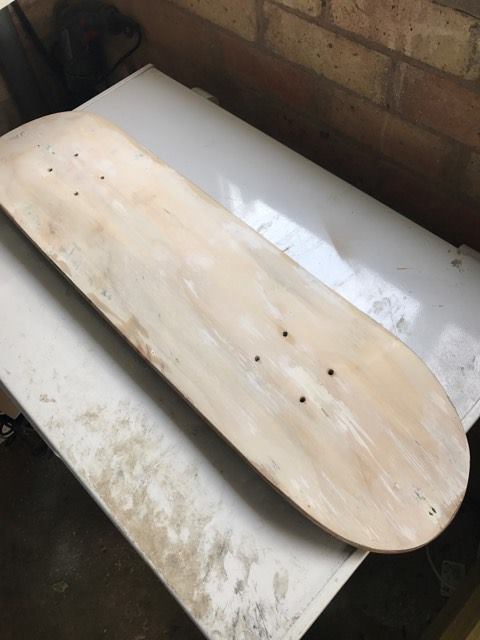 I made sure the surface was incredibly smooth to avoid any bumps in the viynl if possible.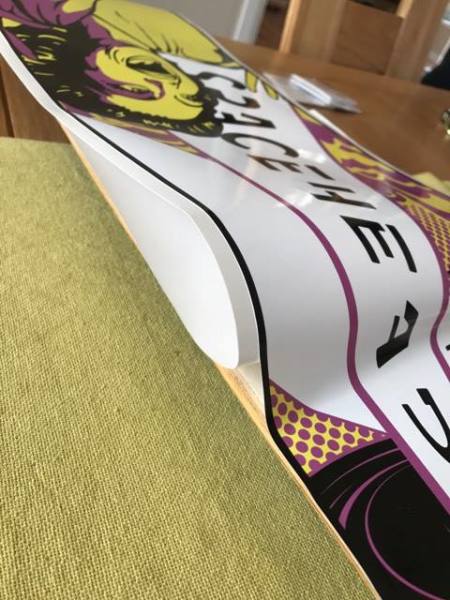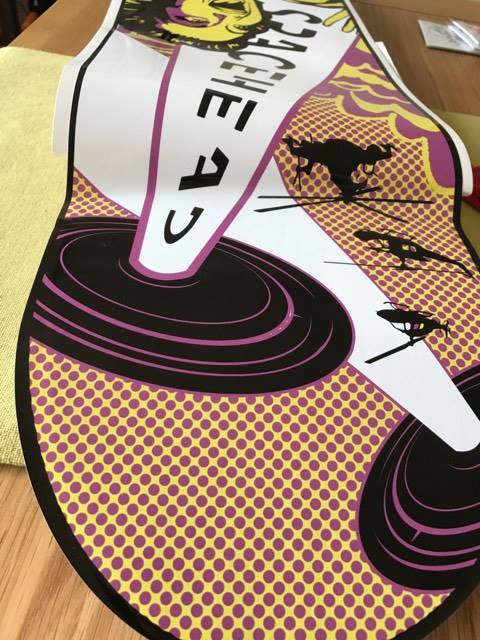 With an extra pair of hands for support (my mum) we managed to get a fairly even placement, obviously there was always going to be some errors but overall I think it looks very proffesional.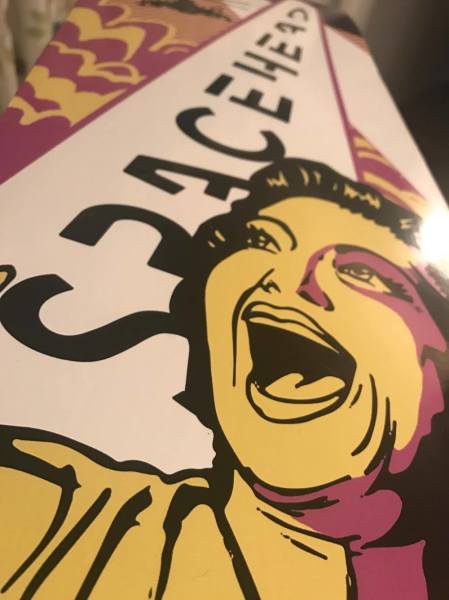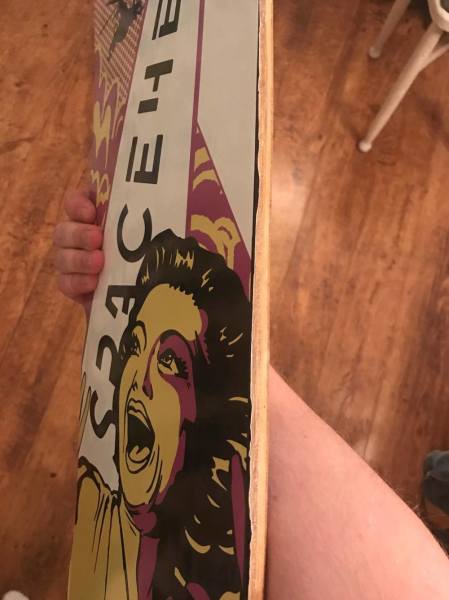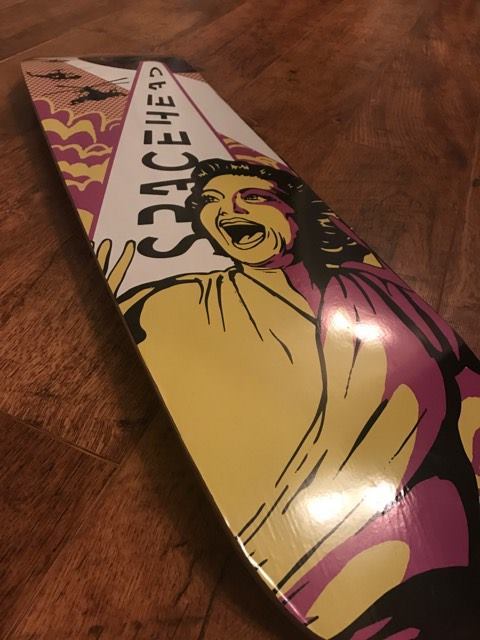 Obviously sticking the viynl on by hand was always going to leave room for some errors. We trimmed the excess viynl using a stanley blade. This neatened the coverage and helped it to fit properly. 

I was impressed by the colour and image resolution of the print, the image was very much done justice. 
I was really excited about this piece as i felt it would really be my showstopper of a product, i felt it would be the pinacle of products i could produce, considering the style of work I try to work towards. I also think the creation of this product has taught me alot about how the design process would be should i be luck enough to venture into a skating line of work.

As a whole, I was very pleased with how all my products came out! The handmade qualities of some perhaps lacked proffesionalism where are a print company might have done a more precise job but i feel like they have a certain charm and have definitley improved my skills as well as my confidence in producing products! I have been excited to create products during my whole University career and the process has been just as fun as I imagined. If I didn't enjoy this process I think I'd be going into the wrong proffesion. It's great to stand back and appreciate my own products. I think perhaps the only truly marketable product would be the stickers, as they are proffessionally made, but the experiences of creating the rest has been fun and invaluable to me and my hopes of a career in illustration.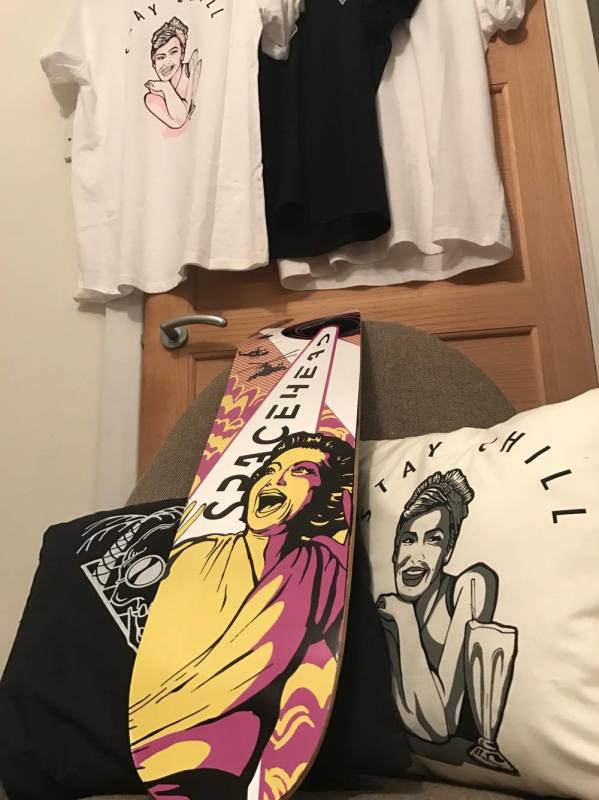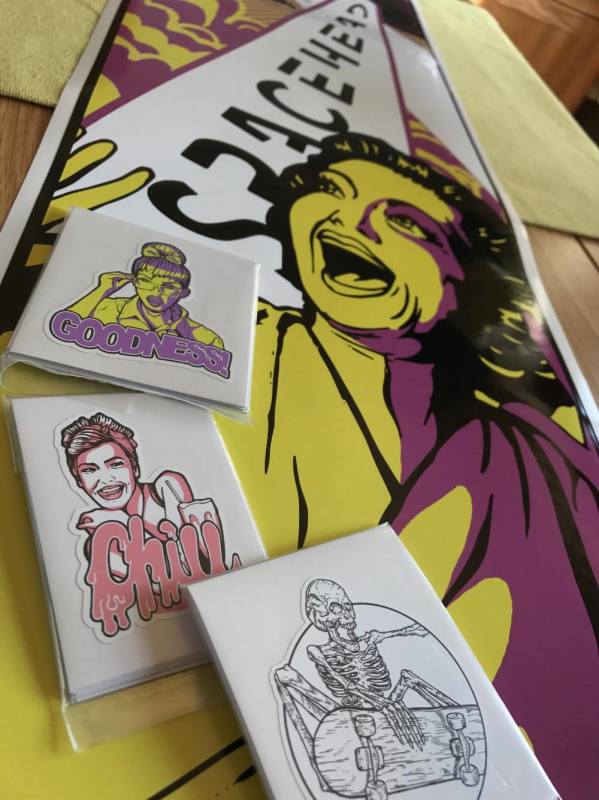 Collabarative Project
We worked together on a collabarative project creating post cards each to create a collection. We reached the decision of post cards via a group discussion which would happen face to face in the studio as well as over social media.

 We established as a group a theme of 'your favorite poem or story' as well as a medium choice of screen printing  and page sizing including bleed area and also a colour scheme consisting of three colours, cyan, magenta and a paynes grey. 

every decision made anout the project was decided via group discussions. This was immiment in particular with the colour choice system. between us we created a selection of colour choices (3 colours plus overlays) and created a sheet containing each combination. We each voted on our favourite colour option with the winner being the one we all would use: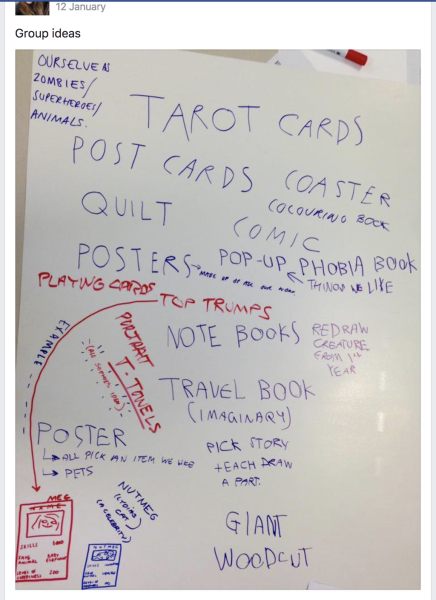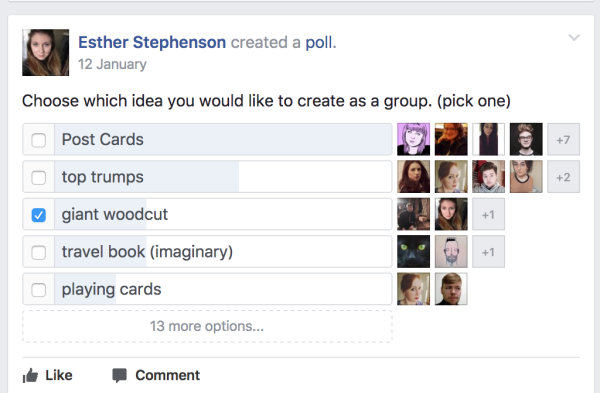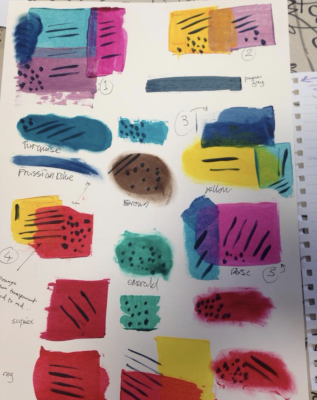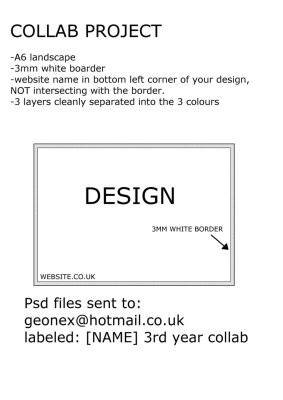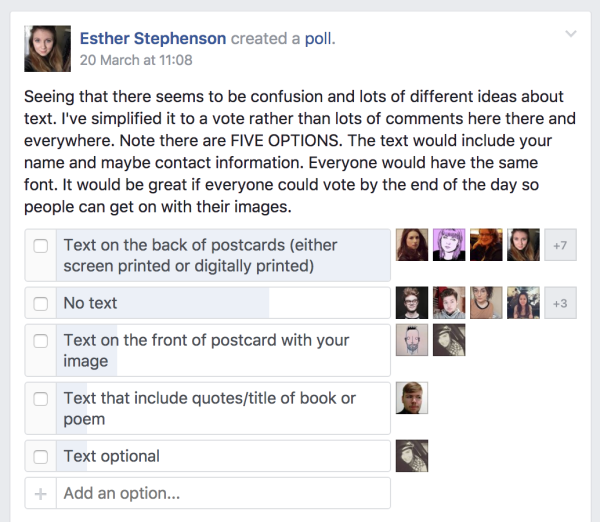 I think it's fair to say some students took far more of a pro-active approach to others which is the sad reality of working in a big group but they definitley did a good job of rallying the less enthusiastic which I would probably have to put myself in the bracket of.
Following the decisions on medium, sizing, style and subject I began to work on my design, after deliberation i decided upon 'a Clockwork Orange' as my story of choice. i created a drawing in pencil: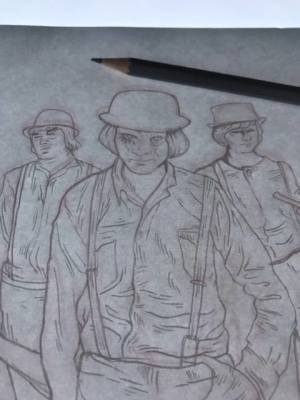 After which I inked, then scanned into the computer and used photoshop and illustrator to colour. I kept each colour layer seperately similarly to how it would be printed, deliberately to avoid any later issues. we sent our files to one of my fellow students George, via e-mail who printed our designs via the help of other students, which were all put onto screens by Mark and then printed one by one by a selection of other students.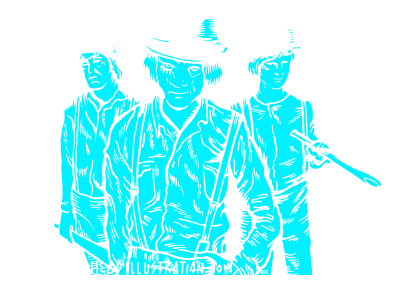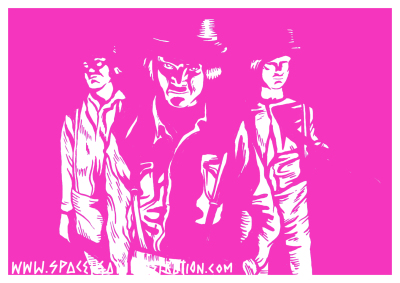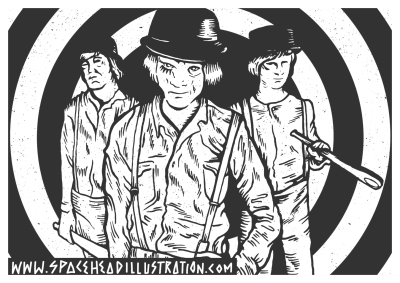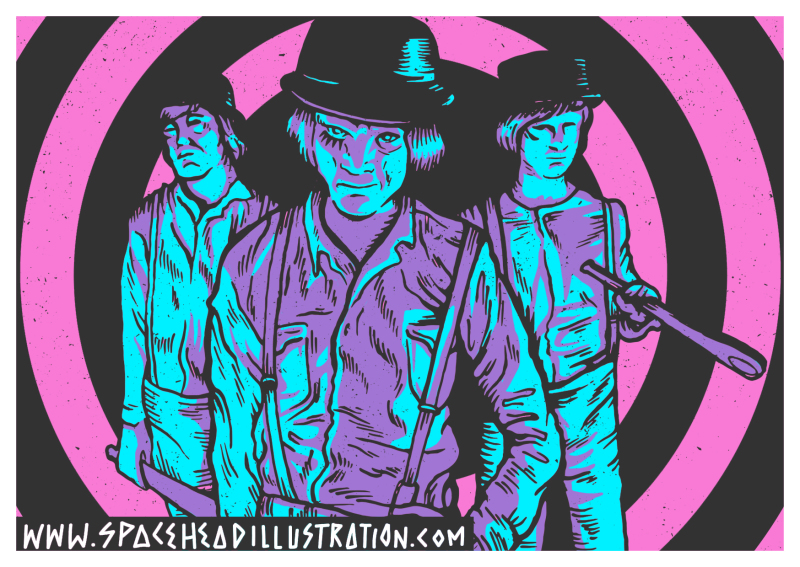 ​
the results were trimmed down into individual post cards. And formed a brilliant overall collection which tie in everyone's unique styles well with a dominant colour scheme. A brilliant result: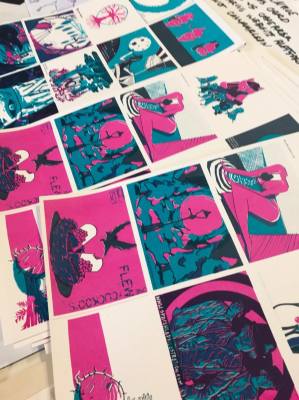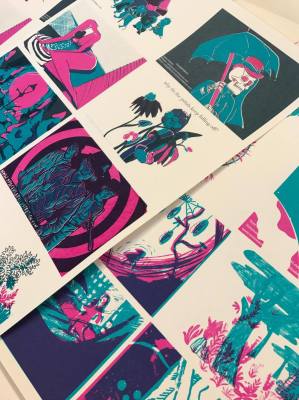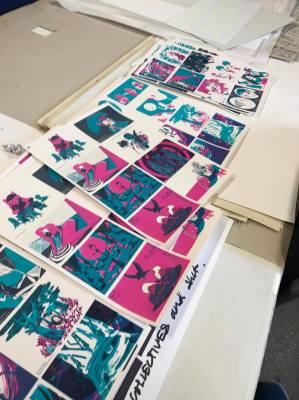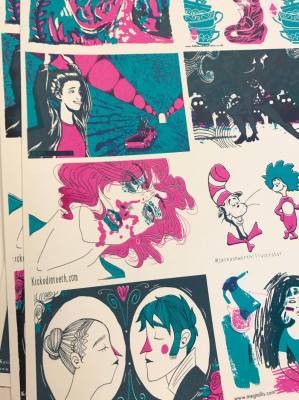 Assembling my Portfolio
I printed my images on a mix of photographic paper and high quality card, depending on the image. I included a few photograph mock-up images as I felt they reflected my proffesional itentions and designs well.

I left a white border around all of my images: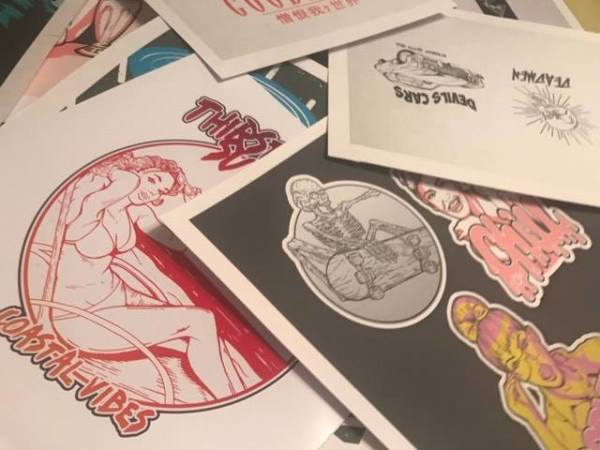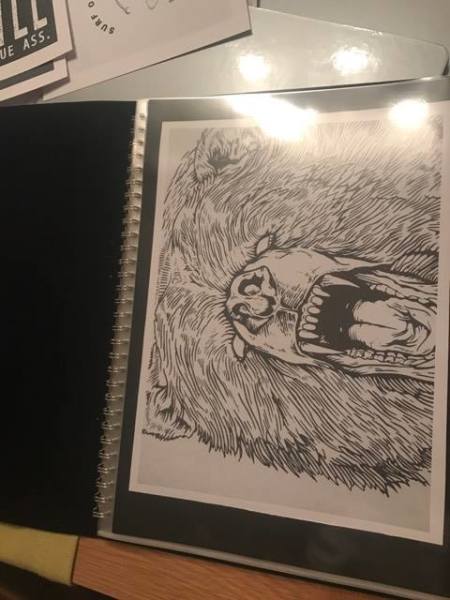 I placed my images in an order of progression in style, meaning the more colourful images gradually lead into my more line-based black and white studies, followed by the photographic mock-ups. I felt this gave a better flow to the collection of images as well as being progressive so easier to talk through should a scenario where I have to speak through my work should arise.
Creative CV

This project had the aim of projecting us into the proffesional world of illustration and it feels like creating a creative CV may just be the last step...

However, in typical fashion I achieved this last step at the last stage of the project, menaing the quality suffered.
We were expetcted to create a 'creative CV' essentially a CV but only including our creative experiences all shown through a well designed article. The CV itself should suit our style and be the interviewers first reference to us and what our work might be like.
Firstly, i seeked some inspiration online: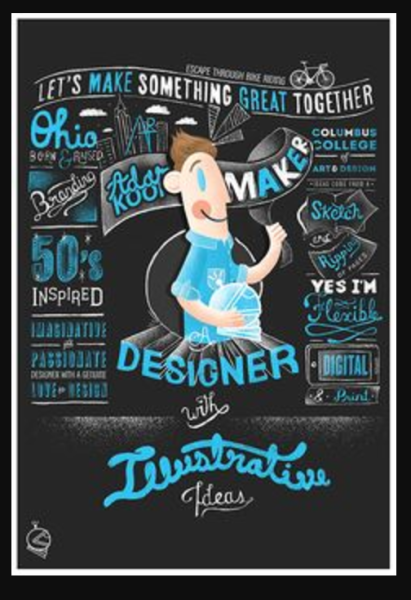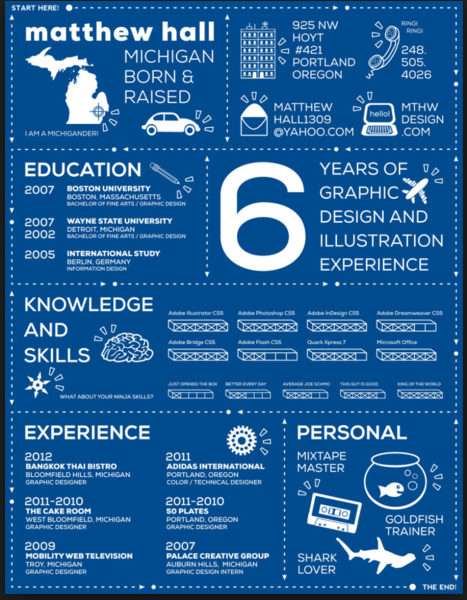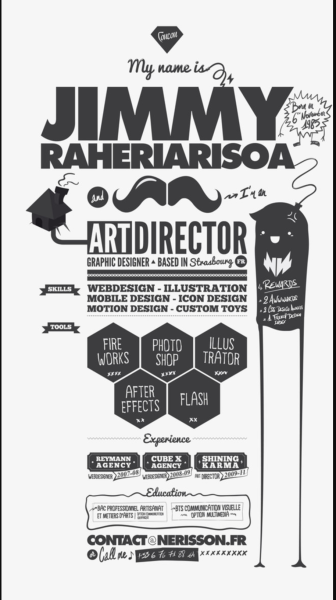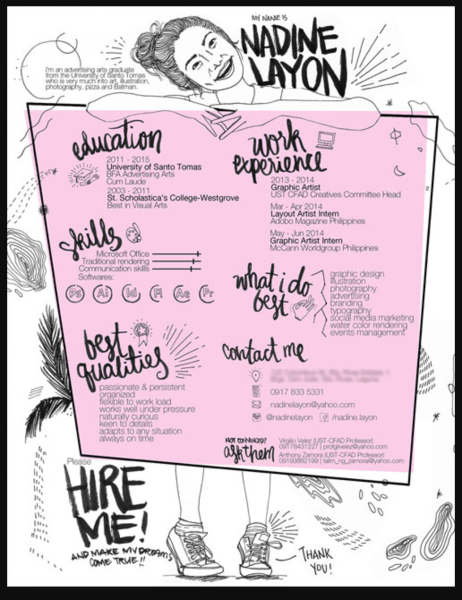 All of the CVs featured similar information:

contact details
skills (digital and physical)
education/experience
name in bold
mascot
Featuring a self-portrait or mascot was an idea I liked from these designs. I felt as though the top left CV was the weakest as it was simply dominated by type. Although I think type can be interesting this was all very regimented and boring in my opinion, however the variation in sizes was interesting.  The second design I felt was moving in the right direction, it was eye-catching and appeared very hand-made and personal, it featured many different fonts which obviously express the artistic qualities of the person however looking closer it was hard to instantly recognise the name of the person and i feel as though it was perhaps too cluttered. The bottom left design I really liked, it's very informal but informative and features a nice self-portrait which depicts the artist in a positive light which is always a good thing. It has a very hand-made feel with the handwriting and arrows. The final design, is very technically skillful, yet simplistic. It's very pleasing aesthetically, it's text is regimented and clear whilst being interesting as it varies in typeface and size. It also features a lovable character which helps to lighten to otherwise text dense page. the two-colour scheme is artistically simple, it has the precision of a graphic designer with some elements of an illustrator through the character - my favourite in this selection.
In my own CV i wanted to capture my own style which to me is urban and raw, with dark lines and rough hand-drawn style text. I planned on using variations in fonts through sizes, effects and colour as well as inclusion of some custom typography and images I also wanted to work with a white on black colour scheme as I felt that fit my style better: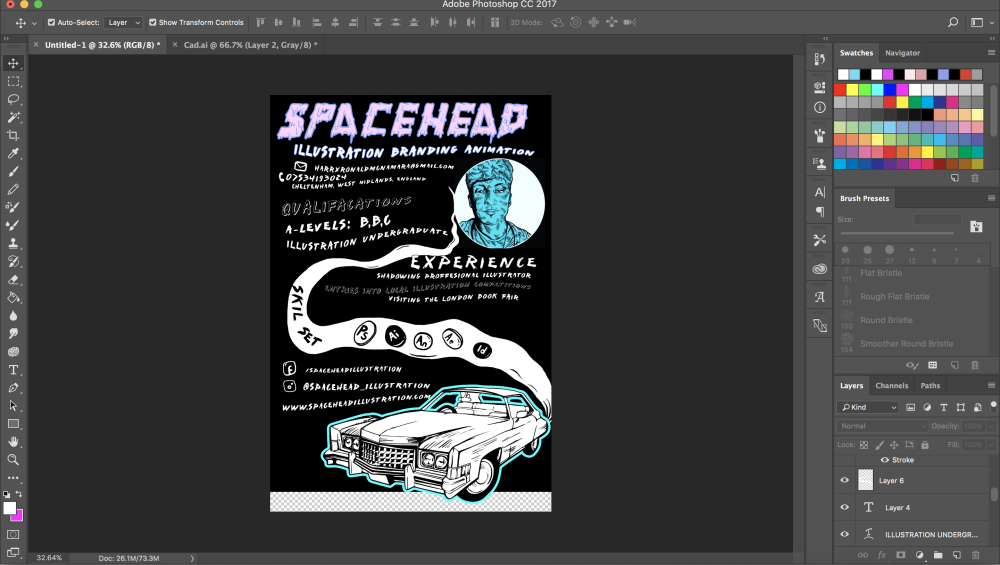 I used a self-portrait I'd already created with a custom typography name I'd also already created. I set them against a black background with white font, which I distorted and sized differently to create a hand-drawn feel. I decided to add an existing drawing of a car and add a smoke trail throughout the document to break it up a bit from being too much writing.
I used the white of the smoke as an area to write in, where I included my digital skill set which I described using hand-drawn icons as I felt they fit the style better. They are possibly not recognisable enough in hindsight. I also adopted a hand-drawn method for the social media, email and phone icons.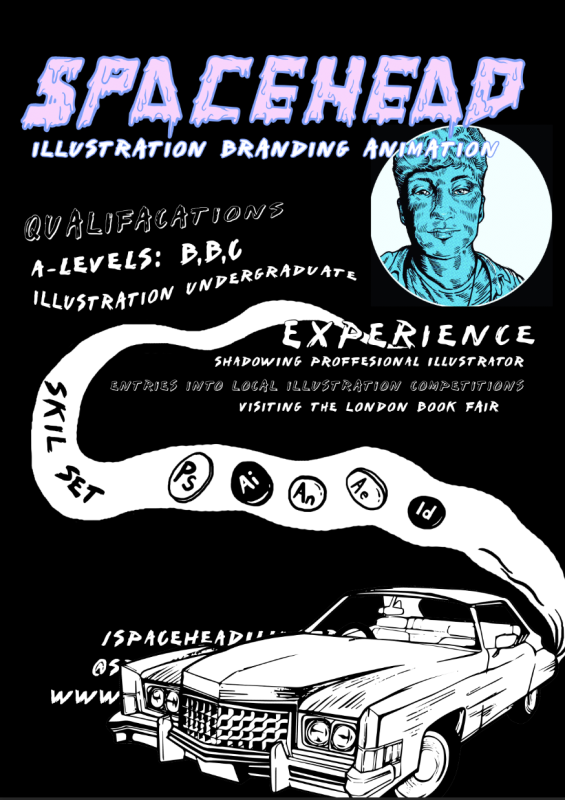 It's a shame the final stage of this project I feel I've let my standards slip down to poor time management but one piece of a project is probably actually a relatively good result in comparison to my time keeping in past university projects and actually shows some progression.

Progression and proffessionalism was key to this project as it was intended to be. This project, has been my favourite throughout my whole university experience so far and it was great to actually produce some products and proffesional work. I think it has stood me in great stead for wherever my career path my lead post-university.
After the project I feel much more confident in my own abilities and have a greater desire to become a proffesional within my trade.