Powerpoint Presentation, Concept Art
​   
Through the first weekly professional practice lectures we were set a task in groups to study an individual career path within illustration. My group was made up of me, Jack, Tom and Ollie. We chose to look in to concept art and the elements that make up the job. It was definitely an eye-opening experience for myself as I looked in to the 'typical day' of a concept artist, where I discovered an example of a man who posted a timeline of how his days would typically pan out - going from 10am-10pm! which is itself I was very shocked at and gave me even greater admiration for their profession, although perhaps putting me of myself...
Tom composed the majority of the PowerPoint as to be frank, he was probably and regrettably the most driven worker by far - which is definitely a factor of my practice I need to improve as the course continues. 
The actual presentation itself was strangely nervy for myself as I hadn't done one in ages but I think the experience was definitely very beneficial for the future.

Here is a copy of the powerpoint in a step by step image gallery - 
Pauline Ascroft, Work Placement
In the morning we had a guest lecturer, Pauline Ascroft, who we will start our employability skills lectures with for the next few weeks. Essentially she came in to help us with areas that will arise after uni and how we will find and create work and more business ideas. Mainly however we spoke about employability and learnt techniques to improve our future stance.
Pauline brought across many interesting points on improving your employability with ideas like: getting to know yourself, your strengths and weaknesses, How to be more professional and where you would like to work and your targets.
Week 2 also saw us start our
newspaper project
. I formed a group with Jack and Ollie. For the project each of us will create a double page spread, focusing on an area of study of our own within whatever topic we decide to base the newspaper on. We aim to have regular meetings to discuss ideas like layout, content and design and will compose drafts and compare to one another's and reach agreements as a group so the newspaper has a consistent design. 
Pauline Ascroft, CV Writing
Future opputunities
​   
Pauline took the lecture again this week, this time it was about CV writing. briefly we covered potential jobs illustration can lead in to. on her presentation she showed us a number of jobs such as: Children's book Illustrator, Graphic designer, Architectural Illustrator, Art therapist, Forensic artist, Archeological artist, concept artist, publisher, comic artist, game artist, greetings card designer and many more as well as some postgrad options. This small exercise brought reassurance to myself and undoubtedly most of the group as I think future employability is something as illustrators we all have worries about.
Individuality
Pauline explained how creative CV's differ to the generic and how we should vary our approach with tips like:
Be individual - add some unique design work to the CV express your creativity and make it stand out
Subtly target it to the job in frame
Showcase your portfolio 
What I should Include
Contact details - Same with any CV underneath your full name should be a clear, understandable address
Profile - a quick summary of yourself and why you're great, Pauline suggested it should be about 30 seconds reading time of words
Qualifactaions - a clear list of your previous qualifacations, GCSE not completely necessary.  
Skills - quick list of your skills and strengths
Experience - Any work you've done that could relate to the job or show independance, i.e. freelance project etc.
Extra information - Awards/prizes? driving license? languages?
Links - Portfolio, blog, website? 
Interests/ Hobbies - Show your personality a bit more.
References 
Creative vs. Conventional
Creative CV varies in many ways to the convential:
Conventional
Creative
Pages less important, 1, 2 or even 3D?
Colour is apporpriate
Graphic design, CV can be a work of art
Include links to portfolio work skill showcase beyond CV
Focuses on creative skills mainly
Shows individuality through the design work
2 pages max.
Colour is innapropriate
Graphic design is generally irrelevant or unnacceptable
May include non-creative skills
Much more structured logical layout, less freedom
Initial contact 
The initial contact with the potential employer will most likely be e-mail. Pauline gave us some tips on how to structure our e-mails:
Dear...
Why you're writing your CV
Why them
Why they should employ you
Next step you should hope for
Thankyou, goodbye
Freelance - Messaging A Client
E-mail/document should:
Highlight your area of expertise
What you yourself offer
Links to previous works (succesful)
Clear contact details
should all be targetted to them and be personal
Portfolios
Quality - no matter of preference quality is most important so include your best stuff
Be critically selective
Easily accessible - advertise on your social media? links in e-mails?
Get feedback from others and potential employer for future reference
My CV
This talk was definitely very helpful in helping me understand how to alter my CV from convetional in to creative, below is my original CV:

This week we completed a 'Skills Audit' sheet which was essentially a tick-box to highlight the skills we felt we were good in and the skills we felt we were okay in or need to improve in, in order to further ourselves as an illustration hopeful. The areas of Illustration I'd like to get more in to, having reflected on this week and previous weeks is probably a more commerical and graphic illustrator, creating artwork that is applicable across multiple platforms, such as clothing and product graphic prints so a keen knowledge of software is essential so this is something although i think i know quite well there's always room for improvement. The activity also helped me in highlighting other skills that would be essential.

This week, we had a lecture on the importance of reflective writing. As well as creativity, having the ability to go back and reflect upon activities and explore and explain why they went they way they did. As a student, creating these weekly blog posts are the way we reflect upon our work and why it is more beneficial we do these blog posts actually weekly, rather than coming back to them, as it enables us the ability to reflect on what we have done and improve our approach for the future.

"It is not sufficient simply to have an experience in order to learn. Without reflecting upon this experience it may quickly be forgotten, or its learning potential lost. It is from the feelings and thoughts emerging from this reflection that generalisations or concepts can be generated. And it is generalisations that allow new situations to be tackled effectively." (Gibbs 1988)

Through reflecting back on the work we've created we can reflect upon the skills we have gained and teh experiences in order to improve our stance for the future. The Gibbs quote above perfectly explains how we can deepen our learning through reflection.

Purpose:
Can/ will you do the job?
What will it be like?
Will you fit in?
Salary?
Before you go in
Be Prepared
Aquire an interest, get some knowledge of the employer, try LinkedIn?
Prepare any documents you want to take in, like a portfolio
Don't be late - plan your day.
Re-read your CV and familiarise yourself, prepare to answer questions
Remeber questions you want to ask them
On The Day
Arrive on time!
Dress appropriatley
Remember portfolio or other stuff
Make a good first impression - be calm and friendly and don't give a wet handshake!
Be confident and clear in what you are saying
Be yourself - show your character
Types of Interview
1 to 1/ face to face
Skype/ video chat
Telephone
Question types
Personal
Industry related
Hypothetical
Topical
Be prepared for all types including innapropriate suprising ones!
Most Common Questions
Tell me about yourself
Why you've applied here?
What you can bring to the business?
why should they hire you?
What skills d'you have?
Experience?
Interests?
Questions for YOU to ask
How is the work, what does it include?
Will I be supported/ trained?
Team set-up?
Oppurtunities
Don't delve too much in to financial talk and if you do try to get quick facts and move on fast!
When it's finished
Ask Yourself:
Did it go well?
Did I include everything I wanted to?
Which Questions were most important?
Do I want to work there now?
Finally, relax it's over. You can send a follow-up e-mail to show further interest.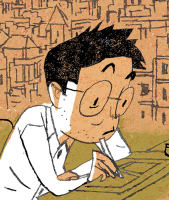 Fumio's Talk
Today we had a lecture from one of our tutors, Fumio Obata. Who spoke about his career in illustration and his experiences.
​
Fumio was born and lived in Japan. His early creative intrests came through the form of popular japanese art culture such as anime and manga back in the 70's and 80's. As his interest and abilities grew, Fumio decided to move to the UK to study Illustration at the Glasgow School Of Art and obtained a masters degree at the Royal College of Art in London. His interests in manga and comic books pathed the way for his future ambitions of beinga a sequential image designer. In the UK he Learnt alot about creation of children's books and the illustrative methods that make them up such as; sequencing, page placement in terms of characters and text in picture books, colour schemes and character and setting design methods.
The work featured heavily on sequence design but gradually became more focused on characters.

Fumio, then with a knowledge of  sequences and narrative, began to use his creative abilities and interests in the field of animation which lead him to exciting job oppurtunities such as a 2 week project animation for the band Duran Duran. As well as creating an animation for Channel 4's airs scheme entitled 'Shh'. https://www.youtube.com/watch?v=xmgvtXRmIhs&nohtml5=False

He later joined Redkite Animations Studio in Edinburgh in 2006, where he worked on a number of joint projects with DC Thompson.
In 2008 Fumio took up an artist residency at La Cité Internationale de la Bande Dessinée et de l'image in Angoulême, France. Where he stayed for 2 years, and learnt alot about the French comic book and graphic novel scene and where he still keeps strong links now.

Fumio then had some of his own work published and become popular. Firstly, his comic book work shows influence from his Japanese cultural roots but also with his own personal flair and elements of other cultures that make his style very unique. His comic work focuses on real life situations and problems such as drug and smoking addictions and are all his personal refelections on the situations. The most poignant and moving of which is probably his comic based on the Tsunami of Fukushima, Japan in 2011 which follows a cartoonized version of himself and visual reflection of his emotions and feelings at the time which provides a really unique and emotional spin on comic culture and is something that is often done. However, amongst all of the emotional comics, some are much more light-hearted. It's also very clear to see Fumio's abilities to use technology like photoshop etc. in his work which is a skill he evolved when he moved to the UK whilst at university in particular.
Fumio later began work as a lecturer for BA students in the UK, working to help mould the creative ideas of modern UK students with his knowledge of comic book and graphic novels and their different cultural influences and heritage as well as other skills and ideas such as technological skills, like animation and computer programmes.
Fumio then gave us some advice drawn from his own experiences in how to release work, and to consider many factors like your audience and your publishers and to look in to subjects that interest you greatly and you can show your emotions within the work.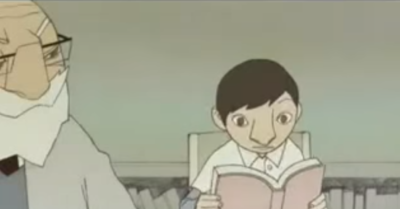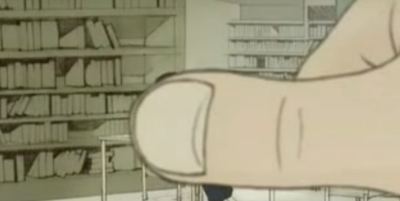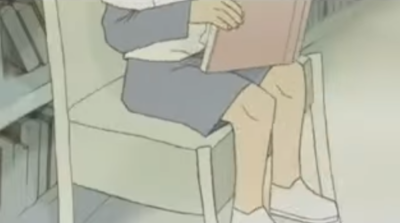 A few Screenshots from 'Shh' animation 

'Internazionale Fukushima' 2010.
Morning lecture - In the morning we had a lecture in the library, which we split in to two smaller groups for. The lecture was based on the issues of plagarism and Copyright. We used computers each or in pairs for an interactive survey using a programme called, 'Socrative.com', with the lecturer showing the results of the vote. The questions were both multiple choice but also short written answer based. Everyones answers to the questions were displayed on the whiteboard so we coud all see and discuss everyone else's answers which was interesting. 
A subject we often referred back to was how plagarism woud effect US as illustrators - this was of continious reference throughout which i felt was very beneficial to us all.
We highlighted the main points of how something is Plagarism as:
Copying directly without any credit
Submitting someone elses work as your own
Using too many words from another source when paraphrasing
As a group we discussed how we felt about plagarism in different scenarios and what was and wasn't classified as plagarism and how to avoid it. Offering our own initial answers first before discusing the correct answer afterwards as a group. 
We learnt of sources we can use to help improve our understanding of how to avoid any plagarism issues and imporve our overall knowledge - such as; simply asking our tutors, librarians, locating books in the library and also quizes and tutorials available on Moodle.
The easiest way of avoiding Plagarism, as we learnt, was to correctly Harvard reference - which is something that I'm relatively confident in. Be it text or images everything must be referenced correctly!
We had a very interesting group discussion based on how we believe plagarism can effect US as creative people and how to protect our own artwork.
Techniques to do this we discussed were:
Using watermarking 
Including a trademark signature
Using stamps
Another interesting discussion we had was where we draw the line between inspiration and plagarism - it was good to hear everyones viewpoints and a certain point we raised which left us all wondering was whether copying a trademark style such as, Chris Ware's colour pallette in his art, would count as plagarism - as there would be no way of proving it. We all conceeded that in some scenarios an artist has to adopt proffesional ethical stance when using others examples for inspiration even though it may not be a direct breach of law.
Copyrighting mainly comes in to play once something is published. Artwork is copyrighted to ensure that it is not directly plagarised for commercial profitable use - this is a direct crime and as we discussed there are many huge court cases resulted in massive amounts of fines and suings. 
An intersting website we visited was https://creativecommons.org/ which was created as an alternative to copyrighting and also has many great facts and information on copyrighting and it's issues. 
We further discussed all these issues and resolutions on how to avoid any issues with plagarism and copyright and it's benefits and how how we can use it within our own work to benefit us as illustrators going forward. 
(we also recieved a very interesting handout - SCAN IN) 
AFTERNOON LECTURE - FMP PLANNING

This morning we had two guests lecturers, Zana and Harry the inventors of 'Papio Press' . A business project they set up during the end of their second year at the uni. I found the whole talk very inspiring and motivating as it is definitely an idea ive thought about, setting up a business. They said that the first product they created and sold were pocket mirrors, which had the patterned print on the back - which has now become their trademark. they used the money generated from these sales to reinvest in the business and gradually introduce more products and higher stock as the business grew. 
The business started on Etsy - which they stressed is avaialble to everyone and a great starting point for beginning businesses. As they were at uni the business was muted a bit but when they graduated they had a lot more time to put in more effort and expand the product range and explore marketing oppurtunities and business credentials more which have helped it become as successful as it has. 
They used a lot of university available tools given to them for instance the prints created whilst as university were done using the strudio screen orint machine which is obviously not a common device for the everyday home so it was a very beneficial mean of production. Also in terms of business, they stated they were both relatively inexperienced in the field and so they seeked advice from the 'Growth Hub' - which we all have free access to as students. 
They mentioned alot the power of the internet and even how underrated google is, especially in sourcing contacts, resources and business ideas. Something which Zana was very enthusiastic about was the use of Social media as a marketing tool - especially as it's free. They said they found instagram the most effective tool and aimed to post 4 product pictures a week, to generate interest without being too repeptitive and annoying.
Within the use of the social media, Harry stressed the importance of good photography and how it can make or break a sale. Good lighting etc. and how it can enhance the look of a product and also local sources we could use to get this quality such as the Hardwick campus of the uni, just up the road.
Within social media, they also gained a valuable and profitable oppurtunity through a collaboration with The Natural History Museum they achieved through a competition on Etsy for small, growing businesses. they also collaborated with 'One Kings lane' an American print company.
However, all of this intersting stuff came with alot of boring but essential business areas such as setting up a tax return, which you can advice to do with from the Growth Hub again.
Zana in particular mentioned it hasn't all been plain sailing and some of the issues they've encountered like; Faulty stock (iphone cases that didn't fit properly), Negative feedback from people who seemingly just liked to moan. She said that replying to emails can also be a bit tiring in some cases so it was beneficial to set up an email template that can be sent to multiple people. 
They also gave a list of top tips:
Have a personal blog
Create independent work - as it helps to keep the romance with illustration alive, as it can get a bit tiring doing uni work to certain set themes and products and working off your own back on your own original ideas can produce some of your best stuff.
Starting an etsy page - it's avaialble to everyone and a good starting place for a business
Photography - key to enhancing a products appearence and the first and most important thing people look at when deciding to buy a product so make it good!
think ahead - plan ahead of uni with ideas like if you will have the correct tools and software when you leave and if not how you wil cope without or start saving!
Typical Day
Answering emails
Posting on social media
Certain days a week allocated to producing more work such as; Artwork, website maintenance, orders, stocks, product photography
Branding
They also said with regards to prices that you should research the market and base your prices on others whilst considering the quality of your product and the profit you'll be making and whether it's sustainable.
Overall i found the talk very inspirational as I've often considered starting a business through my illustration/animation work. So this talk definitley helped me alot.
site link: https://www.papiopress.co.uk/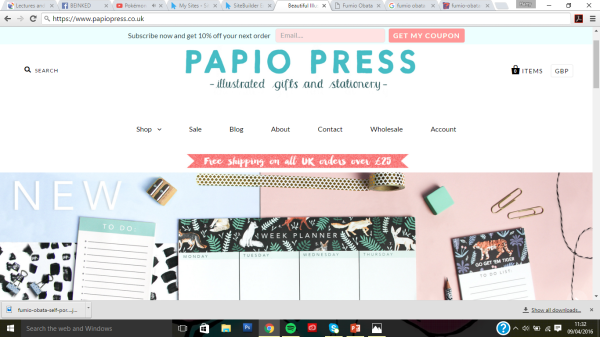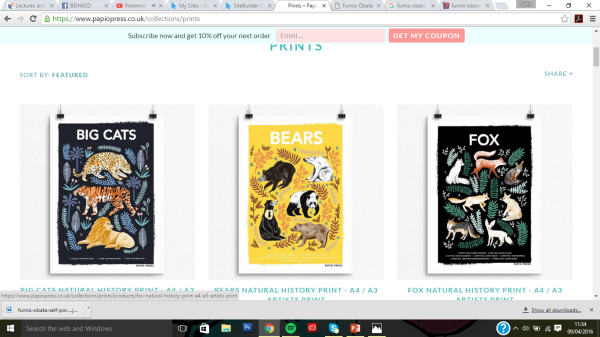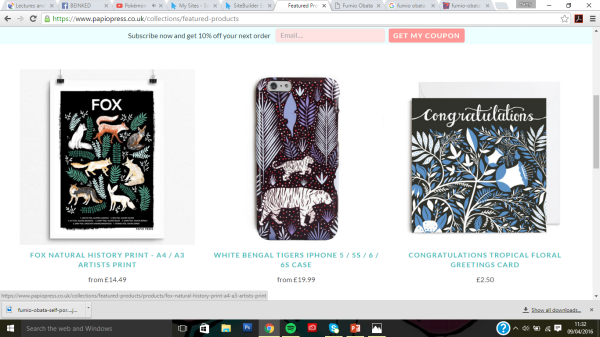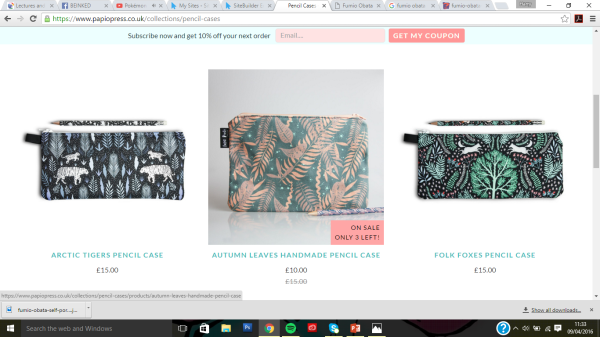 This afternoon, to further understand what we had to expect of the rest of second year and the third year projects like the Final Major Project and the research project, we split in to groups of 4/5 and spoke to some third years about how they found the second and third year so far and how they've approached their projects. It was really good to hear from other students on their experiences and see some of their work. 
The expansive nature of the FMP was pretty daunting to me as I had literally no idea on what i might do, but I've definitey gained some really strong influencial ideas from other people's work.
From memory, first we spoke to Leah, who was working on making a chidrens wooden pop-up toy in a a wild western, cowboy theme. She wasnt at the stage of making much of it yet but had created a prototype foldout base piece which was interesting to see and designed and written about all of the characters that she wants to include with a fair bit of development work. I think it was a good project to look at first cos it really kind of openend up the bondaries to me as to what we can do within the project guidelines.
Next we saw Keri who was creating branding graphics for some fictional companies mainly based on food. I was a big fan of her drawing style and she definitely is very good at photoshop so it was good for inspiration for myself. From what a gathered from a brief look at her work and from what Leah had said about her work she was very good with the drawing softwares and creating not strictly children's characters but characters that would appeal to children as well as adults. Her website as well is very good, I was a big fan of her stuff.
Next we saw Jamie who was working on a children's book, based on a fox type creature that we agreed resembled a pokemon. Although she said it wasnt quite manga she said she took influence from it with some elements of the characters with areas like their eyes. I don't think children's book is something I would want to do myself as I'm not particularly enjoying it this year but it's good to see you can create some really good stuff with it should i choose to go down that route.
Then we saw Emily who definitely had some darker influences compared to the childrens book but she was doing about tarot cards. Which was really interesting to see and her style.  Her drawing work i thought was really strong though, she showed us one card she'd designed already and she'd used black ink on white paper and created tone using an almost tattoo liike style of dotwork but it was very very good. We looked through her blog as well and the drawing standards were very high and a good source for inspiration, although her style is probably not alot like mine it was still very good to see, also i tend to introduce darker themes in to my work sometimes so it was good to see what effect they can have. 
Afterwards we saw Aimee who was the first to show us her research project as opposed to the FMP. She was looking at an artist who'd manipulated old books (particularly penguin) and changed the titles to humoursly. One of which stood out for me was seeing a man hanging off the side of a building equipped with the title 'The Hangover' which was pretty funny. The theme of humour carried on throughout another example of title changes being adding swear words in to kids books such as 'Where The Fuck Is Spot the Dog?' which tickled me a bit. She'd been working on re-embroidering brownie badges with funny titles as well.
We saw Ben's work next which was some really cool line and pattern work of animals which were made up of shapes, typically like feathers and wings. The easiest way to describe it would to be like that of - . I definitely felt like I was on common ground with Ben though cos we seemed to work similarly, sporadically. What i thought was really interesting about his stuff though was how he mentioned it could be used for T-shirts, Tatoos, Skateboards... This multi-functionality was really good to hear about as I've often thought about using similar ideas in my work. Although my style is very different to his I definitley admired his alot and the mult-functionality of it.
Lastly, we spoke to Emily and she showed us her ideas about body painting - I think i was familiar with some of her work before speaking to her so I think that speaks volumes of how out there and interesting it is. Looking past her FMP and working techniques though she spoke about her trip to america working with children and how fulfilling a trip it was which was something she chose to do over summer instead of the standard holiday doing something productive which is definitely something i shoud do myself more. Also Emily spoke about selling products via a stall such as T-shirts which is very much something I was interested in. I actually carried on speaking to Emily on my own afterwards cos she spoke so well and interestingly.
All in all a very beneficial experience and I now feel a lot more driven and weirdly excited to getting toward the FMP...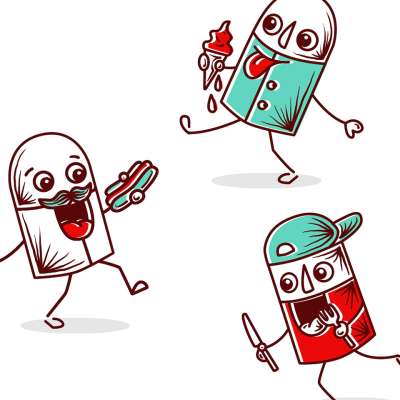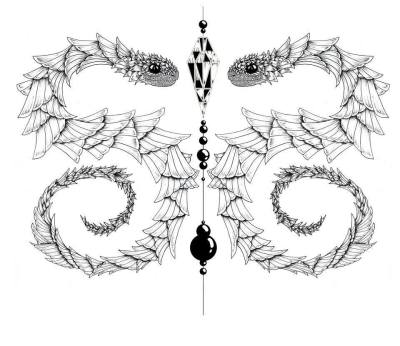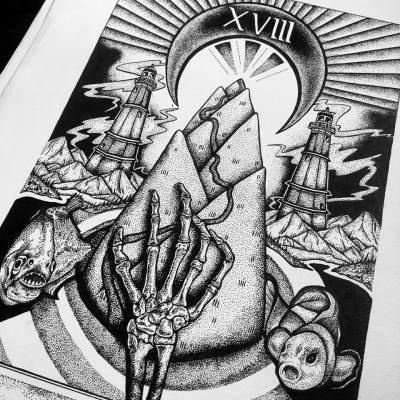 Examples of work by (left to right): Keri Green, Ben Campbell and Emily Rodgers
Today we had a lecture with Georgie, based on how to price work and the factors to consider when deciding upon a price, the main and most common four of which are:

USE - The use of the image is self explanitory it is the intended use of the product. However, in order to cover the product from being reused without consoltation, there must be a clause in the licensing which states "further use will require an additional fee".
AREA/TERRITORY - The area covers where the work will be used geographically
DURATION - Duration covers the time limitations on the use of the product, how long it can be used for.
EXCLUSIVITY - This means exclusive in terms of the licensing
 Fees vary on a number of factors such as workload, illustrator's reputation, completion requests.
Next, as a group we engaged in guessing how much we thought each job Georgie presented to us would pay - mostly all of which shocked me.

Magazines/ Newspapers: magazines tend to cost around £500-£1000 and newspapers around £150-£450 dependant on size. Book covers alone also range between £400 - £1000.
Educational Books: £400-£1000
Album Covers, CD or Record: Pricing usually worked out similarly to book covers where similarly size and expected production i.e. popularity will increase the price.
Brochures: £400 - £1200
Rejection Fees are something I found particularly interesting. Where the later in the design and production progress the rejection happens the more the client will have to pay as a rejection fee, i.e if the design is at rough early stages it will  be around 25% slightly later 50% and if it is completely they are usually contracted to pay the full 100% fee.
Obviously, all of these prices given are subject to negoation but just outlining a rough estimate of the pay for desigining one of these products I found very interesting. I am obviously creating a newspaper as part of my Proffesional practice module so I feel I am starting to acknowledge how much work and time goes in to the creation of one or something similar and when you actually evaluate the price and the rime spent in my opinion the jobs are very understated. Something however I have also done, is designed Book covers and although I would imagine in some cases, the cover alone wouldnt be the only form of desgining you would be doing for that given project a commision estimation of £400 sounds very healthy to me as an illustrator. To me personally, as a budding illustrator looking back on what I learnt from this lecture I feel it touched upon alot of areas I was very unaware and naive toward, I've often found the idea of pricing my work quite daunting and embarassing so being able to learn rough guidelines today has definitley taught me alot, and is someting of which I will definitely take in to consideration for any future commisions I may have.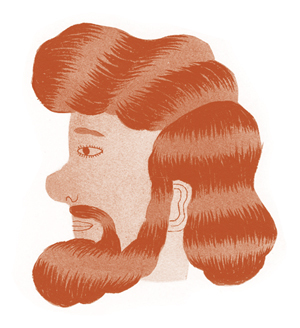 Today we had a guest visitor in Bjorn Lie. An illustrator who's work I've seen and admired before. What became more apparent immediatley to me with his presentation was the range of work he does and how applicable his work is to loads of different objects from magazines, books, t-shirts, fabrics, menus, signs and product packaging. 
Bjorn grew up in South Norway, where he said everywhere you went was about a 15minute walk away from a forest, the place was not very diverse and majority white, middle class. Therefore his interest in more diverse backgrounds grew and inspired his creativity and ethusiasm. 
in his youth he took a lot of influence from what was around him, heavy metal music and smoking he joked were something he found cool at the time. growing up he didnt gain much of an eductation in art so everything he drew was from his own back. He showed us a newpaper for criminals by crinimals he created when he was younger and some cigarette packet graphics - something of which has kind of become extinct in modern society. This 'vintage' interest carried on as he grew up and he collected elements for inspiration as he grew as an illustrtator such as photographs and graphics from magazines and a 'vintage' themed colour scheme. Other influences he had include hip hop such as Public Enemy and other big names and teh art that came with the music such as graffiti which birthed his interest in spray paint. he worked on graffiti himself but the spray paint effect s more so what's carried on further in his work. Other interests included Skate art like Santa Cruz and Comics and Magazines.
In his early life Bjorn didnt have regular acess to the interenet so as it became avaialble it was a great tool for him furthering himself and getting new opputunities. One of which was all the way in America where he worked with illustrators cretaing prints and lino prints etc. and generally gaining more invalauble experience. 
As mentioned old 'vintage' graphics and ads was a key influence for Bjorn. He showed us some newspaper ads of job oppurtunities and funnily mentioned the way they're so naive about the present day.This he took and applied to some of his own work along with a 'homemade' 'wonky' quality he said he gained through American folk art - American illustrtaion being a huge influence on him.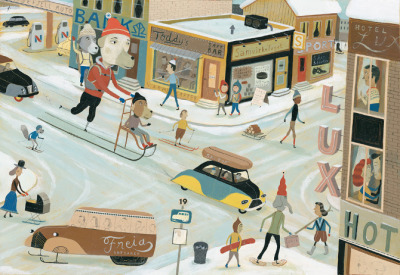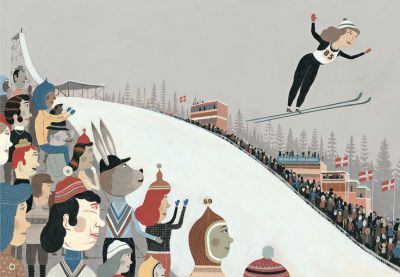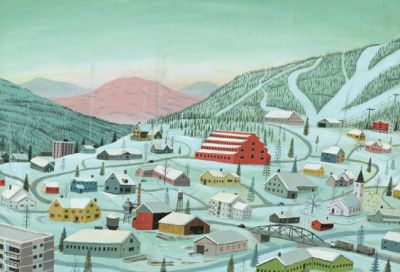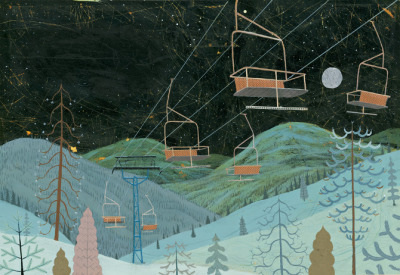 A few pages of art from Bjorn Lie's 'Slapsefjell' or 'Slush Mountain' in English.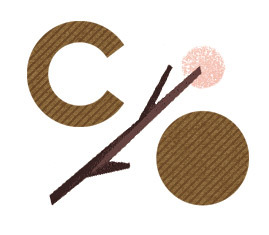 Clare Owen Visit!
Today Clare Owen came in as a guest lecturer, an illustrator from Bristol. She studied at Plymouth university then moved back to her hometown post-uni where she got a part time job at Lush - a company that creates cosmetics using natural products and things. Where she managed to show her creative prowess by working on design jobs for some of the store graphics like window displays etc. Something she stressed early within the lecture was that having a part-time job whilst being an illustrator is not a bad thing and should not be seen as failure, as sometimes it is simply just financial insurance and can take some of the pressure of producing marketable work which can in turn help you to keep your creative flow. She also was passionate about the use of social media, she found alot of opputunities through it such as the 'Tiger Print' competition where she created a card design and had the oppurtunity to visit proffesional studios and have a short paid freelance oppurtuinity which got her work for a few years successfully. It was through some of this work she was featured in a popular blog - 'The Design Sponge' which was extremely beneficial to her own practice and brought alot more hits to her website.

She decided that in order to pursue her goals within the illustration career she had to inevitably leave her part-time job at lush and move to Bristol and city she mentioned famed for its creativity and individualism throughout the society. Making it the perfect place to gain attention and expand her business. Although she shared a house she didnt necesarily enjoy living in, it was all irrelevant had it get it her the platform for success she needed. 
Licensing was something she mentioned alot and many of the oppurtunities she had were through it. Which i was't very well-informed on before which is essentially selling the rights to a company to the image for a specific use i.e as a card or as a print etc. She signed agreements with a few businesses one that stuck in my head alot was urban outfitters - cos I like their stuff. 
The first big money she mentioned she receieved was for a book she illustrated called 'Heels on Wheels' which was about women drivers and although she says she finds it a bit derogatory to read now, the £3,000 it made her helped her live sustainably for a long time whilst working on other projects. Where of course during the meantime she sold features on her own website throughout.
She got a job working at the Meri Meri studios in bristol for a company that produces graphics for loads of different products, she felt her feminine style would be perfectly suited but said she struggled to create work within the guidelines she was set as they were brief-less - which is more so verging on design work than illustration. She was later made redundant from Meri Meri, which she initially didnt take too positively and had a confidence crisis where she debated her future as an illustrator. However in time, she realised the positive influence the experience had had on her with things like teachinhg her to us programmes like illustrator to a high standard.
However, fortune favoured her as she found work with the TCN agency which provided her with many individual jobs, which brought in money but also bulked up her portfolio. The agency was based in Canada so provided her a larger audience range to get commisoned for. Mostly, editorial jobs but also a variety of random little jobs like desigining website/profile headers for wealthy individuals... The work stretched from America to Europe  to Australia mainly magazines and cards. 

Recomendations and tips:
Books, read - 'Show Your Voice' and 'Steal Like an Artist' by Austin Klean
Podcast - Creative Pep Talk 
You'll get faster at working
Every project is different
You HAVE to SHARE
Don't compare yourself
Hard but rewarding 
Illustration isn't agist or sexist.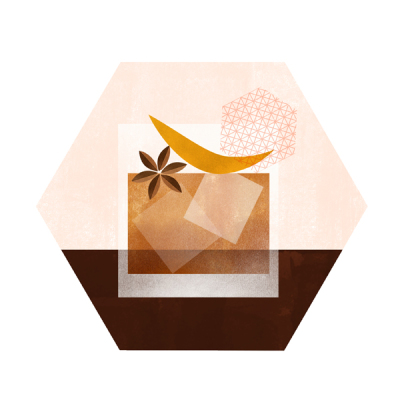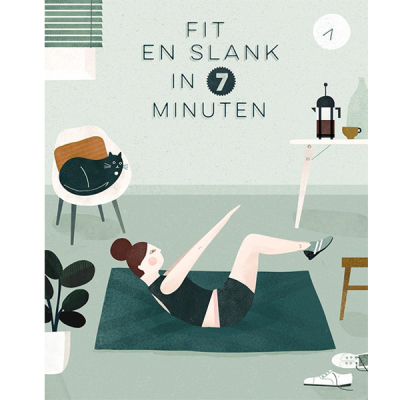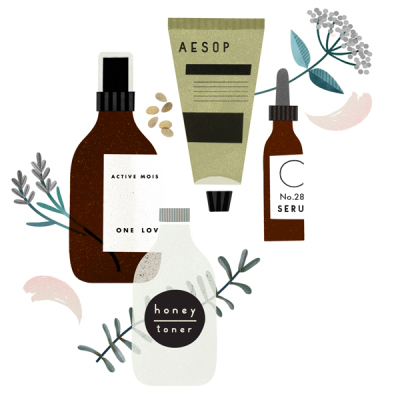 A few examples of editorial work by Clare Owen
Third Year Promotional Materials
So today we had the opputunity to view an arrangement of all of the third year student's work from their portfolio and promotion module to give us inspiration for when we come around to doing it ourselves. They all showed initiative and talent in different ways but I picked 3 in particular I like the most: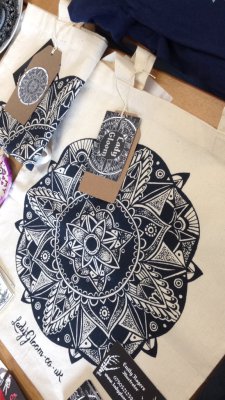 Emily Rodgers' Lady Gloom items: Working under the Lady Gloom alias, Emily made a variety of products such as teacup candles, bags, stickers and patches all of which follow her unique style which generally features alot of black with gothic elements and also inspiration from tattoo art culture such as dotting and fine pattern work. 

I looked at some of her other project works weeks ago and it's clear to see she's managed to refine her trademark style alot and apply it to products as well as prints and drawings which is definitely something I can learn from. 
I also like the way she works under an alias, and bases all her work round a specific genre. Even though the genre isn't directly my scene, her designs are very detailed and eye-catching and a great show of her skills.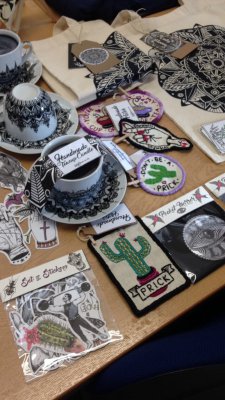 Keri Green: Keri's work, like Emily's has a trademark style, albeit much different. Keri's work I think has a much more child-friendly theme althought not to say adults wouldn't like it too. The images are playful and use alot of bright colours, which compliment each other well, they also use a softened effect, which makes them seem friendly and appealing to children. Having seen some of Keri's work in other projects I noticed the reappearance of some characters, which I like because it shows a sense of narrative to them. The products themselves include stickers, which I think is appealng to the target market which is most likely children, as well as mugs, which are appealing to a broader spectrum of age groups. keri also uses a logo throghout where I think the typeface perfectly suits the softness of her work.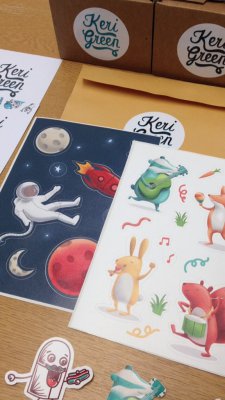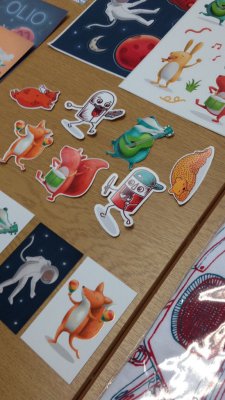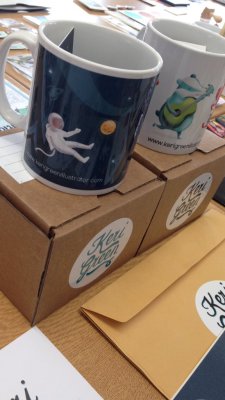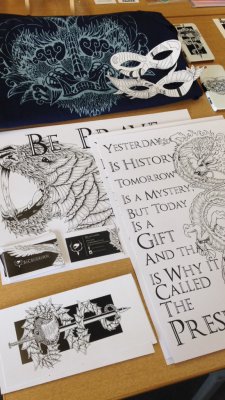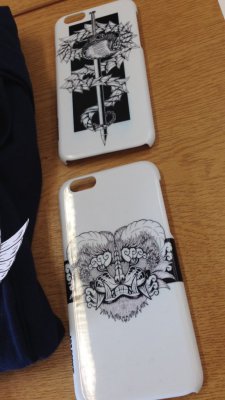 Ben Campbell: Looking at Ben's products, again as with the others, theres a clear consistency in his style which again I think is good as he has clearly found a trademark to style to work in. His style I like alot and it's clear to see his influences like Ian Morris and other illustrators. His choice of typeface is his promotional prints I think compliments his work very well, It's very periodic which I think fits well with the drawing style as it makes the animals or creatures look like they are from mythology. I think in terms of a target market the products would appeal more to a masculine older market which I think is good a it's an area in my personal experience there is definitely room for more design work like this. The products themselves, T- shirt prints and iphone cases I like alot, and exucuted very well. They particularly interesting to me as they are probably similar products to what I would aim to create.