Presenting
Part of this module, was to present our project to out tutors, I presented mine using this very blog, talking through all of my creative processes.

It was pretty clear however, that like most people the main thing they wanted to see was some working animations. Having not quite pieced together my work, it was hard to show as it was all in seperate files but I thinkthey got the overall jist of where I was at at the time. I sensed alot of worry amongst them about me getting the project done in time, I kept the faith though and after many nights spent grinding in my room animating and blogging afterwards, at this stage I can see the light at the end of the tunnel.
One of the main things Kieren, one of my tutors said, was "remember you're an illustrator, not an animator". Said in a constructive sense, I think. Looking at delving into this area of work I should perhaps be looking more towards character creation and development rather than animating. My senstitivity levels at this stage of the project, down to the pressures, were that of a hormonal teenage girl, so I think I took these remarks as a criticism at the time. but later realised that it was an interesting and constructive viewpoint.
I started to look for some job oppurtunities based on these tips.
Piecing It All Together
It was time to join together my scenes for the first time. I'd often play back my scenes one after another to simulate them as a collective but this was the first time I'd actually joined them together- four days before the final hand-in...

Ideally, I would've joined my scenes a while ago, and been able to fully analyse how they run together and spot any anomalys or issues, but the sheer size of the project could'nt be underestimated and I am glad I spent the extra-time adding finite details to each scene, as once it was all pieced together and released there was no going back.

There was first the task of rendering each scene from their SWF format (adobe animate's natural export setting) to a format that could used within a movie-making software. 

I used a programme called 'Swivel' for this, a programme created by the founders of an animation sharing website called
Newgrounds.com
​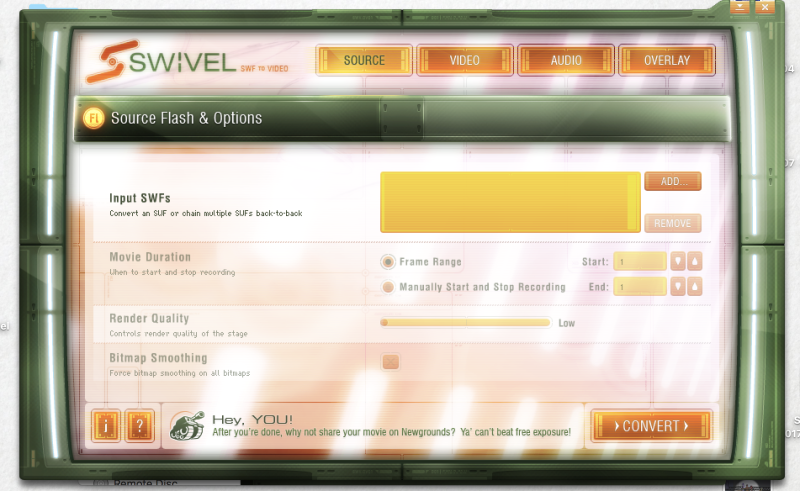 Swivel is very easy to use, you simply input the file, select a number of quality ranges and convert. Luckily, I recently bought a newer more powerful laptop, so I was able to select the higher quality conversion.
Down to an off-the-cuff reccomendation from my brother, I decided to use the 'imovie' apple programme, as opposed to 'adobe after effects' which I've struggled with in the past! 
imovie was incredibly simple, drag and drop, easy to trim and add transitions to scenes, an absolute god-send. I had all of the scenes placed together in place within 15 minutes! I was working very ahead of schedule, something I haven't done in my whole university experience, or school!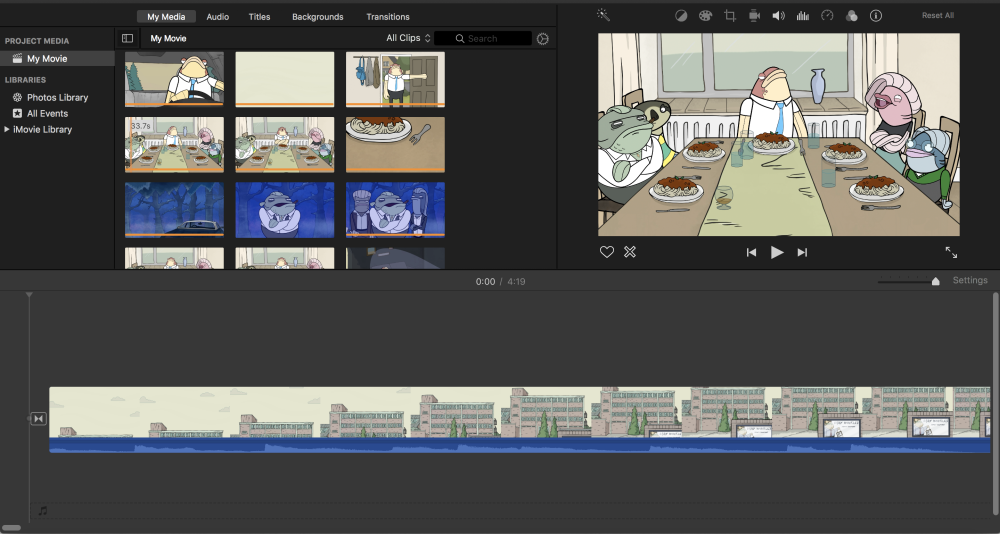 I imported the rendered video files into imovie and dragged them chronologically into the timeline.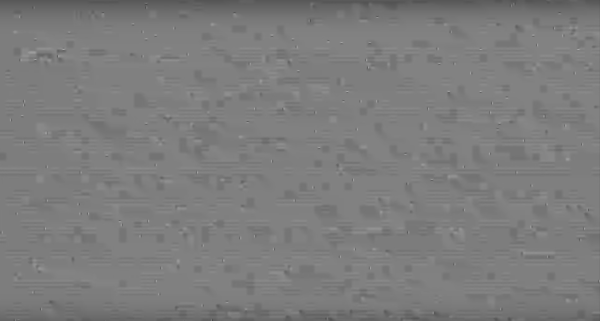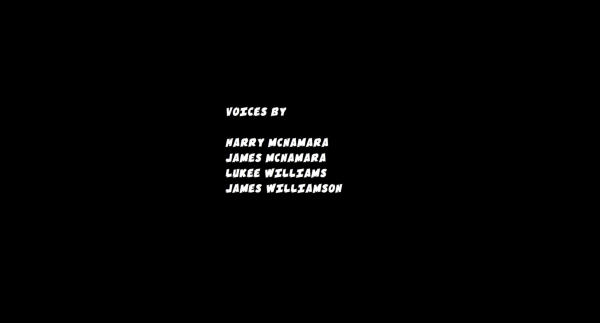 i added in a 'TV static' effect I downloaded from a copyrightfree youtube channel -I was going to create my own but couldn't due to time concerns.

I also created some credits, acrediting everyone who had helped the creative processe as well as some of the sources I used.
I had to stretch the credits out a bit to fit my outro track. I timed the credit fall with the song.

Some of the scenes would need a constant sound running across both of them. This was simple to do, I just dragged the sound file on to the timeline and positioned it across the multiple scenes.

I couldnt believe how quick and easy it was to piece together the scenes, it was great. I rewarded myself with a night-off. I think it was important to stay refreshed and calm throughout the creative process as I produced my best work then. 
Iused the export feature to export after watching the film through the playback option several times and gauging some reactions from my close family available at the time. The file was exported as a single MP4file, it was a complete movie, I definitely made the mistake of being too excited to finish and did this all to early, as I didn't realise an issue with inconsistent volume, as well as forgetting to add some background noises I had planned on. However, at this point it was too late, as I'd already posted the complete video over social media.

Social Media
A quick note on social media, it is a great modern way of displaying work. I shared my video initially on YouTube the world's most popular media sharing site, which I then shared a link to over Facebook to try and gain interest. I also recieved alot of help from friends and family sharing it across their pages.

I also added the video to Newgrounds, the animation webiste I mentioned earlier. I'd shared some of my earlier Fish Terry work on these sites as well, It was here I started to compare the two.
Evaluation
Things That Could've Gone Better...

I'll have to limit myself for this, there are loads of things I wish I couldve done better but separating them out:

Timing and planning - the past week of the project I worked really efficiently and to a plan I created. I wish I set myself a plan sooner, this would've improved my work flow and given me way more time for improvements
More research - most of my research was done via the internet, watching cartoons and the odd book. It really set me up for the project well, I learnt alot of stylistic effects and techniques, I don't think I could learn too much.
Smoothness - some scenes and characters in particular are very jumpy and rigid, this mainly comes down to not drawing enough phases for movements which comes down to patience, which comes down to time management.
Advanced movements - I wish the cartoon would have more action scenes like the bullying scene compared to sitting scenes
Length - I'd have loved for it to have been longer, more jokes, more action, more characters...
More backgrounds - more camera angles, backgrounds and props would've added alot more depth to the scenes.
Things That Went Well...
As most creative people are, I'm always incredibly self-critical. Although I was mildly proud of what I'd achieved over this project, the looming errors and lower-quality areas really bugged me. A really interesting way I found to help gauge how far I'd come on in the past year was to compare my animation and overall designs to Fish Terry attempt 1 - created in my second year of university, in a smaller animation module, the first time I learnt to animate!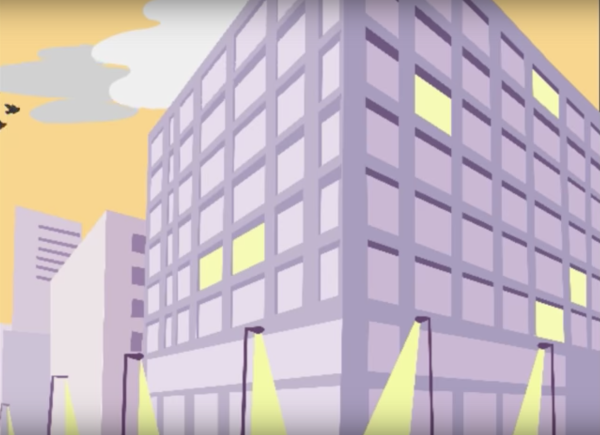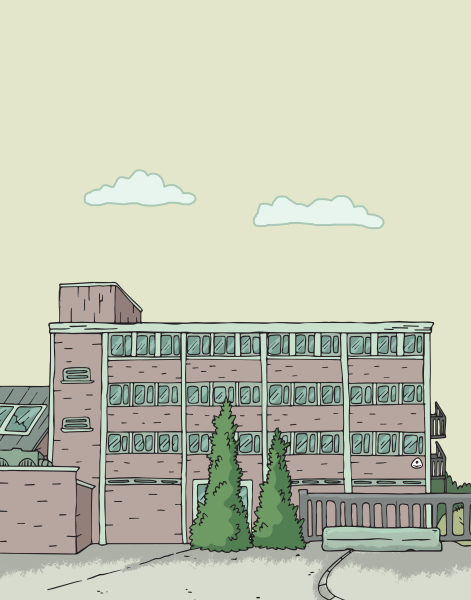 There were some really obvious stylistic changes, which came entirely from my 'research' watching cartoons.

who said it couldn't be a worthwile activity?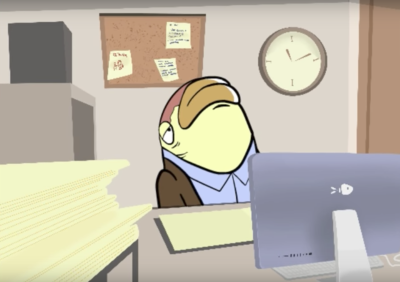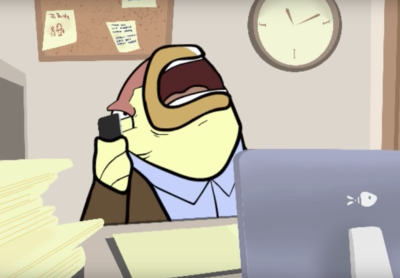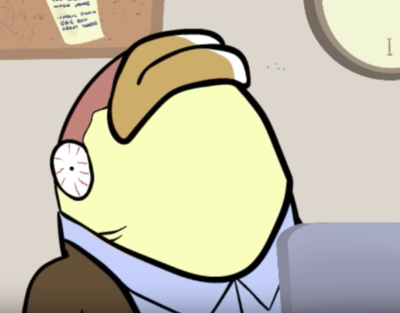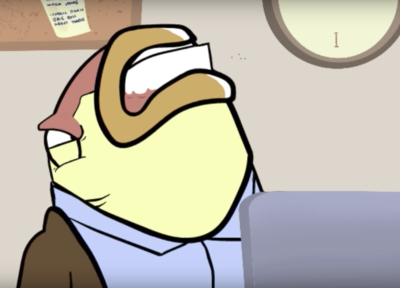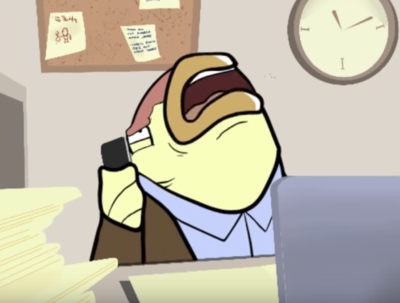 The whole animation consists of one room, with minimal chartacter movement besides facial expression, some basic lip-syncing and a weaker plotline.

The new, streamlined Fish Terry, walks, talks, drives...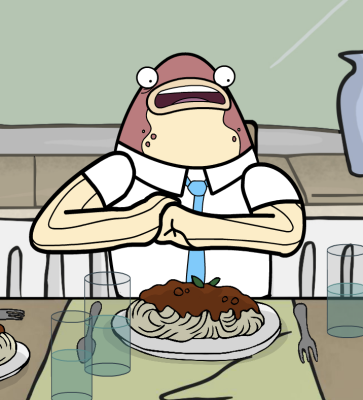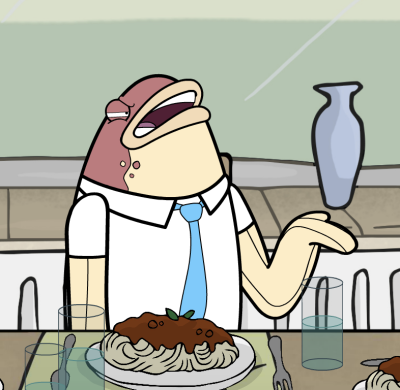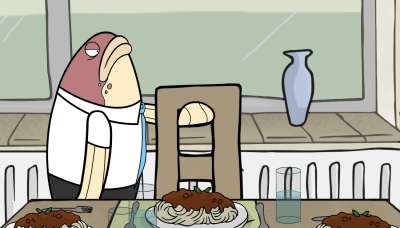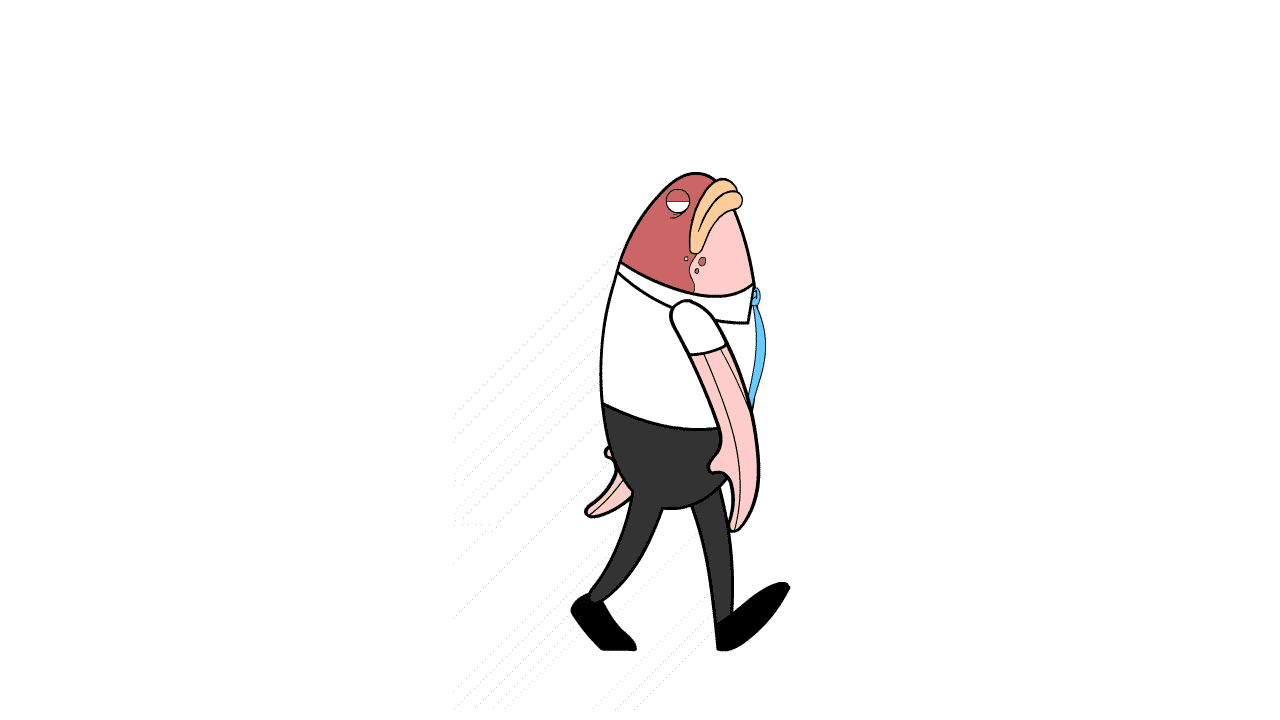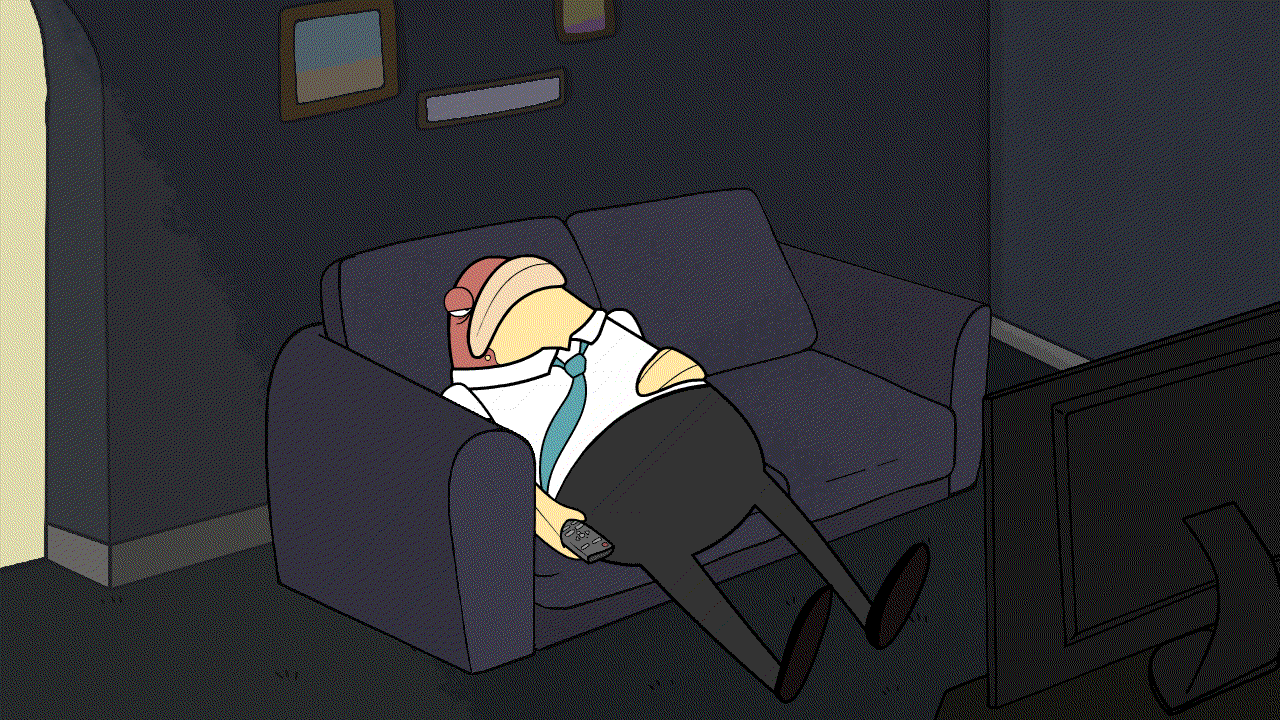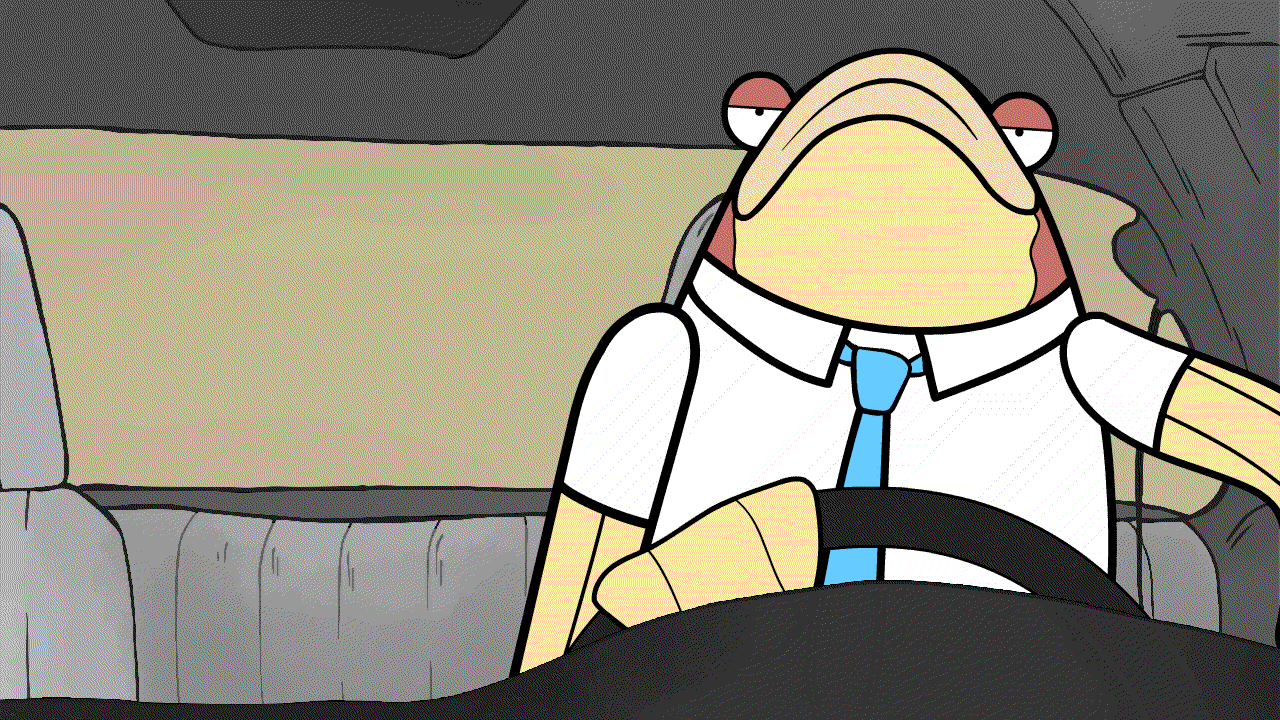 but most importantly, his family are in it too: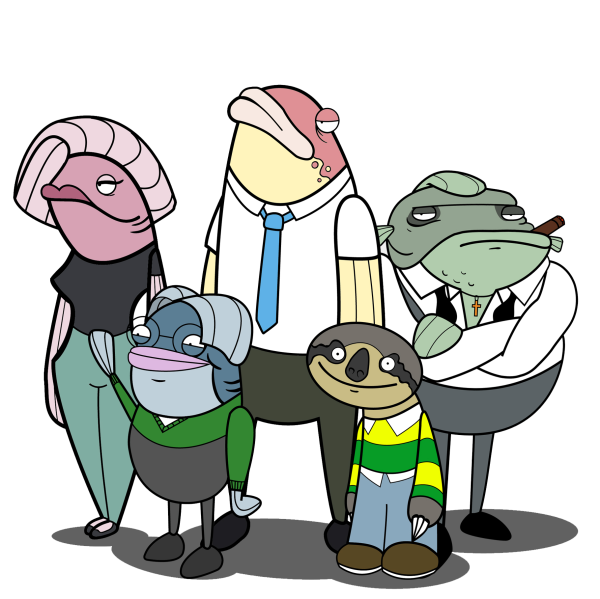 As well as all the other bit-part characters!

There were also some other concept characters who stayed as just that, but also some I just couldn't find the time to fit in, hopefully, I can return this animation and add them in: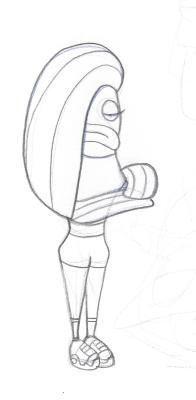 I intially decided on the family dynamic of having a younger son (dylan) and teenage daughter. This was one of the first drafts of her, although even though I've not been afraid to push stereotypes throughout the whole creation process, I felt this dynamic was a bit too stale, and instead took forward a random cartoon sloth character who developed into the adopted son that features in the finished cartoon, Flash.

Perhaps, she returns as the long lost daughter...

Peter Pinkle - Terry's next door arch enemy neighbour prawn, it was also decided he should have a cockney (london) accent.

Sadly, I didn't have the time to include a scene for him. Hopefully if Fish Terry returns he can make an appearance.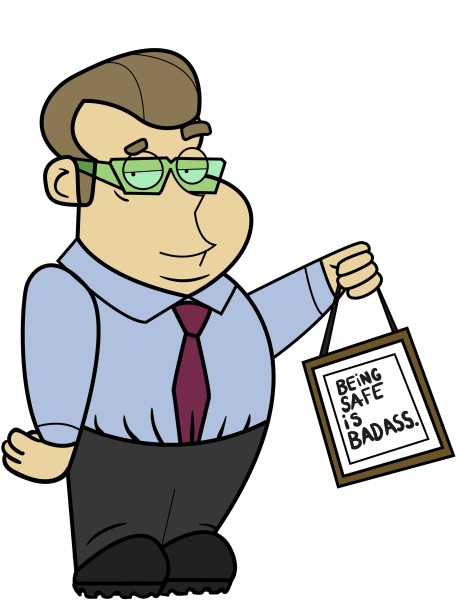 Finally was Terry's boss, Gary Winkle.

A 'David Brent' from 'The Office' inspired incredibly uncool boss.
Again, sadly I didn't get the time to include a scene for him, but I managed to feature him on the company sign: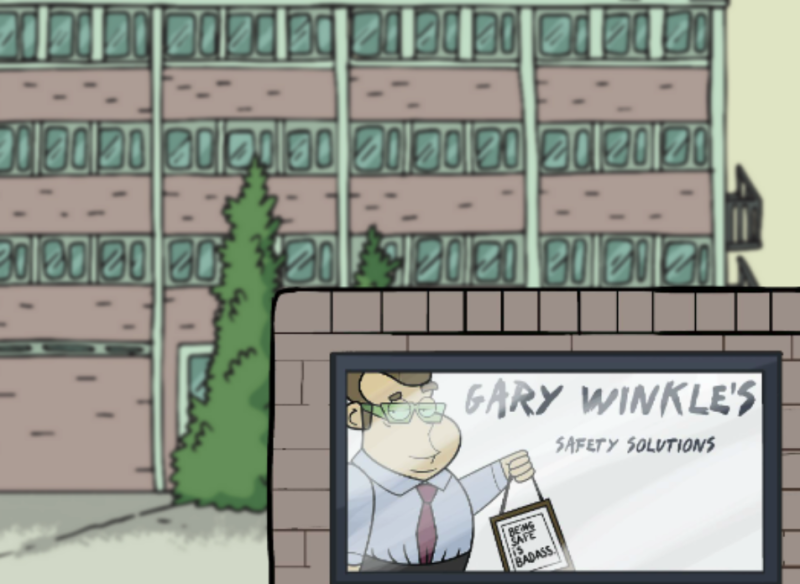 ...Classic, Winkle.
Final Words
Looking back at the whole project, watching the finished animation, hearing positive feedback, comparing to my older work, I'm really happy and proud of what I've achieved. 

All based from a fleeting thought of "This song would be cool for a cartoon theme tune" when hearing a Mac Demarco demo track for the first time. A few stupid conversations with friends about potential jokes and characters, I've created a complete cartoon. 
The whole learning process has been really enjoyable and I can honestly say I've thoroughly enjoyed at least 85% of it... 
It's added another string to my bow and I'm really excited for what the future might hold for me now. A final thank you to everyone who helped with making it and supported it.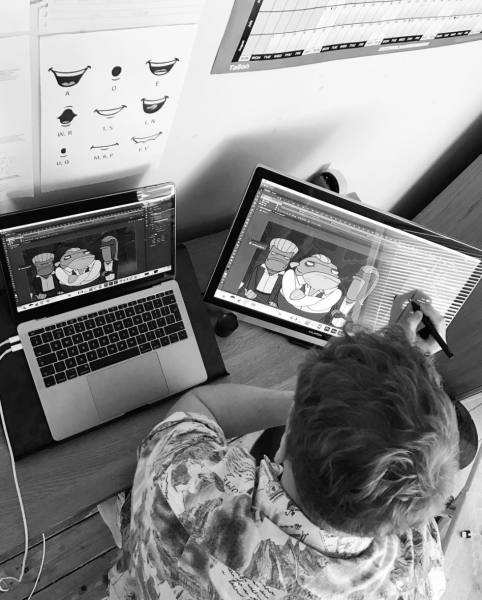 Long live Fish Terry.