AD5507 - Advanced Drawing
Drawing Cubes and rectangular objects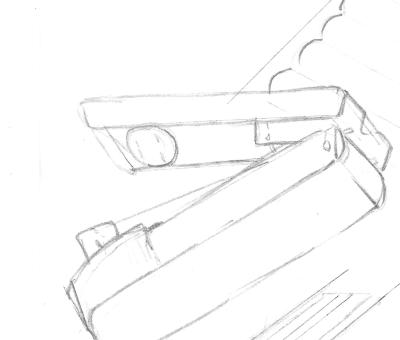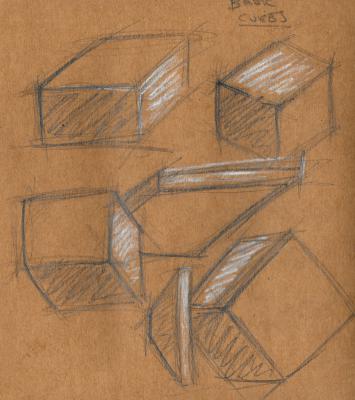 The intial excercise we completed at the start of the module was working on basic perspective. To do so we drew various cube and rectangular shapes. We initially drew the cubes followed by drawing from life, objects that were vaguely rectangular. It was a pretty beneficial excercise coming back from our summer break as it refreshed our abilities to notice perspective and then apply it to objects. Although a very basic skill, it is essential to learn to be able to step forward in learning how to accuratley present perspective.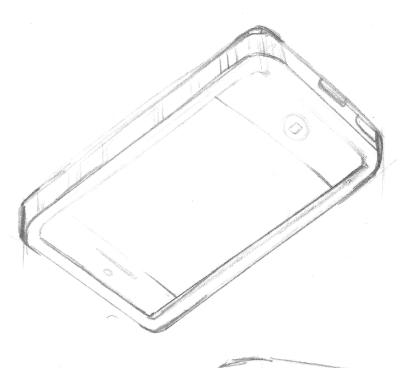 I didn't really find the task to challenging, which I think is a relief but it did work my mind more than expected, and i defintely found it beneficial working on more basic shapes to regain my eye for perspective drawing.
Basic Human Form and Perspective
Over the summer break and in to the start of the second year, I completed a few quick sketches to remind myself of the shape and structure of the human anatomy. I used a basic shapes technique, clearly showing all my construction lines to try and refresh my memory on the basic shape of both genders of person. I felt over the past I had drawn more female anatomy work through weekly life drawing so I aimed to create more excercises studying the male structure as I felt I was less practiced in this area.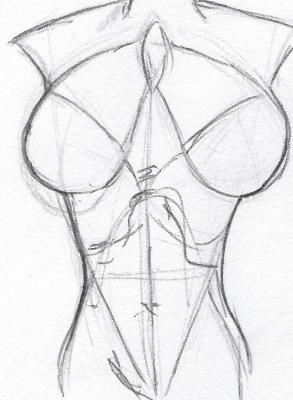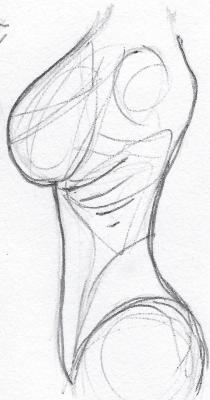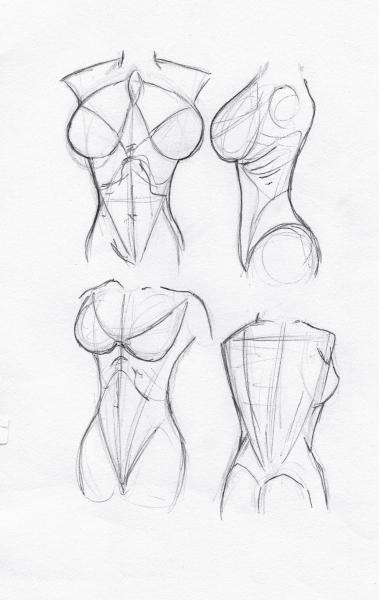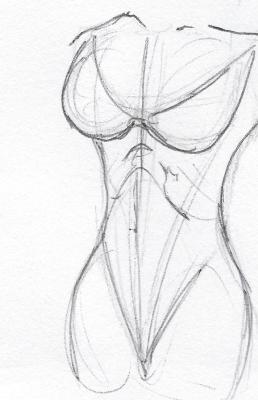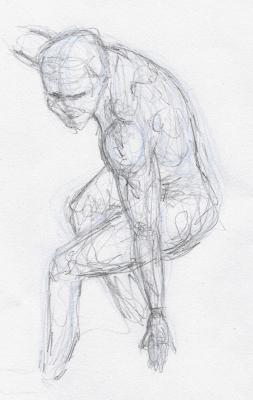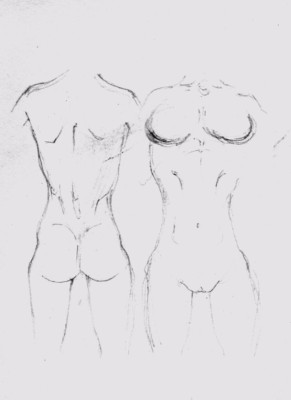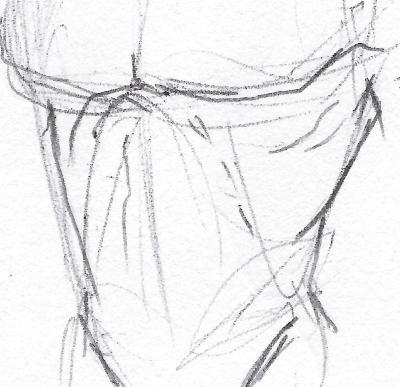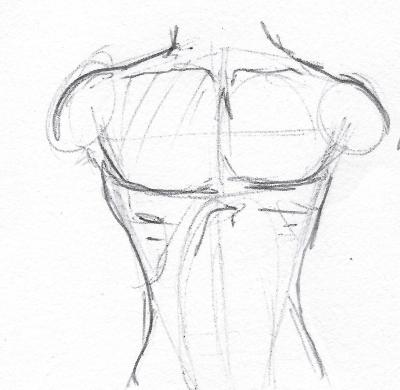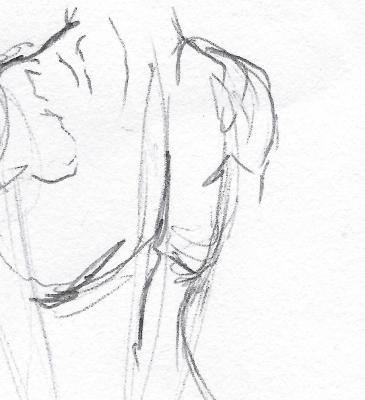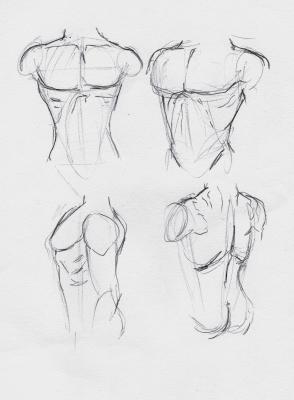 As my confidence grew I started to create more studies that didnt involve as much basic construction lines and instead looked more finished. I drew the images from a mixture of sample internet images and my own recollection and knowledge of anatomy.
Implementing Perspective Angles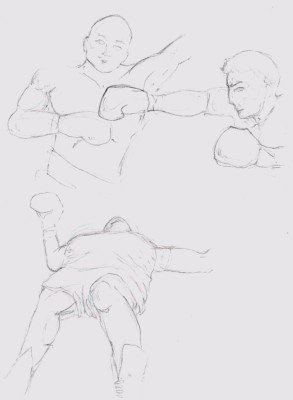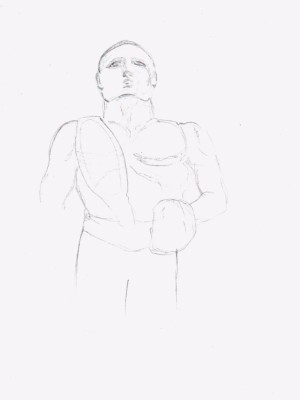 After working on basic anatomy, I completed a range of studies working on representing the human body from different angles and perspective. I angled towards more dramatic cinematic angles to try and test my abilities.
The first two pages of illustrations I made trying to work on perspective were very poor. they however highlighted to me the needs for improvement. I also decided that investing in brown paper and conte pencils migth be benenficial for me to be able to identif tone which could help in showing light direction etc. which would help me to show perspective perhaps.
Although it is very faint in the images, I used a basic vanishing point method when working on my perspetive representation. I think as the studies went on my abilities to show persepective definitley grew and I feel alot stronger in the subject as a result.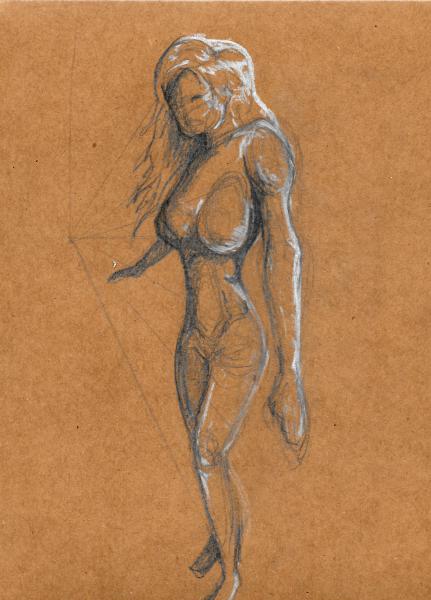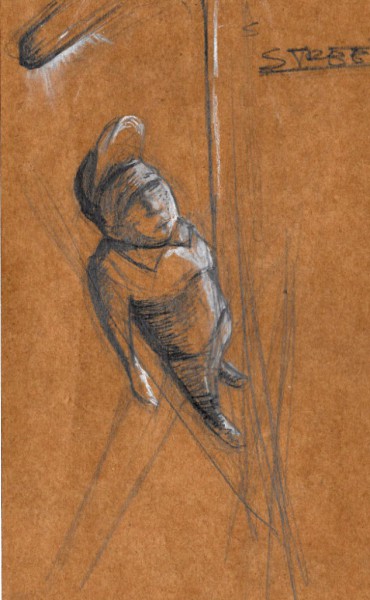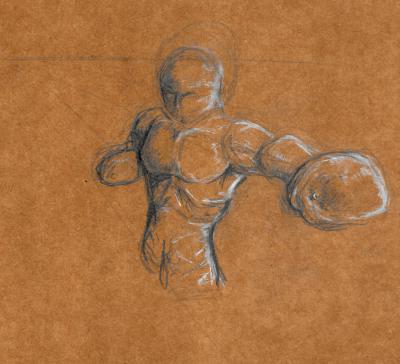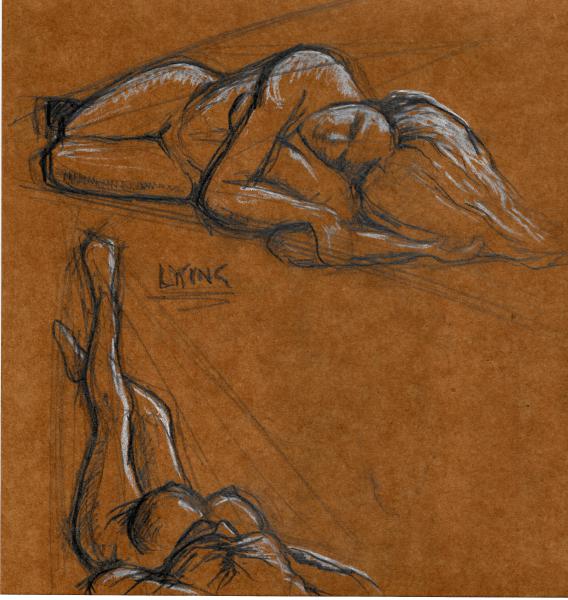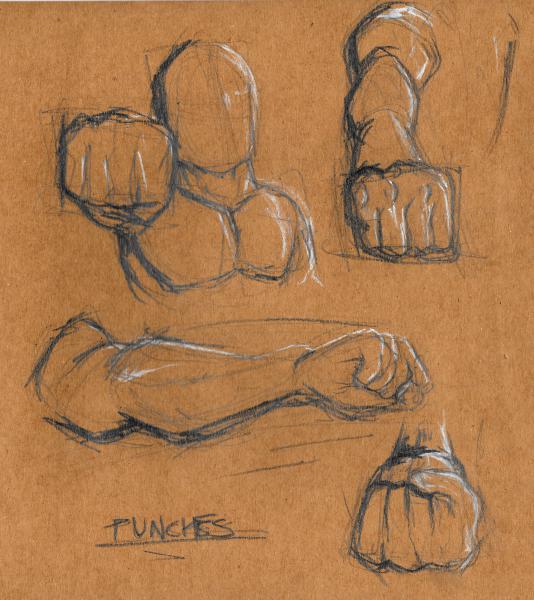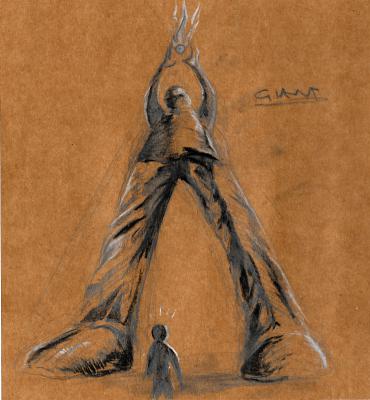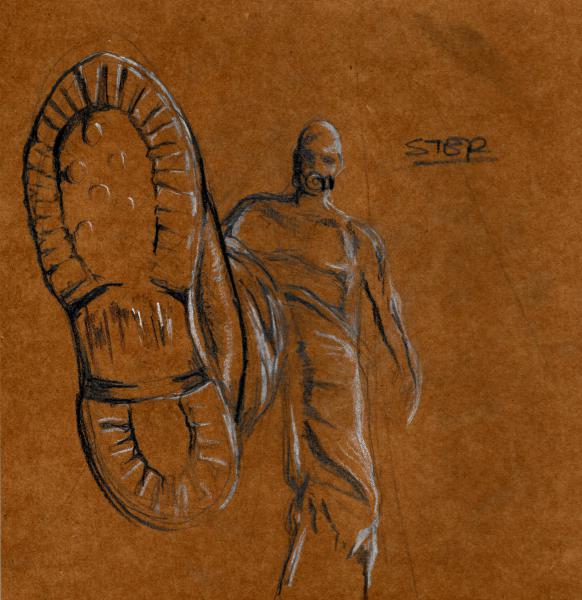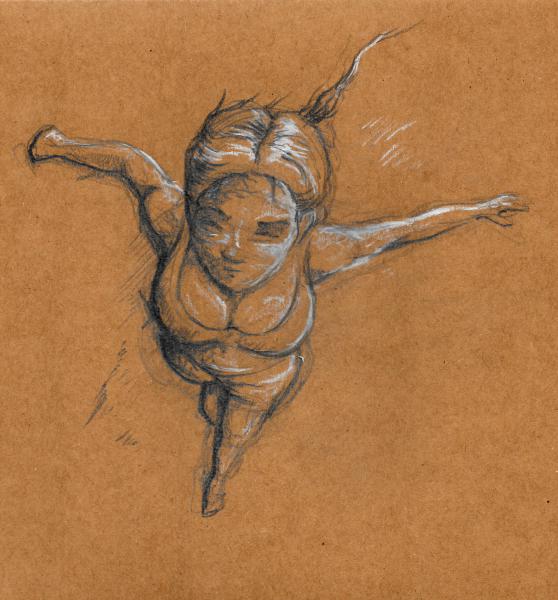 Following on from continued human form practice, we were assigned to look at how small childrens anatomy differs to older peoples and create studies exploring this. I created several studies of random children based on an internet search and also some of myself from baby pictures. Something of which was immediatley apparent was their much smaller limbs chubby faces and joints. to try and study this further i created drawings specifically honing in on these areas first, before creating a whole body study.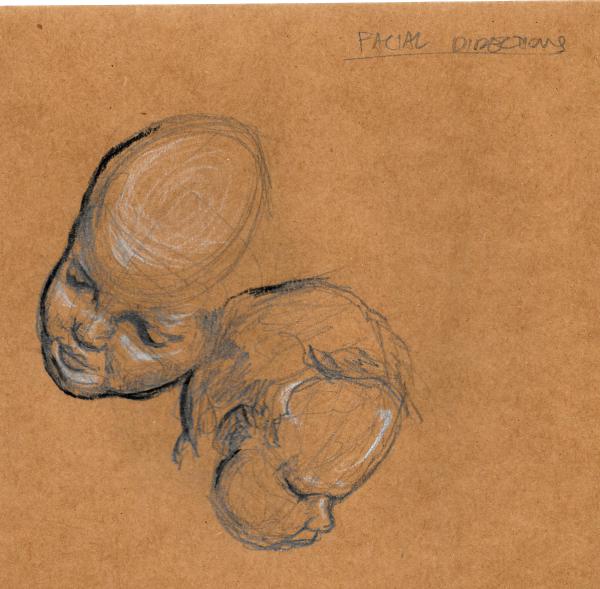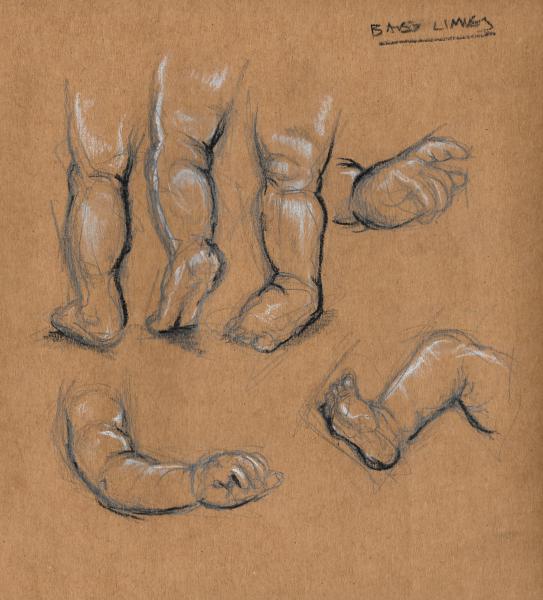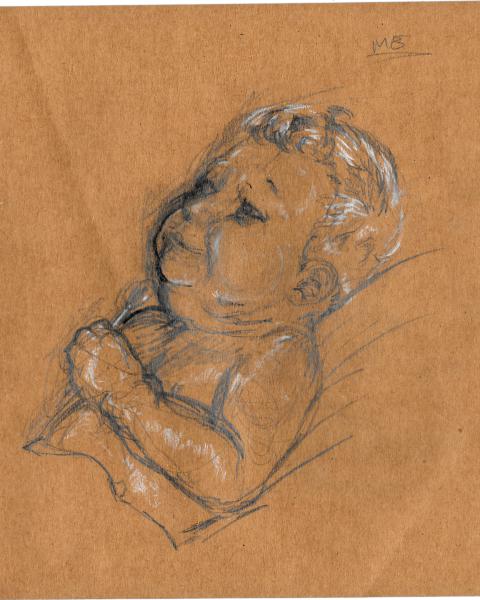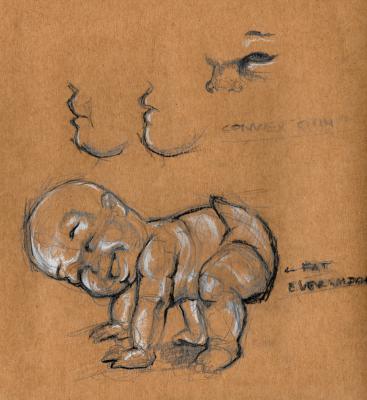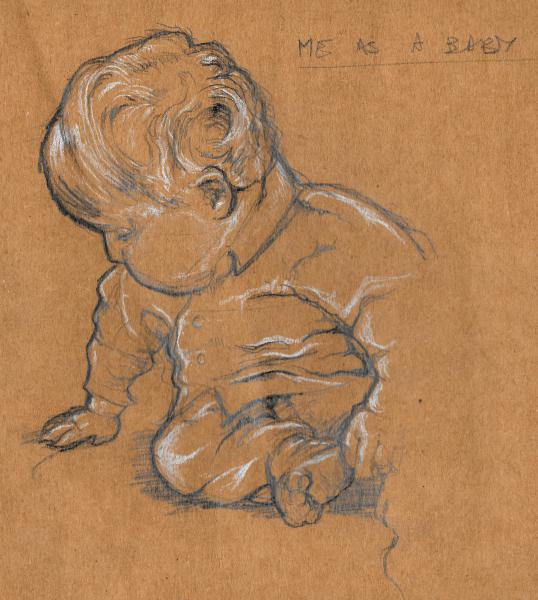 This was definitley a subject matter I hadn't drawn much in the past so was quite a steep learning curve but I feel happy with my progress and much more confident should I need to draw younger children again. The final image I was particulalry pleased with, as although it is relatively basic in terms of minimal lines, I think the face stucture with the rounded cheeks is very resemblant of a baby as well as the proportions of the limbs and the hands and feet.
Body Parts
From my experiences drawing people there are always certain areas I found difficult partiucularly hands and feet so I decided to draw some to try and refine my skills.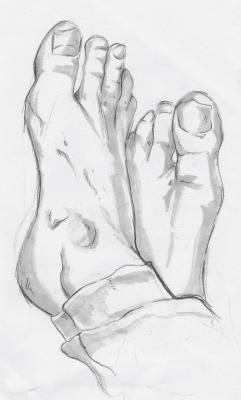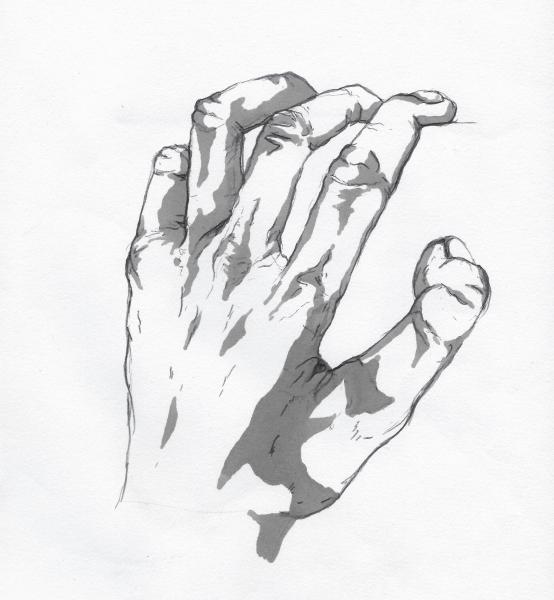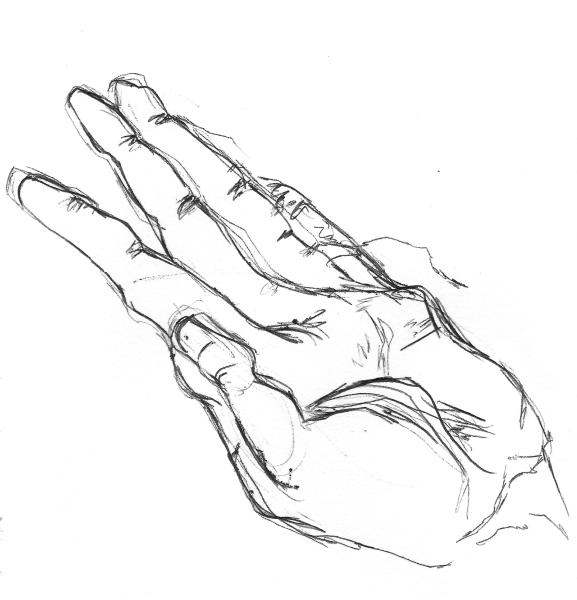 Elipses and Vehichles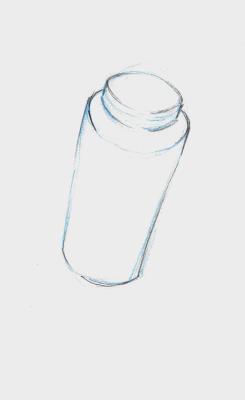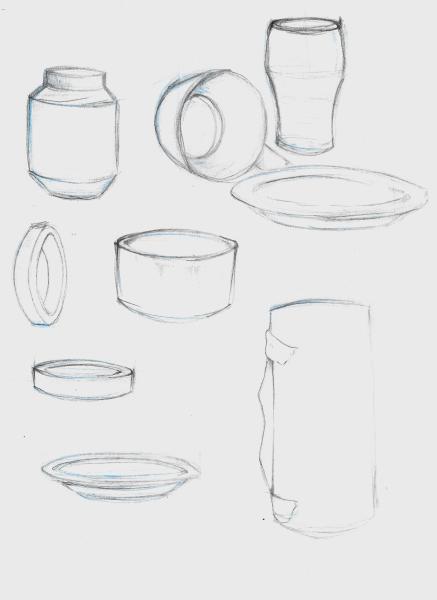 We looked in to perspective of round objects next as they are typically alot harder to draw than cubes and rectangular shapes as wed drawn previousy. I created a number of quick elipse studys of basic items like plates and toilet roll tubes from life before trying my hand at combining both rectanagular and rounded shapes together in the form of a vehichle a much more challenging shape.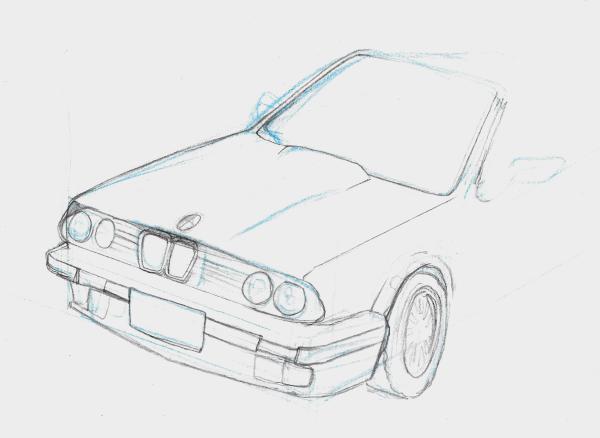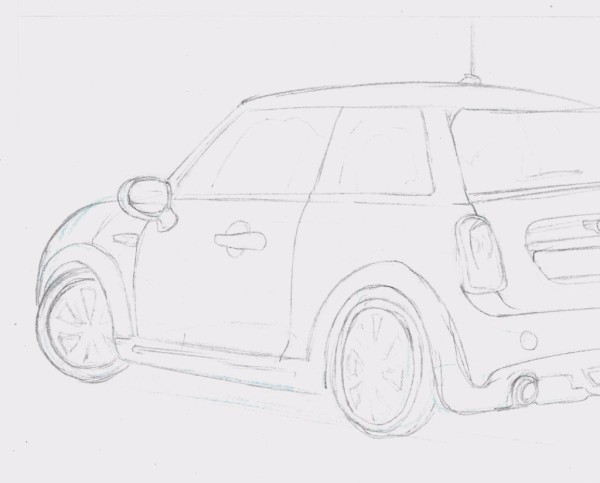 Cheltenham Drawing
We vistited the local town for a drawing perspective excericise, this time focusing on architectual work. I created some rough sketches where I have tried to create some studies of the local scenery trying to incorporate some more challenging and difficult viewpoints, I used a vanishing point technique to try and capture the feeling of distance as well as spherical perspective for the more challenging curved areas.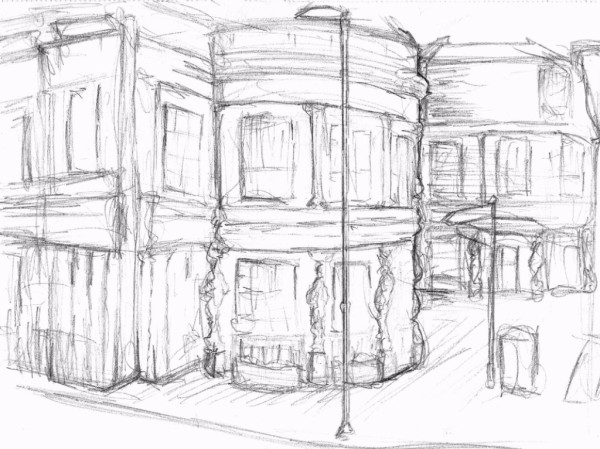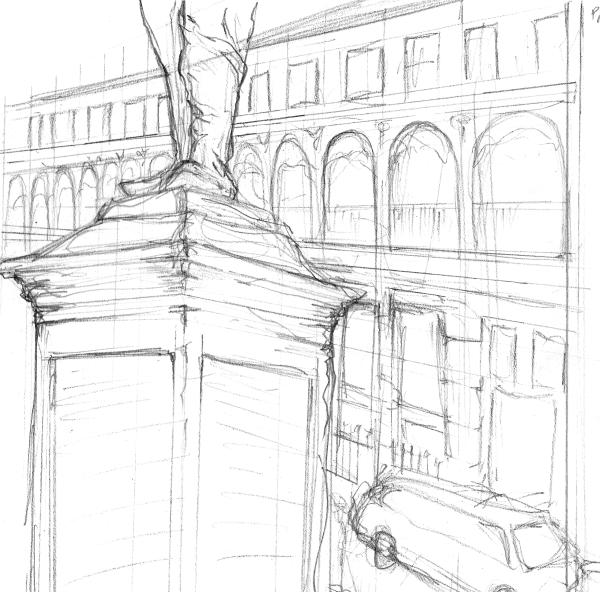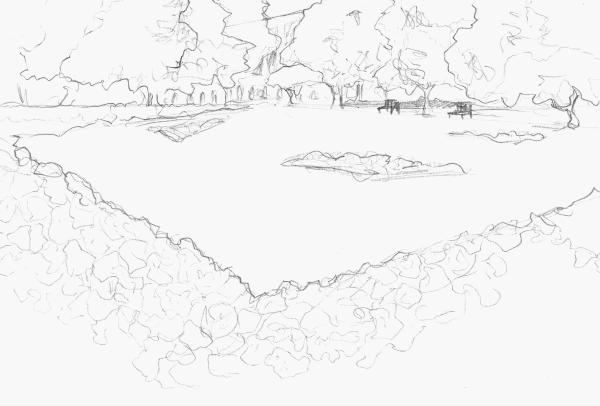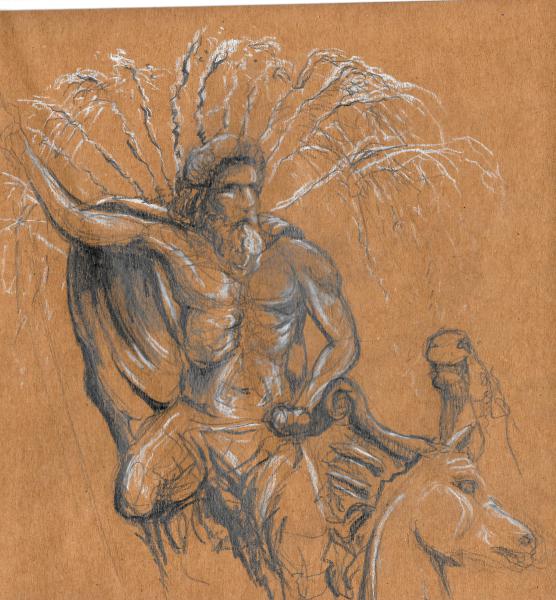 I used two sketchpads over the excercise, I initially used standard HB pencil on white catridge then I switched to y brown pad and used white conte pencils and charcoal pencils to try and gatehr more tone as I felt it was extremely lacking in my other sketches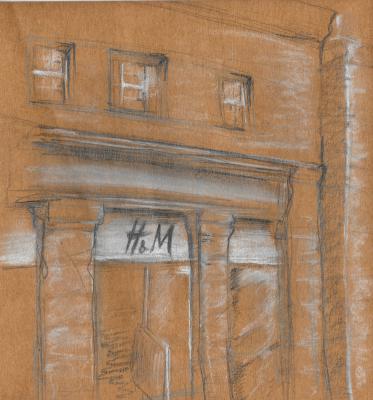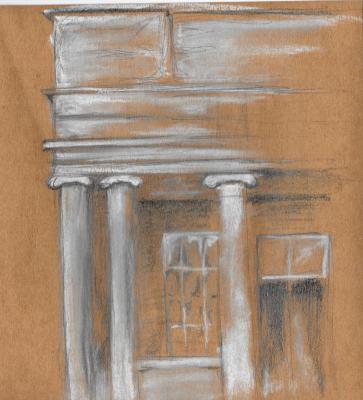 When it came to scanning in these rough sketches I decided I could quickly add some colour to the less tonal sketches to bring them out more and add more dimension. So I quickly described the basic tones in photoshop using the paintbrush with some research on the colours of the areas using an internet image search, however the colours themselves are obviously rough. I quite like this 'reportage' type style and I found it quite effective.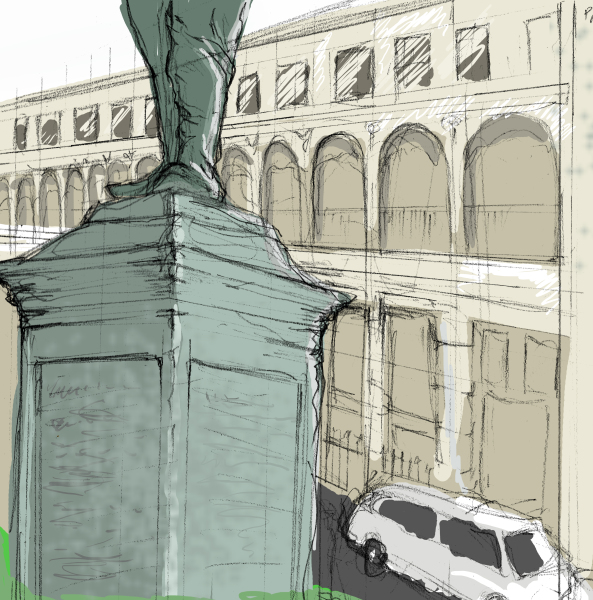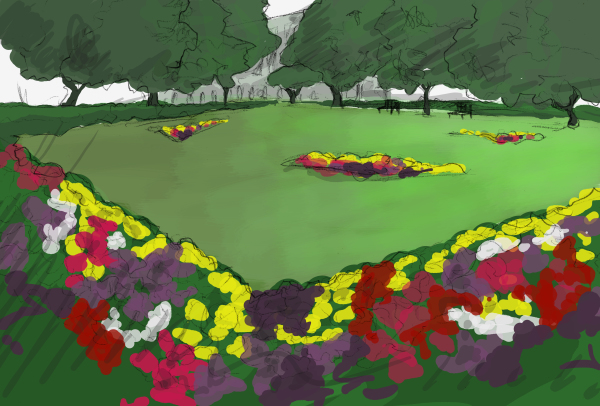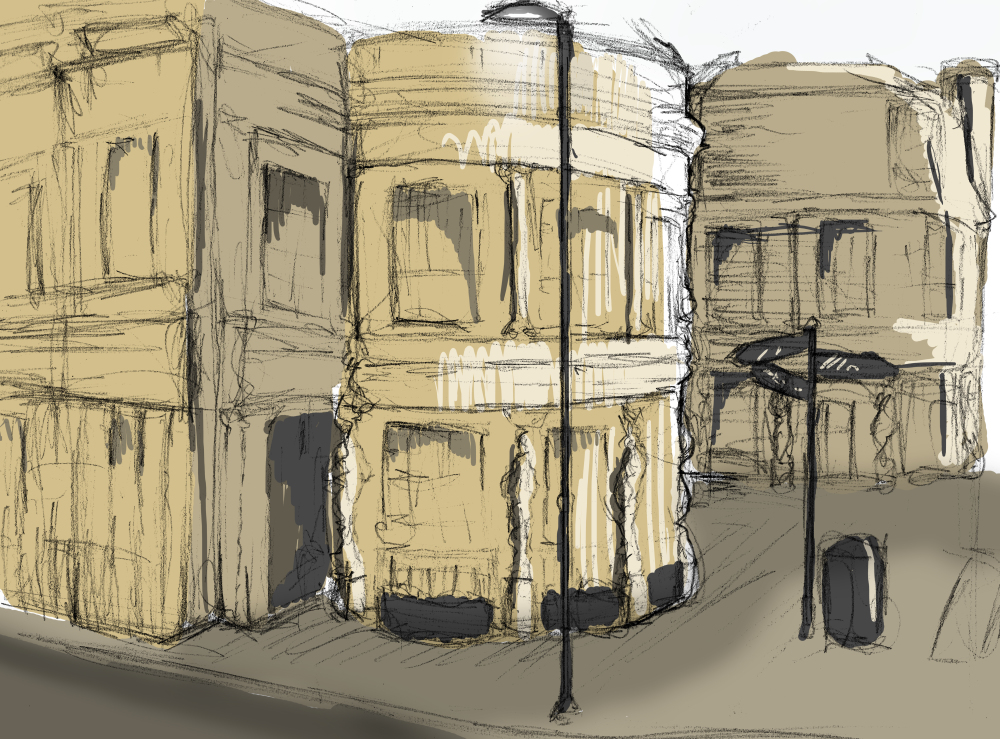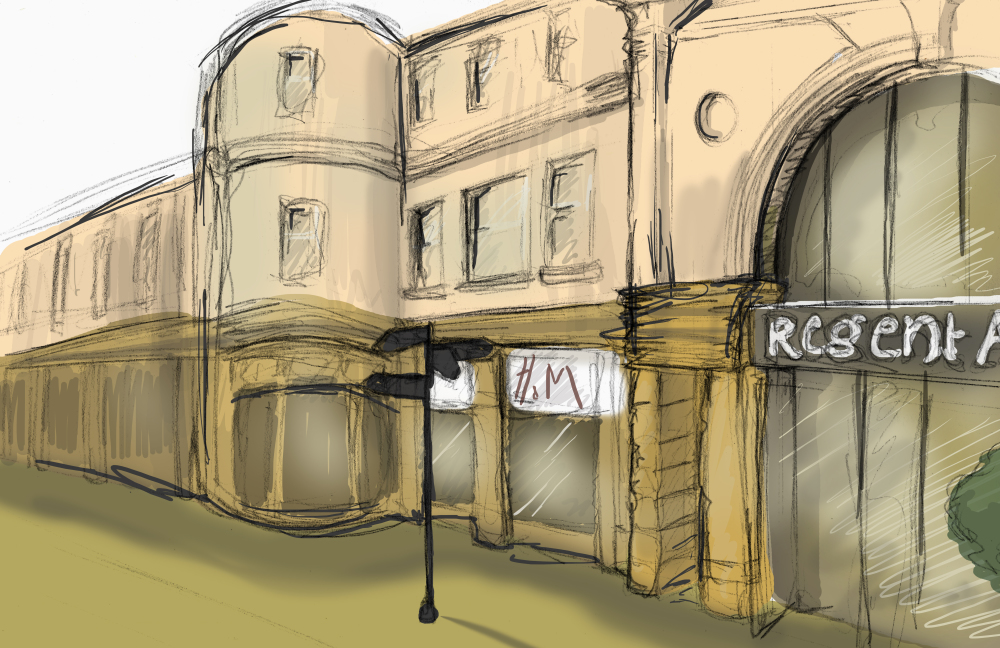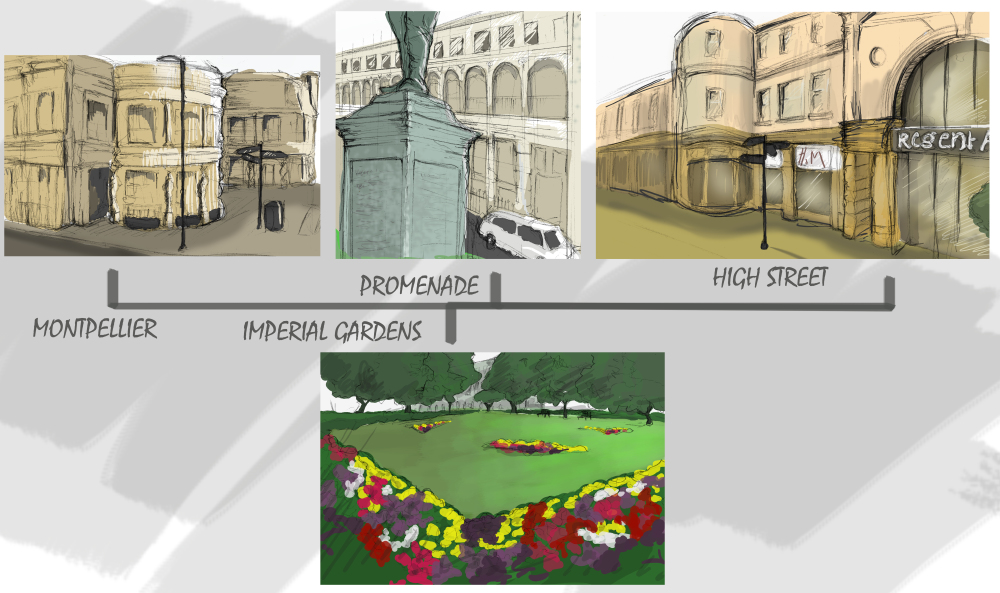 I quickly composed the pictures in to a rough map guide of cheltenham.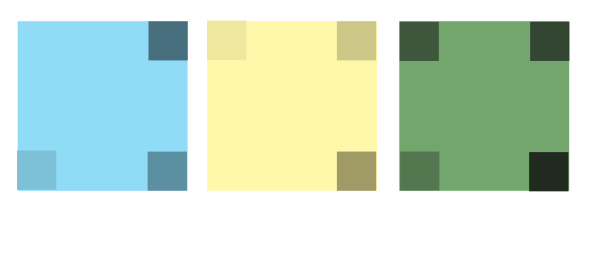 I picked three colors I liked then used the contrast tool to darken each colour to create a range. I then placed each colour's conrasted squares on top of the original to get an idea of how they could comliment each other - particularly as a shadow or dark tone.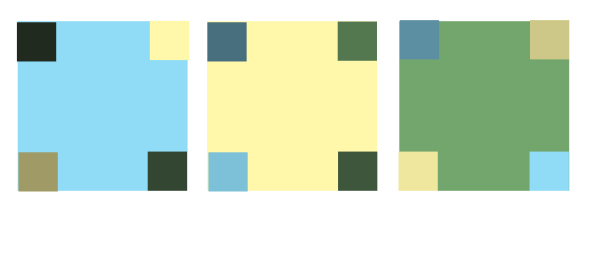 Next i moved the squares about to see how they contrasted with the other colours and if they complimented them. I think its pretty evident which did and didnt work, which was something I took forward in to creating a storyboard using the colour scheme.

With the addition of black and white as well as a few extra darker tones of the same colours I made this quick fourpiece storyboard. (not in order)
Within an external project I created a 32 page representation of the original story Hansel and Gretel in a simple, outline-free childrens style, using a 4 colour plus black and white rule:

Using the knowledge I'd gained from practicing different elements within 'advanced drawing' I combined the use of: human forms, perspective, lighting direction and colour to create a quick 4 piece storyboard with a basic plot. 


The studies, definitely range in their quality and display of the techniques but I tried to show a variety of them throughout the 4 studies.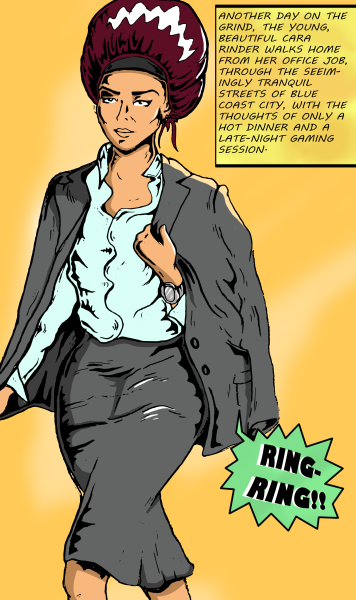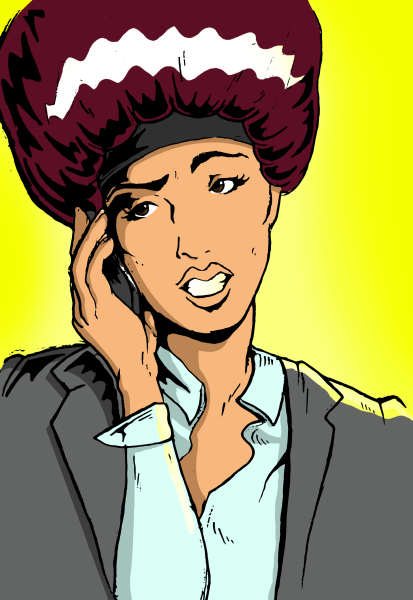 Based on my external interests and personal goals to refine within my practice I decided to create another narrative based on comic culture. The style of drawing has always been a main interest of mine and an inspiration. I decided this to be very beneficial to me to study linework in particular and how it can be used descriptively through thickness.  I created a number of images thinking carefully about how I could apply previous factors I had already covered in the module such as colour and perspective. I used a comic style font and layout, to narrate the story.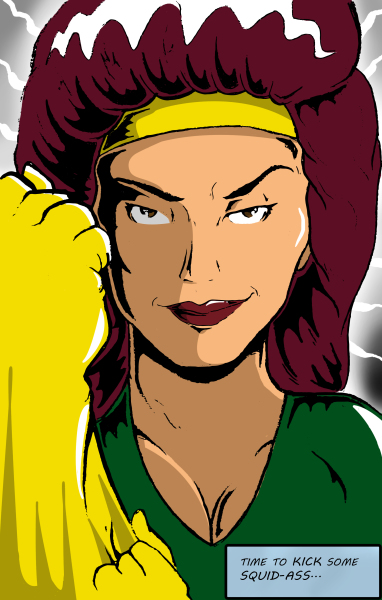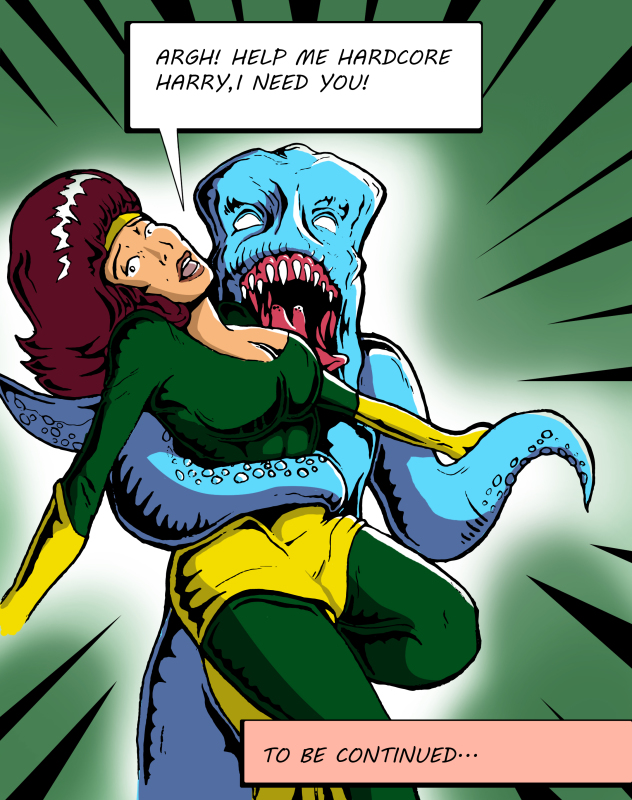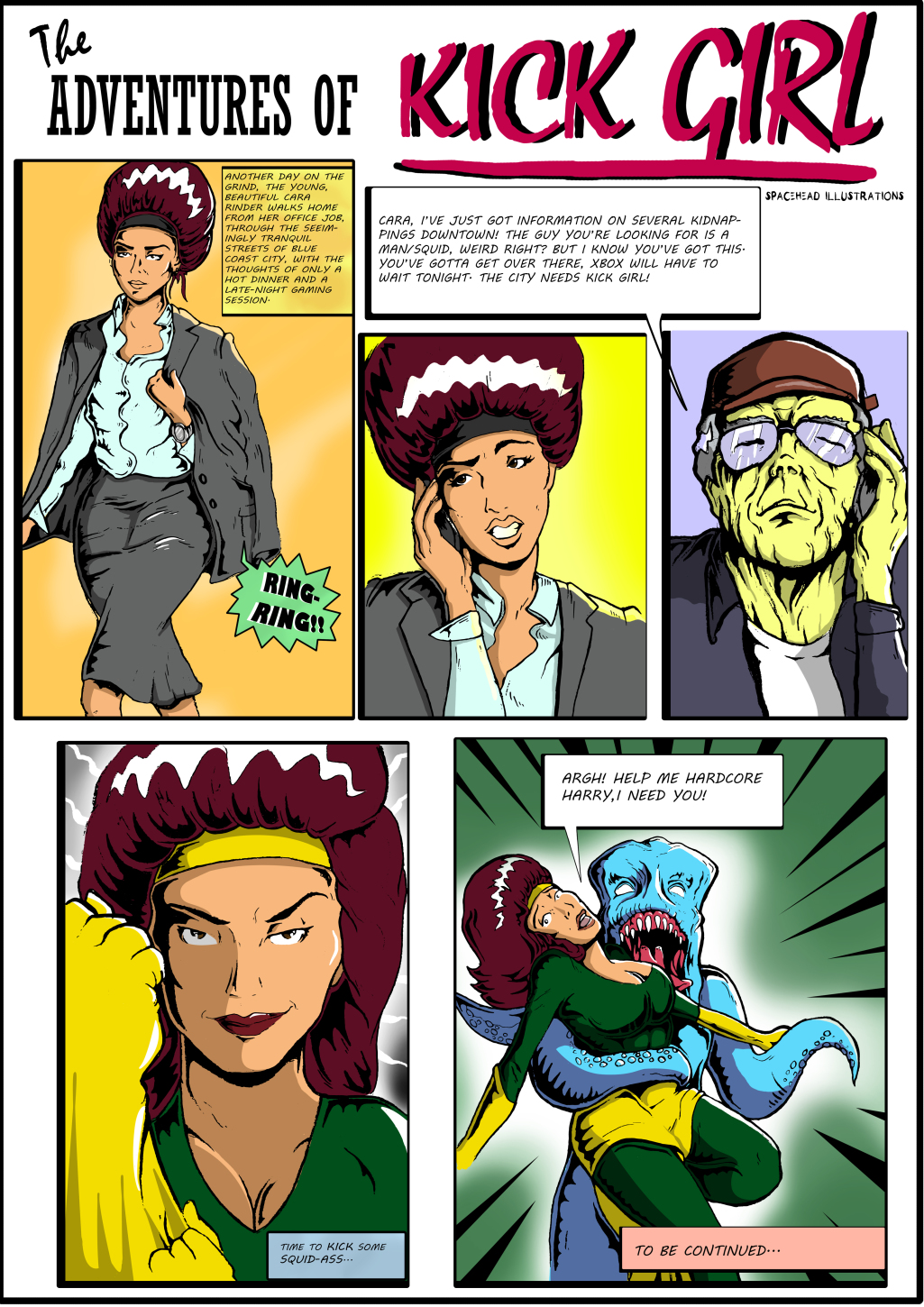 I was really happy with this narrative sequence as I felt it was a good representation of my skills and definitely in my opinion included some of the stronger studies I have drawn in this university year. I planned each stage of the narrative before creating it including teh layout of the images and the text so I think planning ahead definitely prevailed in this instance for me. However, the written side of the narrative definitely isn't the strongest or most imaginative, but as an illustrator not a writer I'm not going to critique myself to much in that respect.
Cardboard Head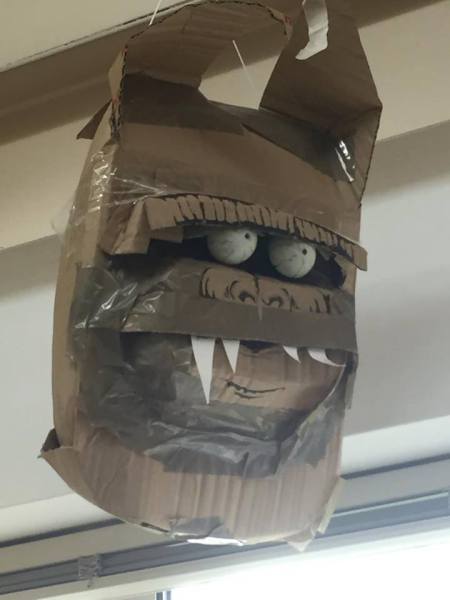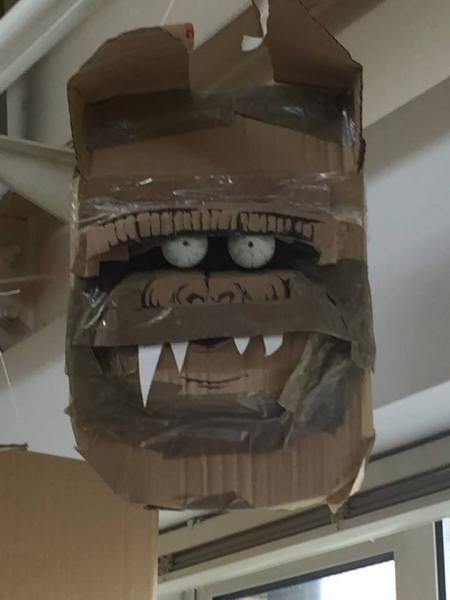 Directional Lighting
Before approaching this topic I felt confident in my knowledge of the basic mechanics of how directional lighting works and the placement of highlights and shadows on an illustration. I felt that alot of the images I had created to date in previous excercises and even modules demonstrate my knowledge of this.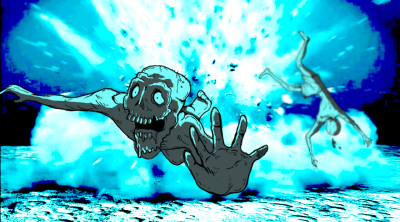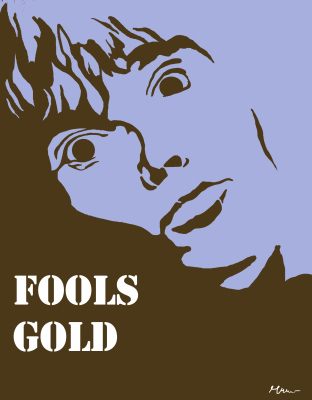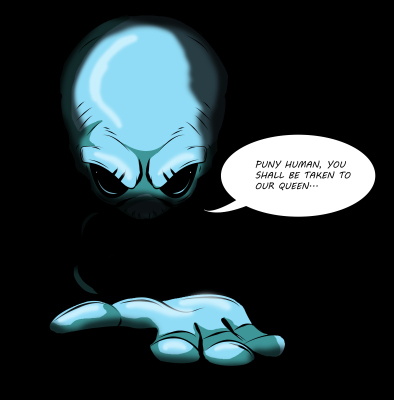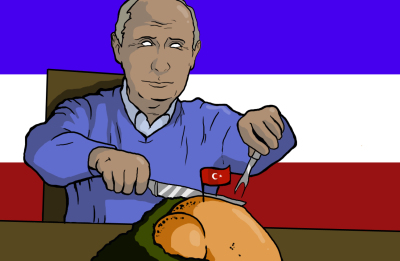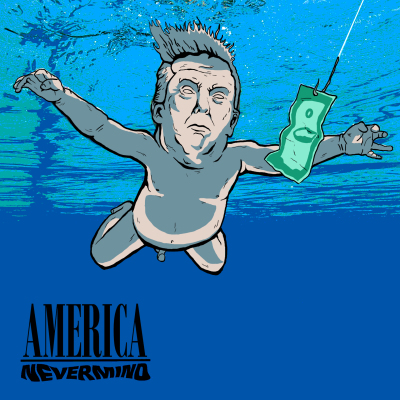 I feel as though in my more graphic work I have a pretty confident grasp in the ability to dictate the direction of light and how this will effect the placement of highlights and shadows and in some cases colour reflection etc. However without dwelling on previous creations I decided it would be beneficial to create a new study dedicated to highlighting the use of directional lighting specifically.

To do so I made this study of a girl taking a selfie on her phone with the phone light directing toward her, I tried to dictate the contours of her face with shadows and highlights.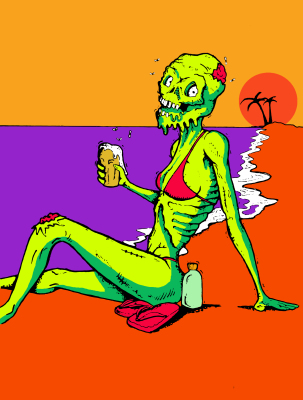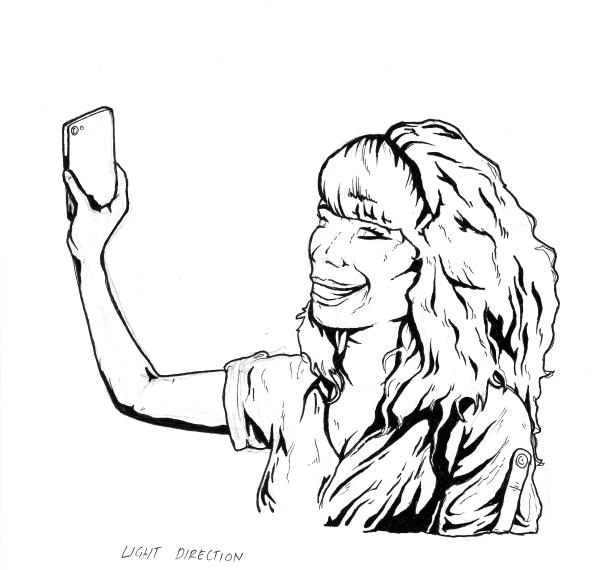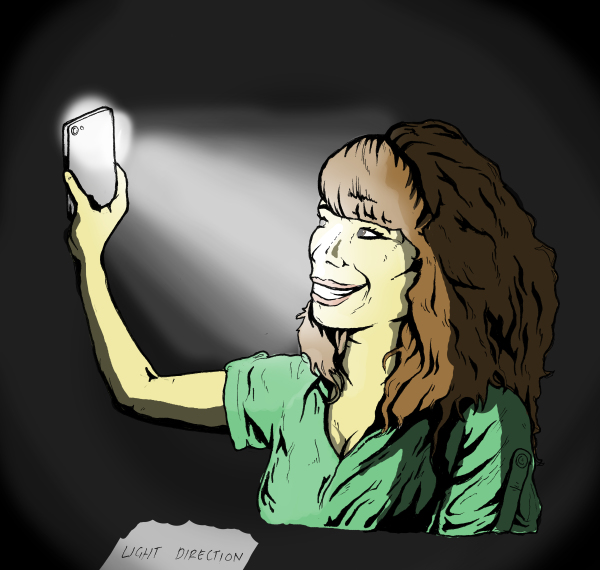 I created this image using pencil and pen initially before scanning in to photoshop to colour. I created shadows on the areas which werent illuminated by the direction of the light to my knowledge and verdict. I think the image is pretty succesful in this sense.
Gesture and Expression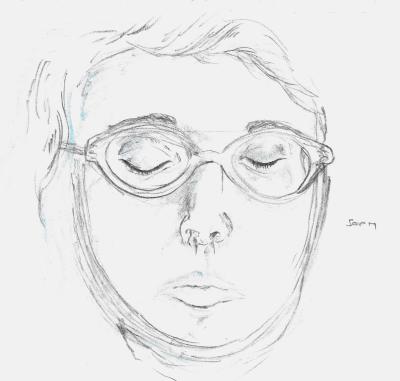 So today as a group we all worked in one room sat a table in small groups where one of us would hold a pose and one or a few others would draw us. It's always interesting doing these group activities and getting inspiration from everyones different styles and material choices and its always good to practice more life drawing! doing expressions can definitley add more drama to my future narrative work.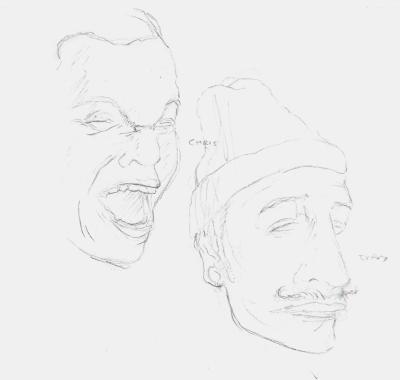 the continous drawing and posing throughout the morning and afternoon got too much for some... here's a few sleepy/bored emotions.
The poses ranged from relaxed to extreme, Chris in particular (far left) was very good with pulling more extreme faces.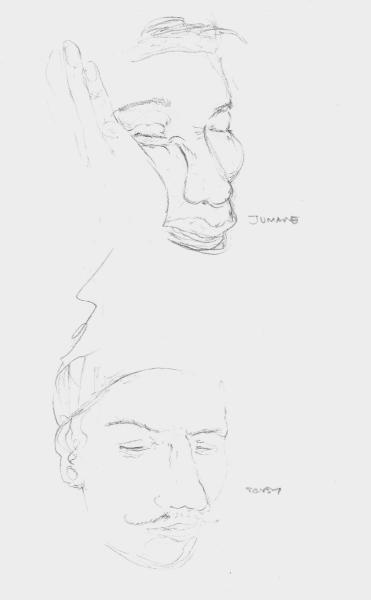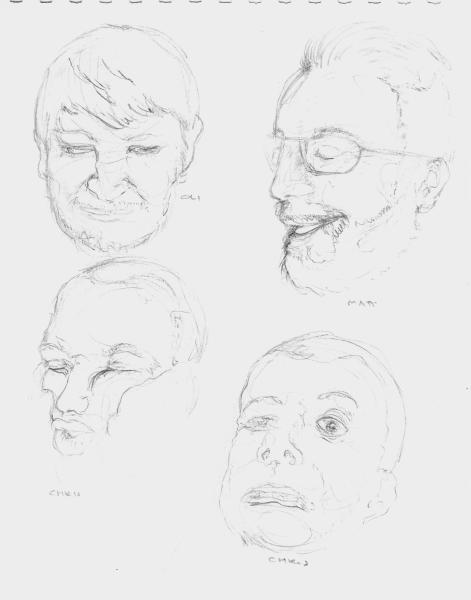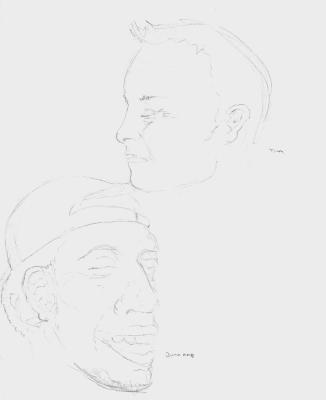 Personal Development Goals
Within this module, I feel I have developed alot of skills that are required to be an illustrator. However, I have decided to set myself some extra goals of skills I would like to refine further to improve my own personal style. Such as: Linework, digital work and other smaller techniques I feel would improve my illustrtaions.
Linework and Use of Photoshop
One of the main things I wanted to work on was my lne work. In order to create a the style i wanted I needed to work hard on undestanding line strength and depth and how it can be used descriptively. some of these studies were relatively quick but in al of them I tried to mantain a good level of quality and most importantly focus on linework. I created them by  firstly sketching them in blue and red pencil then using fine liners to ink over the top and refine the details, then i rubbed the pencil lines out, scanned the image in and used the leves tool in photoshop to accentuate the black and white contrast before using photoshop to add colour and tone to the images to give them a more finished look. I Also tried to work on my colour choices and use teh colour wheel to choose contrasting colours for a more striking effect instead of just dull midtones.

Further examples of similar methods, however from this point I developed my undestanding of Adobe Illustator which I used religiously to neaten up my lines both through use of the pen tool and the image trace. I feel these images appear alot higher quality than the previous due to the additional time i spent using these extra techniques. The refining process as such was a lot longer but one I really enjoy doing. I have aspirations of using these designs for a clothing brand business. Hence the recurring titles. (note: the next gallery has 3 images)

Experimenting with background colour choices was also something I tried out. Between hopping the image between Illustrator and Photoshop

It was through the previous design above, the one I nicknamed 'the groundskeeper' I discovered how to use the 'warp text tool' something of which I've found very useful in creating graphics. Heres one I put together using a drawing i created in first year after I put it through more refining processes to improve it's line quality, as well as adding the text graphics.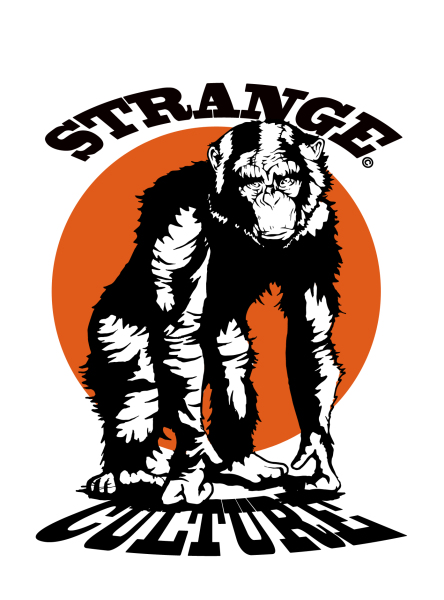 Also during the refining stage I like to experiment with colours to find the option i like best. I use the colour balance tool in photoshop alot to play with the CYMK distrubution to add a different feel to each piece. I like the idea of using obscure colours, to create a trippy psychadelic type vibe. I like to put all the images next to one another to compare: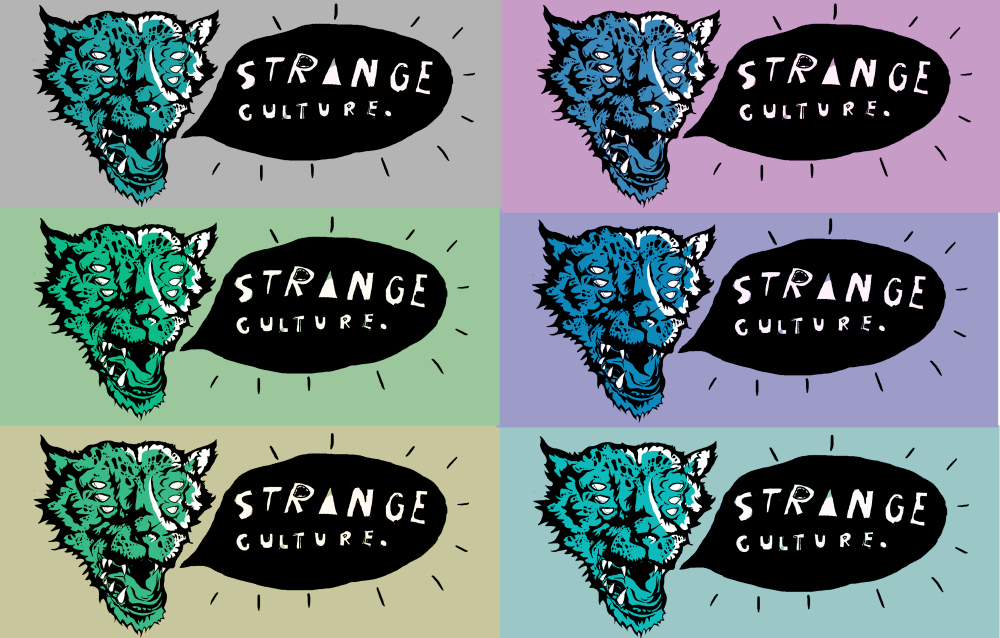 with the aim of translating some of my drawings in to T-shirt graphics for my proffesional practice module, I created a pretty large number of varying designs, which explored composition, colour, linework andmy abilities to use software like photoshop and illustrator:

I created more images with the aim of developing my understading of linework and photoshop and illustrator. However, I began to lean more towards Illustrator as it provides a much cleaner refined line which was something I wanted to achieve and was struggling to in previous studies.

As with all of my previous studies, it began with a basic sketch, However once scanned this time I made the lines via Adobe Illustrator as opposed to photoshop, to make use of the line 'snapping' feature which auto-corrects shakes in the line to a smoother sleeker shape. I then took the line art to photoshop to mock-up colour designs and addition of font.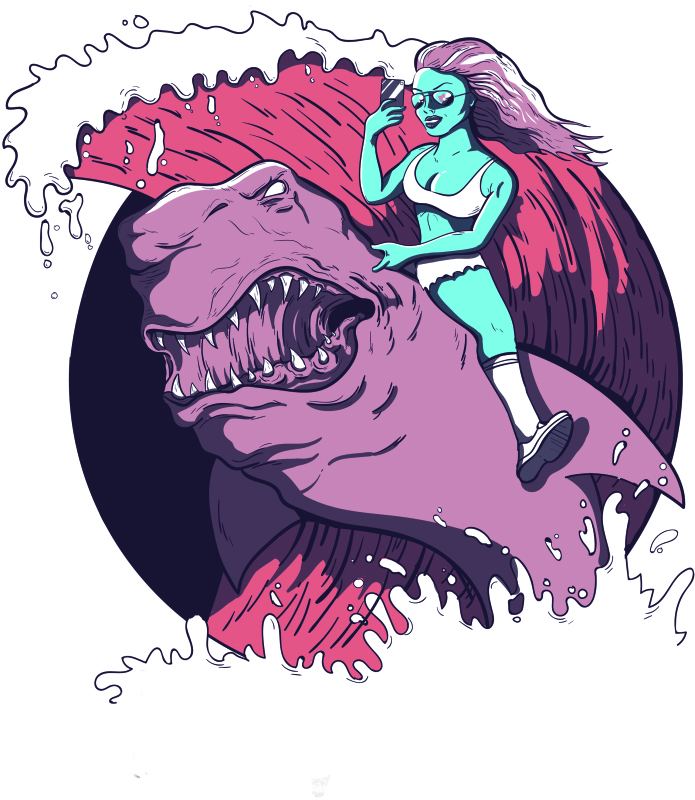 Due to the complexity, the image couldn't be easily translated to a print so I removed the font and left it as a stand alone piece.
As previously stated in my comic strip style 'narrative' excercise, I have a strong interest in comic style art, and as such I created a series of comic style illustrations, where I have worked hard to refine the linework to be bold and descriptive. As well as also using the black of the line to create block shapes to describe tone. I created these images to use in my comic-themed newspaper module but it was also great to work on these skills as an advanced drawing practice.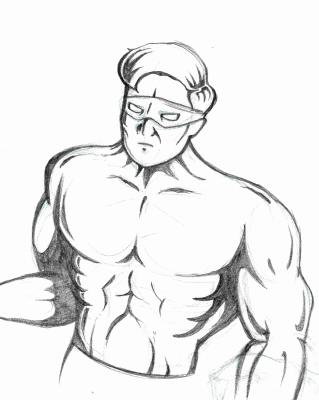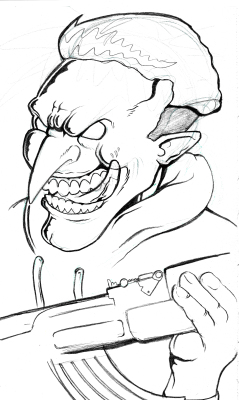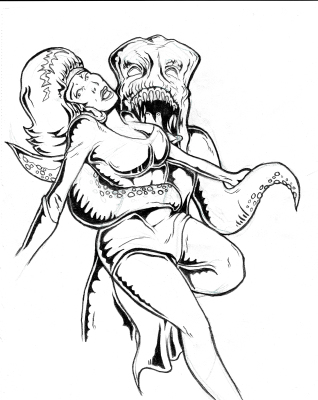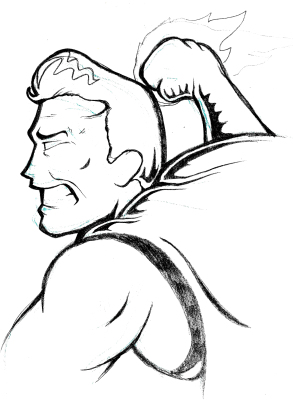 I took these image designs and experimented using the halftone dot technique, in a CMYK colour scheme.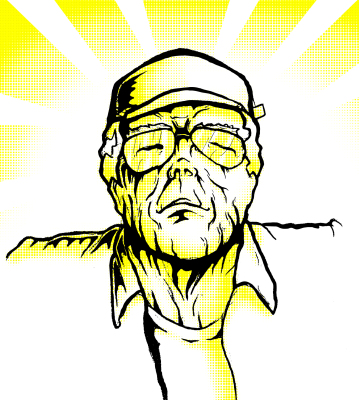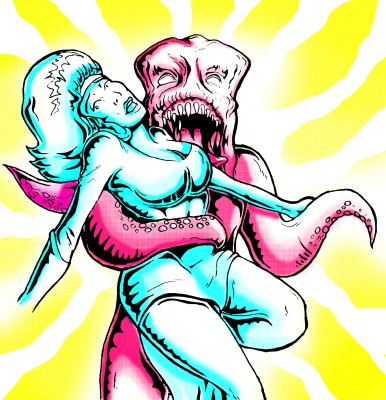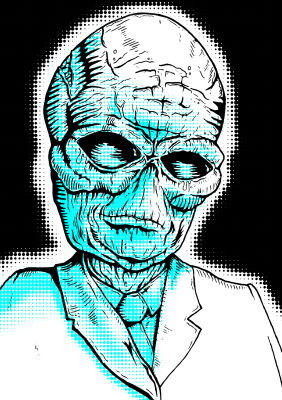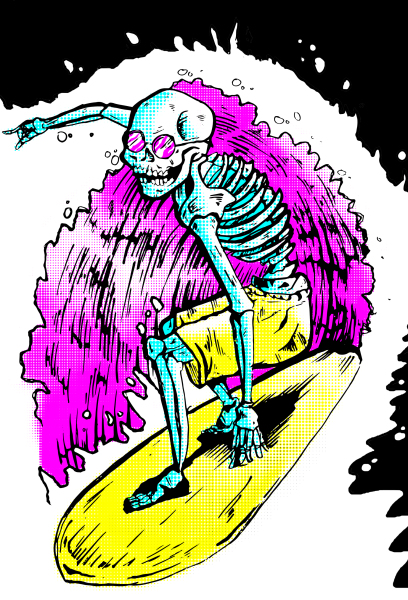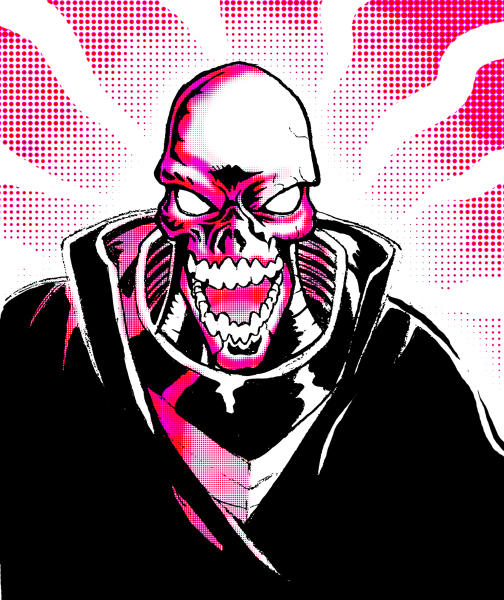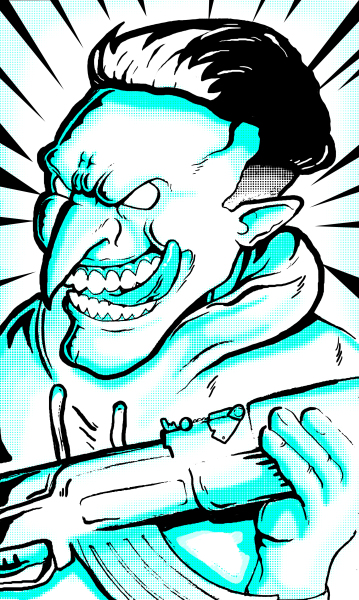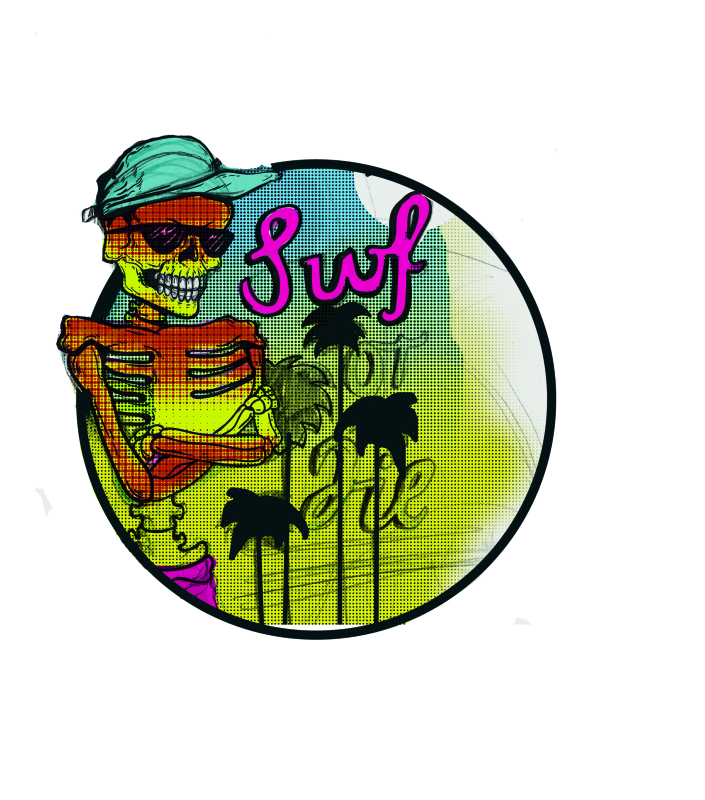 This is a design I'm currently working on again using halftone dot but using only CYMK colours and using overlays to form new colours. This will be idea for taking it to print.
Animal Perspective
Through a commison basis for my Proffsional Practice module, I was asked to create a study of a friend's horse as well as a study of a herefordshire bull for another. In doing so I found it good practice in furthering my knowledge of perspective and proportions for animals as well as humans.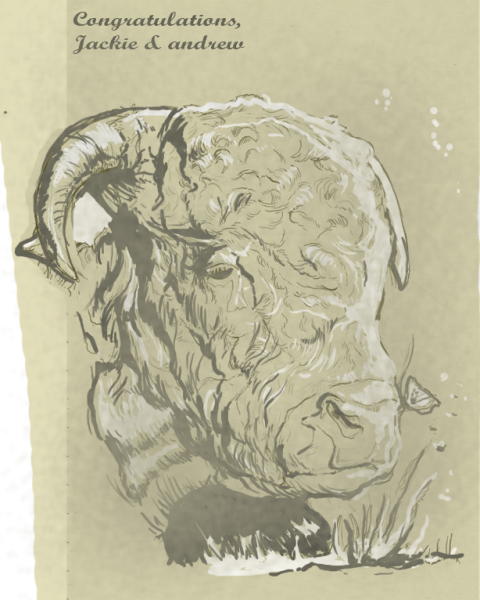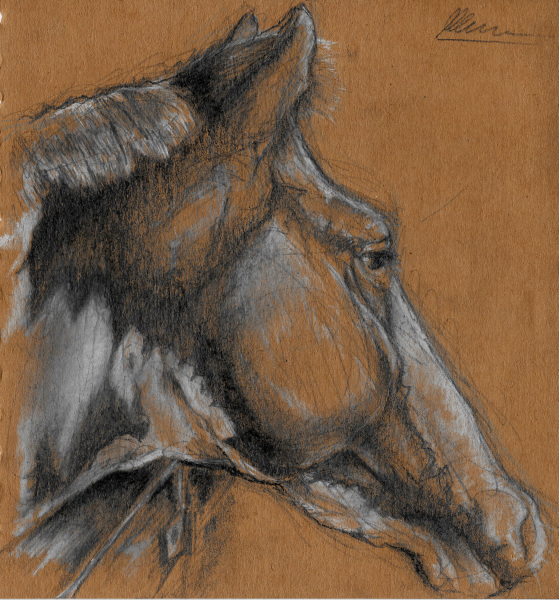 Childrens Book
a few finished single pages from my childrens book, created using photoshop and illustrator with mainly the pen tool.
With my Monster Band book, with the images I created I used the pen tool in photoshop which works using vectors so guarentees a smooth curve. This was something I was very sure to try and do as I felt my work sometimes suffered from line shakiness and inconsistencies. However this was a very tedious method and as a result the simplicity of the drawings dont really reflect the time that actually went in to the project. But I feel like the linework is very clean, which is what I was aiming for.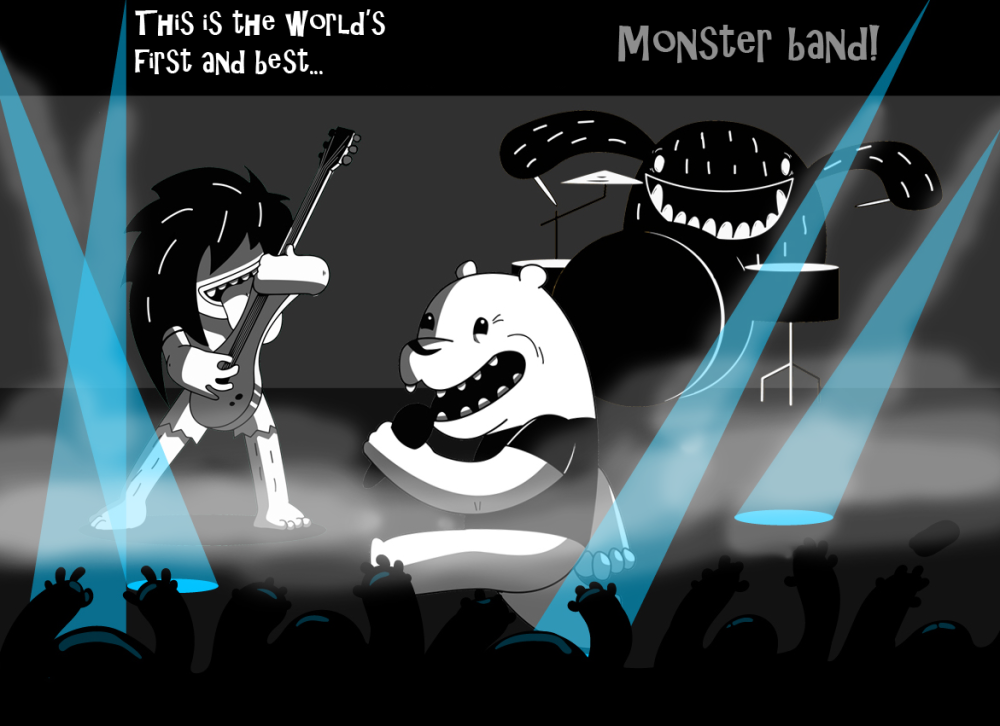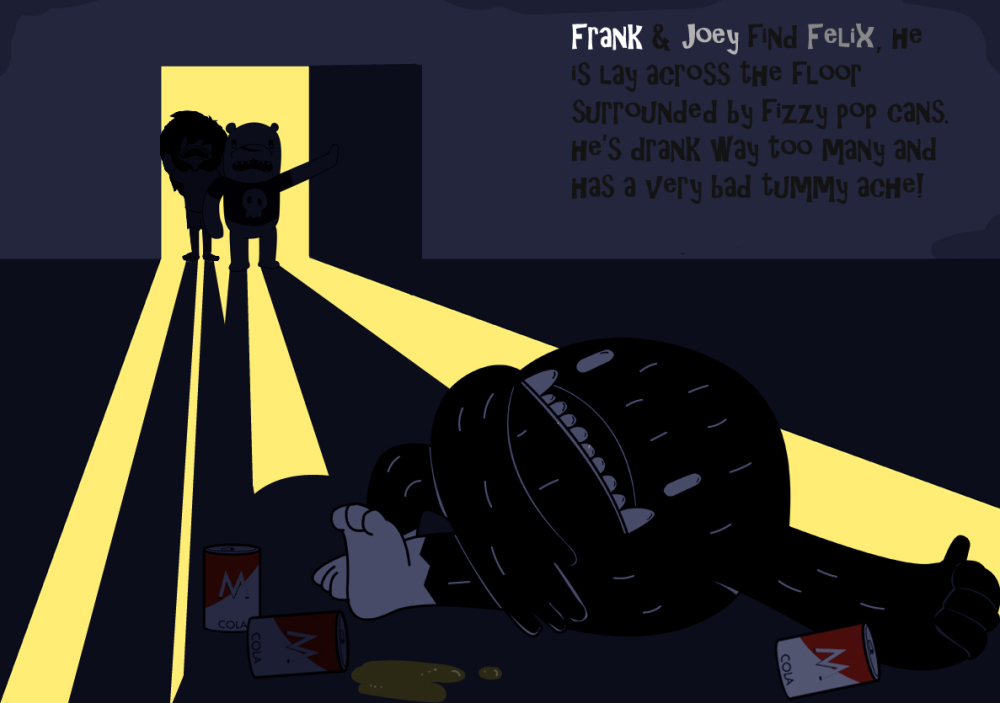 I created these cover designs in photoshop and illustrator for a competition given to us students via a local school to design front covers for the given titles.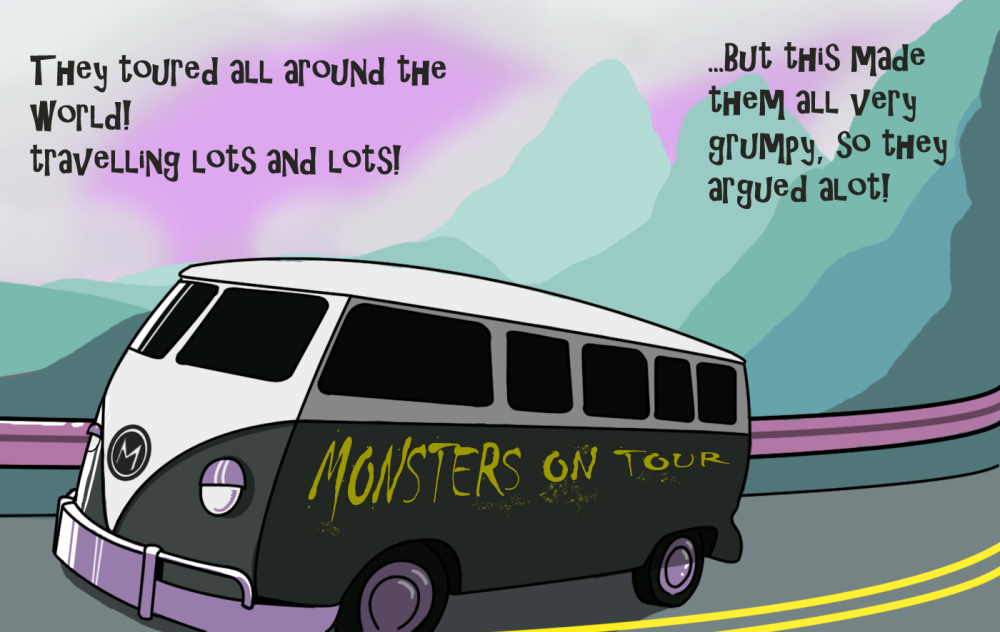 Book Cover Competition
Some of us decided to compete in a competition set by local schools to create them a front cover for the made up book titles, 'I can't Imagine', 'My Voice Is A Shy Tiger' and 'Journeys' here are my entrys: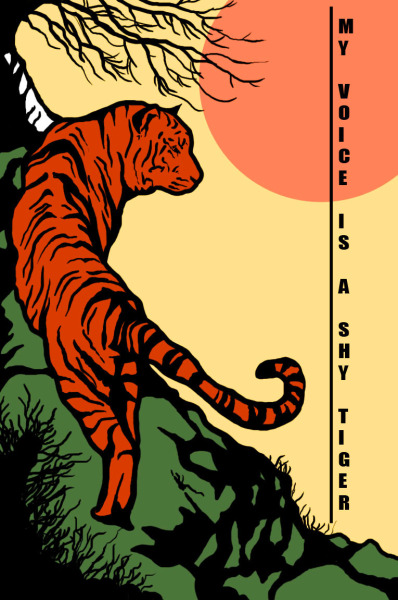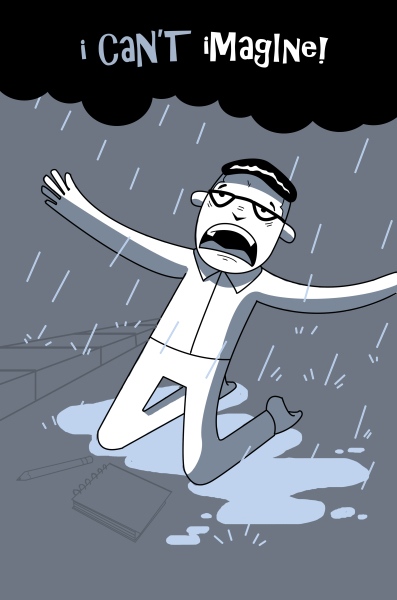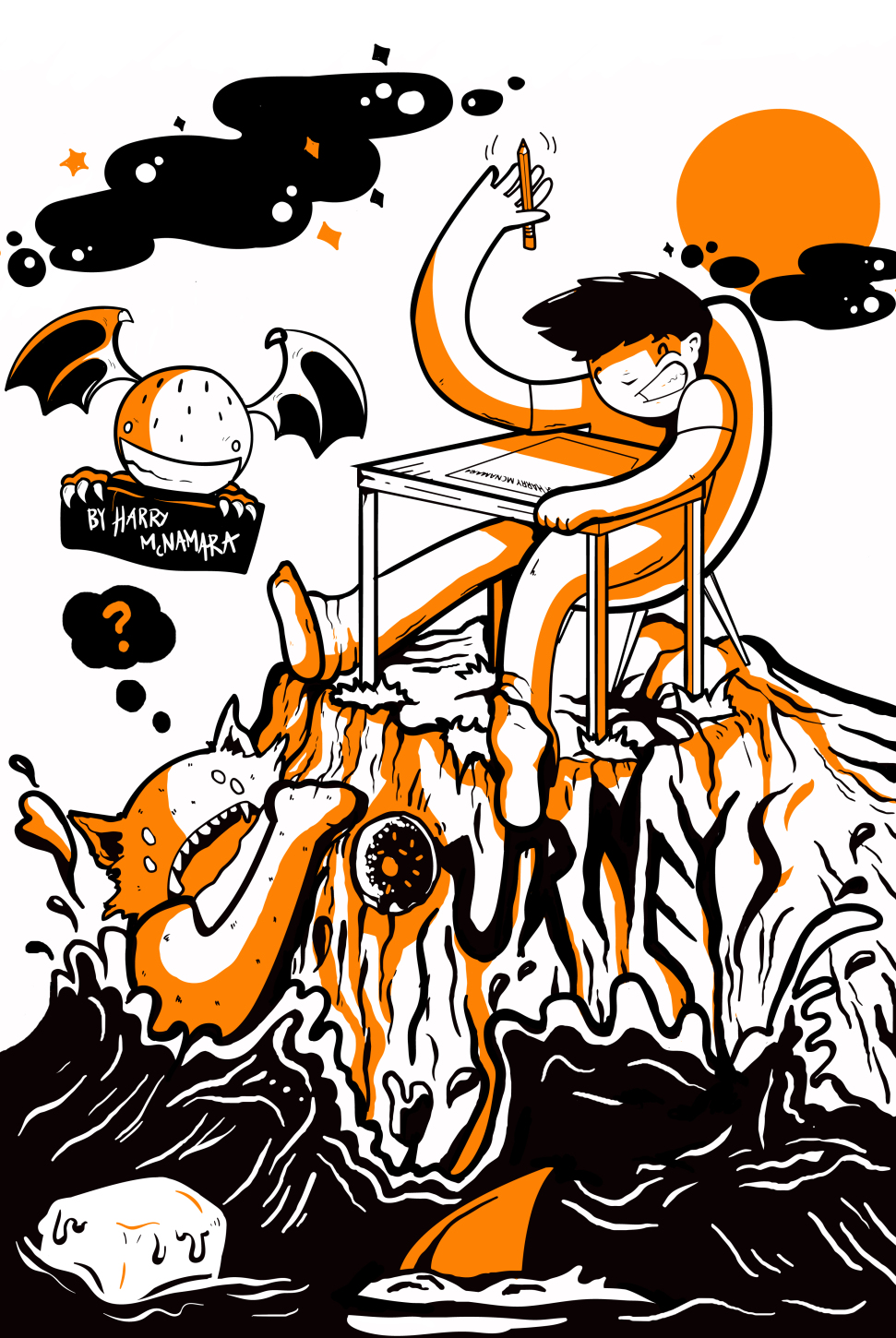 This design managed to win the competition!